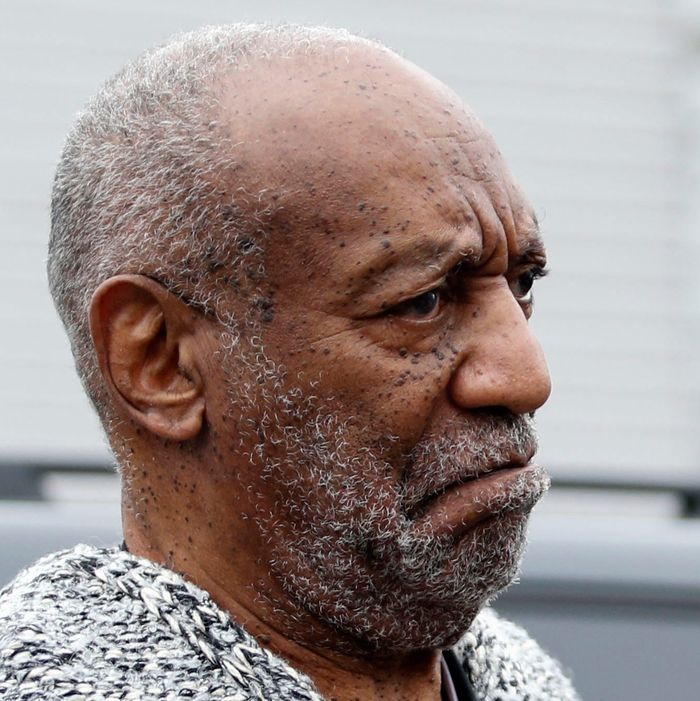 Today is not Bill Cosby's day.
Photo: Kena Betancur/AFP/Getty Images
Good morning and welcome to Fresh Intelligence, our roundup of the stories, ideas, and memes you'll be talking about today. In this edition, Bill Cosby goes to court, Kasich and Cruz are over before they started, and Prince dominates the charts. Here's the rundown for Tuesday, April 26.
WEATHER
Dangerously severe weather is expected in the central United States today, including hail, thunderstorms, and something called a tornado outbreak — which sounds just awful — in an area from Texas through Nebraska. There will also be thunderstorms in New York City, but nothing too severe. [WaPo]
FRONT PAGE
Bill Cosby Sexual-Assault Case Will Go to Court
Yesterday, a Pennsylvania appeals court refused to throw out the criminal sexual-assault charges against Bill Cosby, which means the path is now clear for Cosby to be charged in criminal court. The next step, a preliminary hearing, could happen as soon as the end of May. Bringing the case against Cosby is Andrea Constand, who says he drugged and molested her at his home in 2004 while she was working on the staff of Temple University. Cosby is also being sued by many more women who say he drugged and sexually assaulted them over decades. [NYT]
EARLY AND OFTEN
Kasich-Cruz Alliance Even More Hilariously Short-Lived Than Expected
The embarrassment that is the 2016 presidential campaign continues. This time, the laughing stock is the alliance between Ted Cruz and John Kasich, which lasted almost a full 12 hours before Kasich told his supporters in Indiana that they should vote for him, either intentionally torpedoing or profoundly misunderstanding their agreement. We don't know which is crazier: that Donald Trump came out of this looking like a level-headed political operative or that John Kasich actually made Ted Cruz seem like a team player for a minute.
Federal Judge Upholds North Carolina's Controversial Voter ID Law
A federal judge today upheld comprehensive Republican-sponsored changes to North Carolina's voting laws that opponents have said unfairly target minority voters. The judge ruled that people should not be allowed to register before they turned 18, could not register and vote on the same day, and would have a week less for early voting. He also upheld the state's controversial voter ID law, saying it was actually more lenient than similar laws in other states. [NYT]
It's Going to Be a Bad Week for Someone Who Really Deserves It
Former Speaker of the House Dennis Hastert will face sentencing over felony-banking crimes this week. He was caught illegally structuring bank loans in order to pay one of the victims he molested while working as a high-school wrestling coach to keep quiet. When he was caught taking out the illegal loans, he cut off the hush money, and now one of his victims is suing for $1.8 million. Hastert will likely face six months in prison.
America: Where a College Basketball Coach Is Considered a Game-Changing Endorsement
Another coach has come out in support of Donald Trump. Bobby Knight, the beloved-despite-being-kind-of-an-angry-jerk Indiana University basketball coach will endorse the Donald at a rally on Wednesday. Knight has been outspoken about his love for Trump in the past and could prove to be something of a king-maker in Indiana.
THE STREET, THE VALLEY
Costco Courts Big Chicken
Despite building its own poultry-processing plant in Nebraska, Costco is moving ahead with plans to expand its business with Pilgrim's Pride, whose Alabama chicken plant has historically supplied most of Costco's birds. Here's something for your nightmares: The Costco plant will "process" 1.6 million chickens a week. [Reuters]
Housing Slump Enters Its Third Month
Purchases of new homes declined in March, surprising analysts for the third month in a row. Although prices actually rose in two regions, things were slow enough in the western states to pull all the numbers down. [Bloomberg]
Valeant Pharmaceutical Acquires New Scapegoat
Joseph Papa is the new CEO of struggling pharmaceutical company Valeant. Papa's last job was CEO of Perrigo — is there such a thing as a sinking-ship fetish? [Bloomberg]
Blood-Test Disruptor Theranos Disrupted Well, Wasn't So Great at Testing Blood
Tech Crunch has released the details of the federal investigation into the blood-testing start-up Theranos, and it's not pretty. The documents highlight a litany of offenses, incompetences, and failures to address issues over months, adding up to "serious deficiencies" that put its patients in "immediate jeopardy." Not really what you look for in a health-care provider. [Tech Crunch]
MEDIA BUBBLE
People Are Buying Albums Again, Although to Be Fair They're Mostly Prince Albums
Prince's choice to pull nearly all his music from streaming services and online stores (except for Tidal — how did Jay Z know?) is posthumously paying off. Following his death, his albums have taken up the number one, two, and six positions on Billboard's charts. Prince now has eight albums in the top 200. [NYT]
Gannett to Tribune: Surprise! We're Going to Buy You Now
USA Today publisher Gannett surprised everyone when they offered $815 million for Tribune Publishing. Most surprised was probably Tribune itself, which wasn't really for sale or accepting offers. Tribune still hasn't responded because how do you respond to something like that? [Reuters]
New Yorkers Get a New Company to Hate: Charter Communications
After years of New Yorkers getting owned by Time Warner, it looks like the cable and internet company will get a taste of its own medicine and get owned by Charter Communications. The FCC chair recommended his agency approve the acquisition yesterday, which will cost Charter a really rather astounding $78 billion.
PHOTO OP
Subversive Street Artist Strikes L.A.
Street artist Plastic Jesus has been busy in Los Angeles replacing street signs with these subtle political statements and making parking even more confusing.
MORNING MEME
Just Wait Until You See What They Do to the Poor
Gross, you guys.

OTHER LOCAL NEWS
Feeling Guilty About Your Behavior Over the Weekend? This Should Put It in Perspective
It doesn't get much worse than this, even in Florida. A Florida man is in jail after reacting badly when people told him to stop having sex in a Okaloosa County public pool because, among other reasons, children were present. The man chased said children around the pool and threatened to hit them before a 15-year-old beat him up. That must count as rock bottom, right? [NWF]
Zombie Apocalypse Off to Boring Start
A Nashville, Tennessee, neighborhood association has ordered a man to remove a charming statue from his front yard. The art piece in question depicts a zombie clawing his way up through his garden on a rage-blind quest for brains. The man says he will comply with the association's request as moving to a gated community with a sense of humor is prohibitively expensive. [Slate]
HAPPENING TODAY
After Success With Uber, San Francisco Comes for Airbnb
Fresh off successful legal action against other tech companies, the city of San Francisco is hoping to introduce legislation today that will hold rental sites like Airbnb responsible for making sure the people using their services are following the law. Seeing as no one who hosts on Airbnb has ever followed rental laws, this could be a huge blow to the company. [CNet]
Controversy We Never Understood Ends
Kelly Ripa will return to Live! With Kelly and Michael today. This article asks if the host is returning to the show only to "go rogue," and describes her return as one of the "biggest media stories of the spring." Who are we to argue?
What Is It With Tuesdays?
Five states are holding primaries in the Northeast today: Pennsylvania, Rhode Island, Delaware, Maryland, and Connecticut. Donald Trump is leading comfortably in each of the primaries, although Cruz might still do that thing where he takes all of Trump's delegates anyway. [NPR]