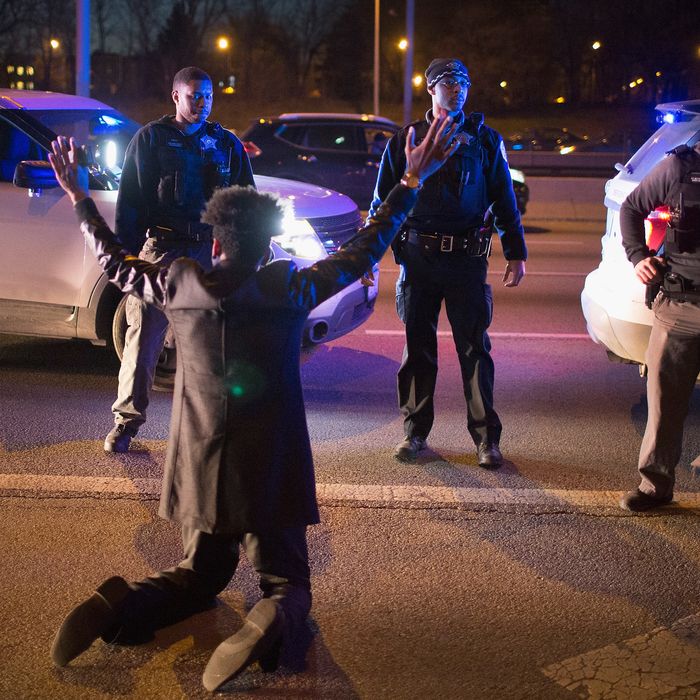 A protestor kneels in front of police officers in Chicago.
Photo: Scott Olson/Getty Images/2016 Getty Images
Good morning and welcome to Fresh Intelligence, our roundup of the stories, ideas, and memes you'll be talking about today. In this edition, the Chicago Police Department is now officially racist, Louisiana goes in a different direction, and Sanders finally bags a senator. Here's the rundown for Thursday, April 14.
WEATHER
Severe weather, including thunderstorms, is still a problem in the Gulf Coast, causing some school closures in New Orleans. Weather elsewhere in the South is also erratic; Georgians, for example, can look forward to unseasonable chills. Meanwhile in New York, the lovely days just keep on coming with sun and mild temperatures expected all day. [Weather.com]
FRONT PAGE
Panel Confirms Chicago Police Department Is Racist
A panel convened by Chicago mayor Rahm Emanuel after a spate of police shootings did not go the way he was probably hoping. The committee, which released its findings yesterday, found that the whole department needed to be overhauled due to generations of systematic racism and a code of silence that allowed it to flourish. Ultimately it found that minorities were justified in fearing and not trusting the city's police. In addressing the report, Emanuel admitted he couldn't discuss specifics because he hadn't finished reading it yet. The findings were released just two days after police in the city fatally shot a black 16-year-old. [AP]
EARLY AND OFTEN
An Easy Act to Follow: National Action Network Gives Clinton a Cool Welcome
Hillary Clinton spoke at the annual meeting of the National Action Network — Al Sharpton's activist organization — yesterday, and was met with a chilly reception. Bernie Sanders must be thrilled; he is slated to speak at the conference tomorrow, and a well-received speech could go a long way in shoring up his support among black voters. [NYT]
Donald Trump's Campaign Manager Won't Be Prosecuted for Battery
Corey Lewandowski, Donald Trump's campaign manager, will not be prosecuted after being charged with battery for manhandling a journalist at one of his boss's rallies. Lewandowski isn't even being fired from the campaign, although Trump does keep hiring people with very similar job descriptions to Lewandowski's.

Louisiana Bucks Intolerance Trend
Louisiana's Democratic governor, John Bel Edwards, distinguished himself from other governors in nearby states like Mississippi and North Carolina yesterday by signing an anti-LGBT-discrimination order. PayPal is already planning a new facility in Baton Rouge, and Bruce Springsteen and Ringo Starr will play the opening. [Reuters]
One Down, 99 to Go
In an op-ed in the New York Times, Oregon senator Jeff Merkley announced that he is endorsing Bernie Sanders for president. Merkley, who is Sanders's first senatorial endorsement, cited Sanders's opposition to trade deals and his focus on wealth inequality, saying "America has gone off track." He also had nice things to say about President Obama and Hillary Clinton. All in all it was a very nice statement — he seems like a nice guy. [NYT]
THE STREET, THE VALLEY
Employees Apparently Feel the Same Way About Verizon As Its Customers
36,000 Verizon workers walked off the job yesterday in what was the biggest American strike since the last Verizon walkout. The Communication Workers of America union says Verizon has been outsourcing too many jobs overseas and doesn't pay its employees at home enough. [CNN]
Banks Get an "F" in Lesson-Learning
U.S. regulators found that banks like Bank of America, Goldman Sachs, Morgan Stanley, and JPMorgan Chase — you know, the minor ones — don't have effective plans in place that would allow them to weather a bankruptcy without depending on taxpayers. But that could never happen, right? [Reuters]
Exhibit A: Bill Protecting Email Privacy Progresses in Congress
Chalk one up for the tech companies in the ongoing battle between privacy and security. Yesterday, the House Judiciary Committee unanimously approved a bill that would compel law enforcement to get a warrant before accessing a suspect's emails and online communications. [Reuters]
Exhibit B: Bill Giving Government the Means to Read Private Emails Introduced in Senate
The long-discussed and already leaked Senate encryption bill was finally introduced today. The bill will give government authorities the tools they need to access encrypted devices and read private online communications. [CNet] 
MEDIA BUBBLE
New York Observer Reporter Develops Conscience
Ross Barkan, the New York Observer's national political reporter, resigned yesterday morning after the paper for which he worked endorsed Donald Trump for president. Barkan said there were many factors in his decision but admitted that the Trump endorsement was one. He has no other job lined up, but he's excited about the prospect of being able to look at himself in the mirror again. [HuffPo]
BuzzFeed Chair Having a Terrific Time, Terrific!
BuzzFeed chair Ken Lerer responded yesterday to rumors that BuzzFeed was forced to cut its projections for this year by half, saying that things are "better than ever." Lerer said the widely circulated reports were off by 100 percent and that, in fact, BuzzFeed is beating its projections for the year so far. Well, someone is lying. [Re/code]

Journalist Gets Jail Time for Helping Hackers
Matthew Keys has been sentenced to two years in prison for providing his login information to the hacker collective Anonymous when he was working at the Los Angeles Times; hackers then used his information to alter a story on the paper's website. Seeing as we still use our ex-roommate's girlfriend's login information to read the New York Times, the sentence does seem a bit harsh. Keys is appealing. [BuzzFeed]
PHOTO OP
Warriors Make Basketball History
It's official: The Golden State Warriors have broken the record for most wins in a single season by beating the Memphis Grizzlies last night for their 73rd. The previous record was held by some team from the Midwest no one really remembers.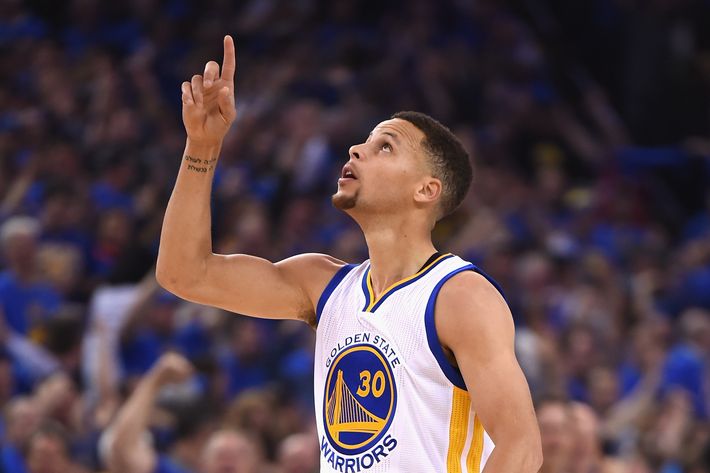 MORNING MEME
Cold Steppe, Cool Kicks
A 1,500-year-old mummy has been discovered in Mongolia's Altai mountain range. The kicker? He is clearly wearing a pair of Adidas trainers. Get it? Kicker? [IFLScience]
OTHER LOCAL NEWS
Children Have Best Day Ever
Two 6-year-old kids must have gotten quite the talking-to after taking a pickup truck on a joyride through Newton, Kansas, that left five cars and two mailboxes damaged. The kids were taken to the hospital with small cuts after rear-ending another truck. It's true what they say: Kansas kids can't drive. [SFGate]
When Your Heart's on Fire, Smoke Gets in Your Eyes
A surveillance tape from the Tap Inn in Billings, Montana, is making the rounds because two canoodling — we said it — patrons were so "distracted" they didn't notice when three armed burglars came in and robbed the place. The thieves made off with the cash register, but that drunk couple stole our hearts. [HuffPo]
HAPPENING TODAY
It Looks Like Football Is Happening Again This Year
The NFL is releasing this season's official football schedule today. The announcement should come at 8 p.m. tonight; it was supposed to drop next week but was mysteriously pushed forward. [NBC]
Cuomo to Cage Fight at Madison Square Garden or Something
The final — mostly symbolic — step in legalizing mixed martial arts competitions in New York is set to happen tonight in a ceremony at Madison Square Garden where Governor Andrew Cuomo will finally sign the legalization bill. [ABC]
Obama Announces New Offshore-Drilling Rules
Just six years after the disastrous BP oil-rig explosion, the time has come to enact new safety regulations. The Obama administration will announce wide-ranging rules drawn up by the Department of the Interior tomorrow, which will impact oil companies' equipment, design, and operations. [Reuters]