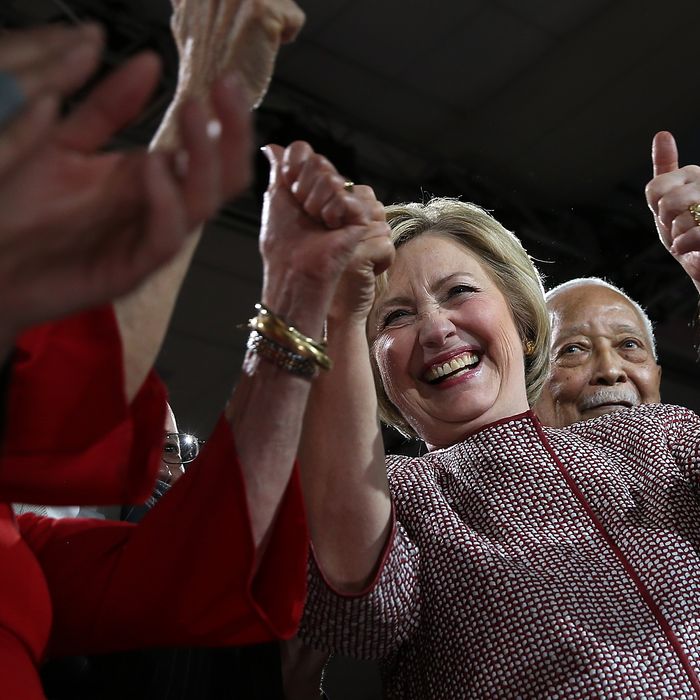 What has two thumbs and would like to rule the free world?
Photo: Justin Sullivan/2016 Getty Images
Good morning and welcome to Fresh Intelligence, our roundup of the stories, ideas, and memes you'll be talking about today. In this edition, New York votes, a Long Island congressman says what everyone is thinking, and politics and the media still don't mix. Here's the rundown for Wednesday, April 20.
WEATHER
More rainstorms are expected today in parts of Louisiana, Oklahoma, and Texas, including Houston, where flooding has killed eight and left thousands homeless. Today, New York City will be sunny and warm — again. [Weather.com]
FRONT PAGE
No Surprises in New York Primary
The hotly anticipated New York primary is over, and everything went pretty much exactly as expected: Trump won by a landslide despite New Yorkers knowing better than anyone what he's really like, and Hillary Clinton soundly bested Bernie Sanders. The evening's biggest loser was probably Ted Cruz, who came in a distant third behind some guy named John.
EARLY AND OFTEN
Just in Time! New York City Board of Elections Faces Audit
City officials are wasting no time in responding to widespread allegations of voting irregularities in New York City yesterday. Many New Yorkers found their polling stations closed or stocked with dysfunctional scanners, and an unlucky 125,000 Democrats discovered they had been dropped from the voting rolls altogether. Nailed it, New York. [Gawker]
Court Rules in Teen's Favor in Transgender-Bathroom Case
A federal-appeals court in Richmond, Virginia, ruled in favor of a transgender teen who was banned from using the boys' bathroom at his high school; the teenager can now go ahead with plans to sue the school's board. The judge ruled that by compelling him to use the wrong bathroom, the school might have violated a federal prohibition against sex discrimination. [Politico]
Republican Congressman Threatens Cruz-Induced Suicide
It looks like we're not the only ones campaign season is getting to. Peter King, a Republican congressman from Long Island, didn't mince words yesterday when asked about a possible Ted Cruz nomination. "I hate Ted Cruz, and I think I'll take cyanide if he ever got the nomination," King said on MSNBC's "Morning Joe." King has good reason to despise Cruz, who voted against providing aid to victims of Hurricane Sandy, a.k.a. King's constituents. [HuffPo]
First They Came for the Smokers, and I Did Not Speak Out …
Utah governor Gary Herbert has signed a resolution defining pornography as a public-health hazard. Hebert said the crisis "thrives in secrecy and silence" and that he's been quite shocked to learn porn that would have been considered "hardcore" in his day is now considered "mainstream," and won't somebody think of the children, etc. [CNet]
THE STREET, THE VALLEY
First $10 an Hour, Now This. Is Target Becoming Cool?
Yesterday, Target became the first major retailer to choose a side in the bathroom wars currently raging across the southern states. The commercial giant made a statement saying both customers and employees can use whichever bathroom they feel most comfortable with. Here comes the Rapture. [Reuters]
Bad News for Yahoo Slightly Less Bad Than Usual Bad News for Yahoo
As companies circle the once-great internet pioneer readying their offers, it seems Yahoo still has the capacity to surprise. Yahoo boasted first-quarter earnings that beat analyst expectations, sending stocks up a full one percent. Before you break out the mid-90s champagne, the numbers still showed its value had dropped 18 percent and that it's now worth less than $1 billion. [WSJ]
As Microchips Get Smaller So Do Companies That Build Them
Intel, the world's largest maker of microchips, shocked investors (or at least startled them) yesterday when it announced it would cut its workforce by a full 11 percent, shedding 12,000 jobs from its offices around the world. The company has struggled to adapt to a world dominated by mobile computing. [CNN]
Apple Car? What Apple Car? We Don't Know What You're Talking About
It looks like Chris Porritt, the ex-Tesla vice-president and one-time Aston Martin chief engineer, has been snapped up by Apple and will work in the company's special-projects division. What a strange hire for a company that doesn't make cars and has no plans to make cars. [CNet]
MEDIA BUBBLE
Convoluted Media Scandal Unfolds Juicily
Shaun King, the controversial reporter and Black Lives Matter activist, has successfully defended himself from a series of allegations that he committed plagiarism in his columns for the New York Daily News. It now seems his editor removed instances in which King correctly attributed quotes. The editor, Jotham Sederstrom, has been fired. Still, the scandal provided a juicy couple of a hours on Twitter for a small group of people in New York! [Gawker]
Breitbart Editor Paid by Trump Campaign, Probably Would Have Done It for Free
Federal Election Commission filings show that conservative website Breitbart News' national-security editor, Sebastian Gorka, received $8,000 from the Trump campaign last year for what it describes as "policy consulting." Gorka often appears on Fox news as a counterterrorism expert, and his wife is Ted Cruz's national-security advisor. Ladies and gentlemen, the system. [Buzzfeed]
Trump Leaves Bad Taste in Food Critic's Mouth
The New York Observer, the paper owned by Donald Trump's son-in-law that endorsed Trump for president, is down one food critic. Joshua David Stein resigned from his post, saying, "To stand with Trump is to stand with hate." This is a much clearer move than when Stein tried to protest Trump's immigration stance with a carefully worded Mexican restaurant review.
PHOTO OP
Now We Want a Rocket Pop
What many thought was American flag lighting on the Empire State Building yesterday was actually blue for the Democratic party and red for the Republican party. So there.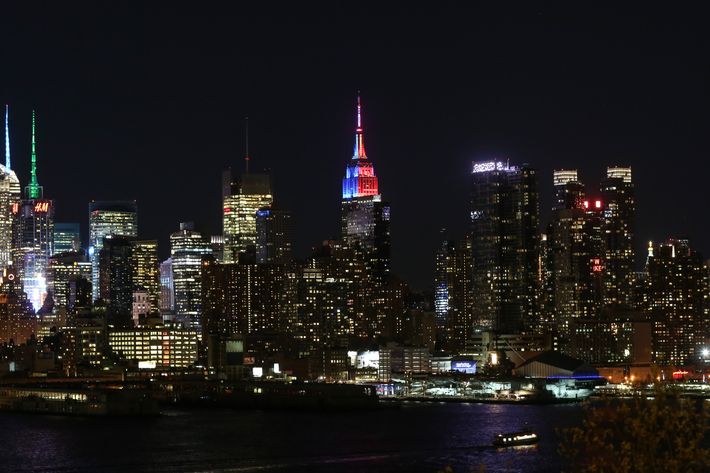 MORNING MEME
Anyone Who Wants to See History Being Made: Drop Everything, Head to Dayton
The rumor mill is going berserk over whispers about a secret concert by Limp Bizkit — yes, the Limp Bizkit — at a Dayton, Ohio, gas station tonight. The police have denied the whole thing, but the man never did have any love for the Bizkit. Also, the signs are all there: hot-dog water? Gas station? Open your eyes. [AV Club]
OTHER LOCAL NEWS
Butt Sniper! Wait, Read That Wrong
A sniper in Butte, Montana, is wreaking havoc on the city's downtown area with a pellet gun. Three people have been shot by an unseen pelleter over as many days on the same handful of blocks. We can only assume a fair share of — what do you call people from Butte? Butters? — have real guns, so it's probably best not to test them. [KTVQ]
This Would Have Been So Much Better If It Were an Inflatable Stork
"Midwife Rides Inflatable Swan Through Flood to Birth Center," an actual headline from United Press International yesterday, really says it all. Magic is real, people. [UPI]
HAPPENING TODAY
Another Awkward Meeting for Seemingly Nice Guy
Lindsey Graham, the senator from South Carolina, has softened his position regarding Merrick Garland, Obama's Supreme Court nominee. Graham still opposes Garland — like, super-opposes him — but it looks like he will choke back his indignation to briefly sit in the same room with him tomorrow. Baby steps. [Politico]
Just What Flint Residents Want: More Surprises
Michigan's water drinkers are waiting with bated breath for an announcement from Attorney General Bill Schuette about his office's investigation into Flint's notoriously lead-contaminated drinking supply. Sources with knowledge of the announcement say some pretty big criminal charges could be handed down. [Detroit Free Press]
Obama to Meet With Saudi Officials
Obama is in Riyadh today where he will meet with Saudi Arabia's king and other high-ranking government officials. Almost certainly on the docket: oil, war in Yemen, Iran, and legislation working through the Senate that would allow American families to sue the Saudi government for its role in the 9/11 terrorist attacks. That last one should be especially fun. [NYT]