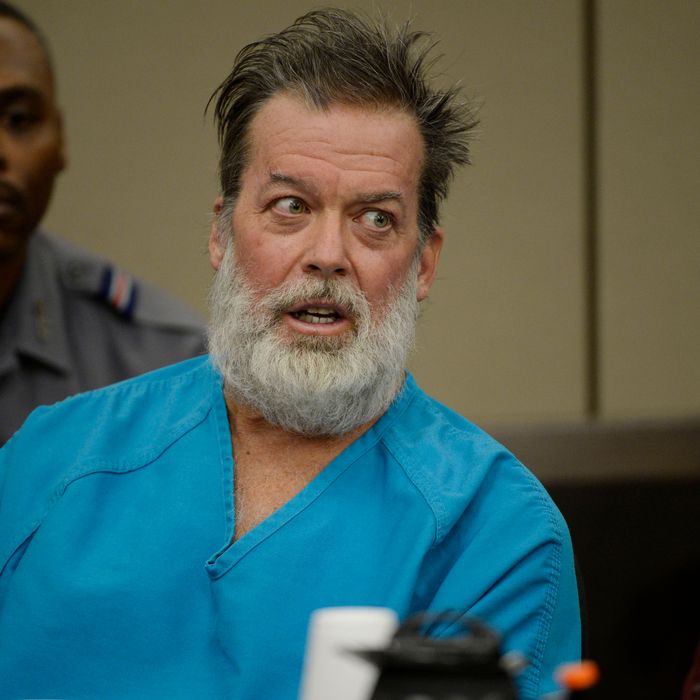 Robert Lewis Dear appears in court.
Photo: Andy Cross-Pool/Getty Images/2015 Getty Images
Good morning and welcome to Fresh Intelligence, our roundup of the stories, ideas, and memes you'll be talking about today. In this edition, new details emerge in last year's Planned Parenthood shooting, Ben Carson is still terrible at endorsements, and Donald Trump is starting to sound a lot like Charlie Sheen. Here's the rundown for Tuesday, April 12.
WEATHER
The severe weather in the South and Southeast yesterday should mellow out today, but there are still chances of significant thunderstorms from Alabama through Florida and up to South Carolina. In New York, a rainy morning should give way to a mostly clear day. [Weather.com]
FRONT PAGE
Details Emerge in Last Year's Planned Parenthood Shooting
Newly released court documents provided more details about last year's fatal shooting at a Planned Parenthood in Colorado Springs, Colorado. They show that the shooter, Robert Lewis Dear, was enraged over the fact that Planned Parenthood "sold baby parts" and thought that when he died, "fetuses in heaven would thank him for stopping more abortions." They also show that Dear tried but failed to blow up the clinic — he set up propane tanks outside and shot at them, but they did not detonate. Dear is charged with first-degree murder and attempted murder. Although he wanted to act as his own attorney, he was deemed incompetent. [Buzzfeed]
EARLY AND OFTEN
Hundreds of Protestors Arrested in Washington
More than 400 protestors of a group estimated at 600 were arrested on the Capitol steps yesterday. The nonviolent protest was lead by the progressive coalition Democracy Springs and condemned basically everything: redistricting, the suppression of voting rights, and the use of money in politics. More protests are planned every day this week. [NPR]
Sanders Calls for National Fracking Ban
Bernie Sanders spent yesterday campaigning for the Upstate New York vote, and he knew exactly what they wanted to hear. Speaking in Albany, he praised New York for pushing through a fracking ban, criticized Hillary for supporting the practice, and said if he were president, he would work toward a nationwide ban. [CBS]
Trump Continues to Insult Opponents Past and Present
Donald Trump isn't known for playing nice, but in what might be his harshest insult to date, Trump singled out his former opponents Scott Walker and Marco Rubio and his current competitor John Kasich, and said — in public — that they would make good vice-presidents. Burn.
Ben Carson: A Man of Many Contradictions
Ben Carson still hasn't gotten the hang of this whole endorsement thing. In a recent radio interview, the neurosurgeon, who has publicly endorsed Donald Trump, said he wouldn't support Trump if he thought anyone else had a chance of winning and that a Democratic win would be so catastrophic he had to support Trump for the sake of his grandchildren. In fact, if it weren't for Trump, Carson said he would be part of the "Never Trump" movement. Makes sense. [Buzzfeed]
THE STREET, THE VALLEY
Texas Attorney General in Legal Trouble Takes Amazing Mug Shot
Texas attorney general Ken Paxton found himself in a bit of legal trouble yesterday when U.S. regulators charged him with taking part in a stock scam. Check out his booking photo: Now that's a face that's easy to convict. [Reuters]
Speith Lost the Masters So Badly It Affected the Economy
Under Armour took a 6 percent dive yesterday after one of the athletes it sponsors, Jordan Speith, lost the Masters Golf Tournament in spectacular fashion. If Stephen Curry had a bad day, it could destroy the company, but that will never happen. [Reuters]
Someone at the Justice Department Finally Saw The Big Short
Goldman Sachs, the last of the big banks to pay for its part in the mortgage crisis, has agreed to pony up $5.06 billion. And, in a move that distinguishes the firm from its peers, Goldman will actually release a fact sheet that details its wrongdoing.
Tesla Warns Sitting in Its Seats Could Be Dangerous
In some bad news in what has been a very good year for Tesla, the company is recalling nearly all of its Model X electric SUVs because of a safety issue with their third-row seats. Tesla is telling people not to sit in those seats until they can get them fixed. [CNN]
MEDIA BUBBLE
National Weather Service to Stop Freaking Out
The National Weather Service has announced that it will stop using all caps in its forecasts. The all-caps releases were a holdover from the old wire-service days, but now young people just think they're being yelled at about rain. The NWS has one month to get all the shouting out of its system before it switches to its indoor voice. [NOAA]
Only White Person Led Zeppelin Ever Stole Music From Sues
A judge in Los Angeles has decided that Michael Skidmore's case against Led Zeppelin can go ahead. Skidmore says the band stole the music for "Stairway to Heaven" from "Taurus" by the band Spirit. You can hear the similarities here. [Reuters]
First Bruce Springsteen, Now XHamster: Can North Carolinians Even Call This Living?
The popular pornographic website XHamster.com is joining the fight against North Carolina's recently passed anti-transgender law; the site will remain blocked in the state until the law is overturned. In a tweet, XHamster also pointed out that North Carolinians have searched for transgender pornography on the site nearly half-a-million times. [CNet]

PHOTO OP
Night Rider
Ford passed something of a milestone last night when one of its cars managed to traverse a track in Arizona at night, without a driver. The new self-driving car navigates using lasers.

MORNING MEME
Now This Is a Platform
Donald Trump wrapped up his remarks in Albany last night with an unintelligible rant about winning that would have warmed the heart of Charlie Sheen. What a great teaser for next year's State of the Union. JOCK JAMS!
OTHER LOCAL NEWS
Thoughtful Barista Vilified
This morning our "today in Florida" news is also our "today in Starbucks" news. A St. Augustine, Florida, man was appalled when he received his grande white-chocolate mocha with a receipt that said, "DIABETES HERE I COME." Somebody is getting fired, and that somebody deserves it. [UPI]
FBI Offers Laughably Small Reward for Incredibly Famous Paintings
The FBI is offering $25,000 to anyone with information that will lead to a stolen group of Andy Warhol's famous Campbell's Soup Cans prints. Seven of the Springfield Art Museum's ten Warhol prints were recently stolen — a heist! [Kansas City Star]
HAPPENING TODAY
Al-Jazeera America Goes Off the Air
Today, Al-Jazeera America is going off the air for good. The Qatar-funded global-news network struggled to captivate an American audience despite high hopes, much hype, and a pretty stellar team. [AP]
Legal Battle Over Mississippi's Confederate State Flag Goes to Court
Carlos Moore, the lawyer who sued Mississippi's governor over the state's use of Confederate imagery in its flag, will go before a judge today in what should be a closely watched case. [WJTV]
Flint Braces for More Bad News
First lead and now Legionnaires disease, the problems with Flint, Michigan's water supply continue to mount. Flint's residents are eagerly anticipating a paper from Marc Edwards, a researcher who has completed an eight-month test of the city's water, that's slated to be released today. [NYT]