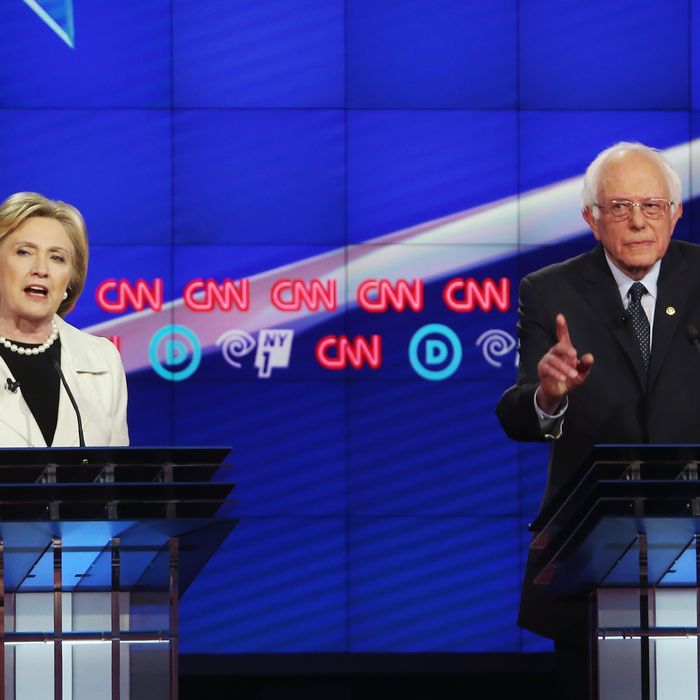 Hillary and Bernie pick players for their softball teams.
Photo: Justin Sullivan/Getty Images/2016 Getty Images
Good morning and welcome to Fresh Intelligence, our roundup of the stories, ideas, and memes you'll be talking about today. In this edition, the gloves come off in Brooklyn, the Alabama governor's scandal enters cartoon territory, and Microsoft heads to court. Here's the rundown for Friday, April 15.
WEATHER
This will be an exceptionally wet Friday for large swaths of the country from the plains states through parts of Texas. Strong winds off the West Coast will lead to dangerously high surf in the Bay Area, and New York will be sunny and cool with temperatures rising through the weekend. [Weather.com]

FRONT PAGE
Candidates Trade Word-Blows in Brooklyn
The two democratic candidates met at the Brooklyn Navy Yard last night for their last debate before New York's closely watched primary on Tuesday. The debate represented a considerable shift for the candidates, especially Bernie Sanders, who pulled off his sharpest, most aggressive, and sometimes most sarcastic debate performance yet. The candidates sparred over the usual issues: the Iraq war, wealth inequality, and Hillary's speeches to big banks. But perhaps the most startling moment came when Sanders openly criticized Israel for its treatment of Palestinians — something politicians don't typically do, especially in New York.
EARLY AND OFTEN
Sanders's Jewish Outreach Coordinator Suspended Over Israel Criticism
Bernie Sanders has suspended Simone Zimmerman, his Jewish outreach coordinator, after the comments she made disparaging Israel and Benjamin Netanyahu on Facebook came to light. Although her views have their supporters, it's hard to imagine she thought writing "F***k you Bibi" would be good for her political career. [NYT]
Welcome to Trump Country, Basically the Whole Country
A new Fox News poll shows Donald Trump with a commanding lead over his opponents nationwide. Trump now pulls 45 percent of respondents compared to Ted Cruz's paltry 27 percent. Most surprising is John Kasich, who's biting at Cruz's heels with 25 percent without really having won anything — right, right, Ohio. [Politico]
Democracy As Usual: Democratic Party Sues Arizona
Both the Sanders and Clinton campaigns have joined with the Democratic National Committee to sue the state of Arizona over irregularities in the primary there. Voters reported insufficient polling places — especially in minority areas — and wait times of up to two hours. The suit might sound like a big deal, but this actually happens basically every election. [CNN]
Can We Call This Scandal Mistress-Chopper-Wallet-Gate?
Alabama governor Robert Bentley is in trouble again. This time it has emerged that the governor called a state helicopter into service to pick up his wallet, which he left at his wife's house after he fled the property following a fight with her about his ongoing affairs. Wow. When asked to explain his actions, Bentley said, "I had to buy something to eat." [TPM]
THE STREET, THE VALLEY
Sandy Hook Gun-Maker Lawsuit Can Go Forward 
A federal judge has said that a lawsuit against the maker of the AR-15 semi-automatic rifle brought by the families of victims of the Sandy Hook shooting can go ahead. The families are arguing that the gun-maker knew the rifle was a military weapon and should not have sold it to civilians. [CBS]
Take a Number: Microsoft's Turn to Sue the Justice Department
The FBI might have hacked that iPhone, but the bigger battle over online privacy and encryption isn't going anywhere. Yesterday, Microsoft sued the Justice Department for barring the company from informing its customers when the government secretly accesses their data. Baby steps. [The Verge]
America's Last Six Moviegoers Flip Out
Movie fans are strongly displeased and are — you guessed it — taking to Twitter after AMC Entertainment CEO Adam Aron said he would consider allowing texting at select screenings because Millennials are the worst, but he would still like their money. [NBC]
Shuddle Shutters
Shuddle, the Uber-like service for kids, is closing shop. Customers received an email yesterday saying Shuddle was out of money; perhaps parents were less eager to encourage their children to accept rides from strangers than anticipated. [TechCrunch]
MEDIA BUBBLE
Even Col Allan is Getting Out of the Newspaper Business
Col Allan, the New York Post's editor-in-chief since 2001 and Rupert Murdoch's closest confidant, has announced he will retire at the end of April. Allan has something of a reputation — Politico's Joe Pompeo calls him "a fiery editor, fierce boss, and copious tippler who can be as gregarious as he can be abrasive." [PoliticoMedia]
New York Times Goes Global, Gets Clever New Name
The New York Times has announced that it will invest $50 million over the next three years to push into global markets. To that end, it is launching NYT Global, a new global platform that will, at least in the beginning, focus on big non-location-specific issues like global warming. If you're going worldwide, it looks like you have to go world-broad, too. [The Daily Beast]

Business As Usual at the New Republic
New Republic editor-in-chief Gabriel Snyder is out. For a publication whose recent existence has been defined by turmoil, it seems almost miraculous that Snyder lasted this long. He didn't give specific reasons for his departure other than alluding to his bosses toying with a new direction. Actually, that would be a great name for the whole magazine. [CNN]
PHOTO OP
Republicans Attend Black-Tie Gala to Fight Fat-Cat Reputation
While Hillary and Bernie were sparring in Brooklyn, Republican power people were schmoozing in Manhattan at a black-tie gala. It looked like the kind of party a super-villain would interrupt in a Batman movie; in fact you can kind of imagine Trump shouting, "Oh no! The Joker!" in this picture.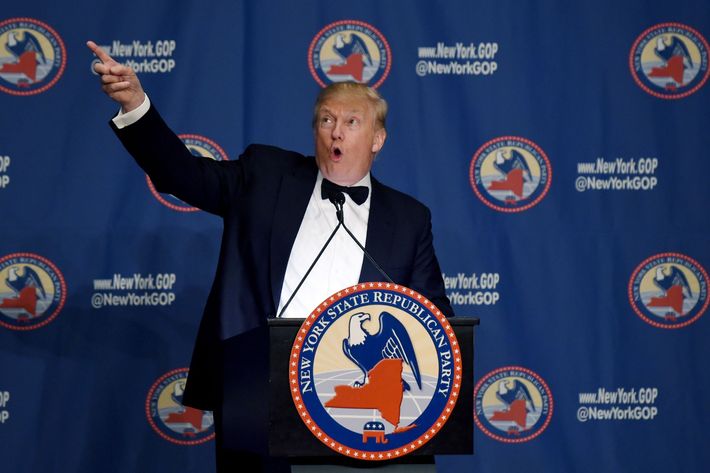 MORNING MEME
This woman trying Tesla's autopilot function is both totally reasonable and absolutely hilarious. We hadn't really considered the huge meme potential self-driving cars represent. [The Verge]
OTHER LOCAL NEWS
North Carolina Judge Exemplifies His State's Reputation for Tolerance
A judge in Henderson County, North Carolina, interrupted what we're sure was important court business to scold an attending mother for breast feeding. Scold might be too weak of a word — the judge kicked her out, told her to "button up," and repeatedly called her behavior inappropriate. The mother said she was terrified. [WaPo]
Looking for Trouble: Florida Man to Explore Bermuda Triangle in Plastic Bubble
A man in Pompano, Florida, built his own "bubble-like vessel" in which he is now planning to sail — roll? — around the Caribbean and explore the Bermuda Triangle. This is actually his second attempt; last time he had to be rescued by the Coast Guard 70 miles offshore. [UPI]
HAPPENING TODAY
Happy Boston Day 
Today is the second annual Boston Day, a new holiday decreed by Boston mayor Marty Walsh. In typical Boston fashion, the anniversary of the Boston Marathon bombing has been transformed into something positive — a chance to do good works and a celebration of the city's values of strength, resilience, and goodwill. [Boston.com]
Hartford Braces for Trump Rally, Protests
Donald Trump will make an appearance in Hartford, Connecticut, today, but Trump protestors started organizing days ago. The convention center where he will appear holds 8,000 people, so the city is bracing for a large turnout on both sides. [Fox]
Tax Day Comes for Bernie Sanders
With all the heated debating and issue-discussing in last night's Democratic debate, you might have missed Bernie Sanders promising that he would release his taxes today. We're truly surprised he hadn't yet, and many will be interested to see them. [NYT]