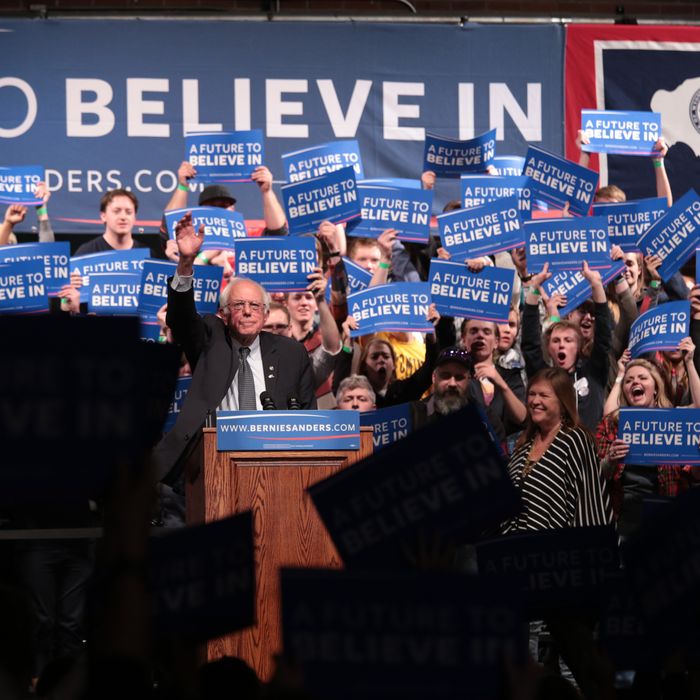 Momentum builds behind Bernie Sanders.
Photo: Matthew Staver/Bloomberg
Good morning and welcome to Fresh Intelligence, our roundup of the stories, ideas, and memes you'll be talking about today. In this edition, Bernie Sanders and Ted Cruz win their respective Wisconsin primaries, Mississippi signs an anti-LGBT bill into law, and WhatsApp promises encryption for all. Here's the rundown for Wednesday, April 6.
WEATHER
Strong winds have led to massive grass fires and evacuations in Oklahoma, with officials warning the same conditions are present in New Mexico and west Texas. Meanwhile a new arctic blast will bring cold temperatures to the Northeast and New York. [Weather.com]
FRONT PAGE
Wisconsin Unmoved by Trump Cheese Resemblance
Wisconsin has spoken, and it said what everyone expected: Ted Cruz and Bernie Sanders carried the day in each of the state's primaries. Donald Trump, showing grace and strength of character during what must've been a trying time, was already calling Cruz a liar and a Trojan Horse for the Establishment before the night was over.
EARLY AND OFTEN
Plans to Make Angels the State Bird Fail, Tennessee Tries New Tack
A bill to make the Bible the state book of Tennessee is headed for the governor, although what he'll do with it is anybody's guess. The bill has encountered resistance both from those who say it violates the Constitution and gives unequal status to Christianity and from those who claim an association with Tennessee will be bad for the Bible's reputation. [The Tennessean]
Mississippi: America's Taliban
Mississippi governor Phil Bryant signed the most sweeping of a recent series of so-called religious-freedom acts into law today. The new law basically allows anyone to treat anyone however they please, if they can point to a religious justification for their actions. Georgia's governor declined to sign a similar law under pressure from businesses invested in his state, but no one really does business in Mississippi.
Witch Hunter Becomes the Hunted
The tables have turned on David Daleiden, he of the undercover, widely discredited, and probably illegal Planned-Parenthood-sells-baby-flesh videos. California investigators went through Daleiden's home yesterday and seized his computer and multiple hard drives in an attempt to collect all footage connected to the videos. [Politico]
Stone's Delegate Threats Turn Ugly
Longtime Trump supporter Roger Stone said that if delegates switch their support from Donald Trump at the convention, he'll publish their hotel-room numbers and they can expect a visit from Trump supporters. Stone knows as well as anyone that having to talk to Trump supporters is the worst.
THE STREET, THE VALLEY
PayPal Pulls Out of North Carolina
Citing a recent anti-transgender law in North Carolina, PayPal has cancelled plans to open a global-operations center there worth millions to the local economy. According to PayPal's president, Dan Schulman, "becoming an employer in North Carolina, where members of our teams will not have equal rights under the law, is simply untenable." [WaPo]

Amazon Hops On Artificial-Intelligence Train. Next Stop: Robot Apocalypse
Sources are confirming that Amazon did in fact purchase Orbeus Inc. last fall. Orbeus is an artificial-intelligence startup with a perfect name for the evil corporation behind the near-future cyborg takeover — just saying. [Bloomberg]
Siri, Are You in Cahoots With the Feds?
A new bug, one of many that have been uncovered in Apple's iOS 9, looks like it might allow interested parties to access a phone's contacts and photos by tricking Siri. The personal assistant still can't find an open frozen-yogurt place to save its life, but hacking into an iPhone is no problem. [CNet]
The FBI's New Enemy in Tech: A White Guy With Dreads Named Moxie Marlinspike
It looks like encryption won't be out of the news any time soon. The world's most popular messaging service, WhatsApp, just encrypted all communications for its 1 billion users. WhatsApp founders announced the encryption yesterday alongside a "high-minded coder and cryptographer who goes by the pseudonym Moxie Marlinspike." Where to begin? [Wired]
MEDIA BUBBLE
Twitter Gets in the Game
The NFL has chosen Twitter to stream Thursday Night Football this year free of charge. There had been much speculation over which platform the league would chose, and the move should be a boon to the beleaguered tech company. [NFL]
Cable Guts NCAA Viewership
Despite being one of the tournament's most exciting games, this year's NCAA championship, its first broadcast on cable, saw viewership decline by 37 percent, although to be fair, last year's game was the most-watched in nearly two decades. [Bloomberg]
"Jackie" Must Testify in Rolling Stone Lawsuit
A judge has ruled that the woman at the center of Rolling Stone's controversial — and now discredited — story about campus rape at the University of Virginia will testify at trial. Nicole Eramo, a university administrator, is suing the magazine as well as the piece's author.
PHOTO OP
A Record-Breaking Night for the Connecticut Huskies
UConn's Huskies beat the Syracuse Orange for a record fourth consecutive title tonight with the help of their star player Breanna Stewart, pictured here being a boss. Last night's victory was also the 11th national championship for their coach, Geno Auriemma — another record.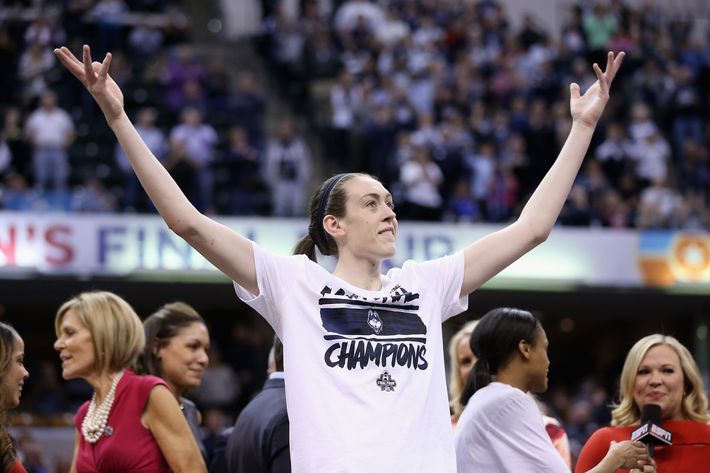 MORNING MEME
This morning's meme just has to be this video of Florida governor Rick Scott being driven out of a Gainesville Starbucks by an angry constituent. Say what you want about America, but we really aren't afraid to yell at people. [Gawker]
OTHER LOCAL NEWS
Animals Continue to Flee Sinking Ship That Is the San Francisco Bay Area
Just a few days after police apprehended a chihuahua running across San Francisco's Bay Bridge, a sea lion blocked a major Bay Area freeway, repeatedly evading an off-duty police officer before being snagged by animal experts. [AP]
Another Day, Another Buffet Face-Punching
An Oklahoma woman is in jail for punching an off-duty cop in the face after he took her to task for reportedly using her bare hands to scoop up salad from an all-you-can-eat buffet. We can hear her now: "Who do you think you are? The salad police?" [The Smoking Gun]
HAPPENING TODAY
Spike Lee Documentary Premieres in Missouri
Spike Lee's documentary 2 Fists Up is premiering tonight at the Missouri Theater in downtown Columbia, Mo. The film follows last year's protests by black students at the University of Missouri. [The Kansas City Star]
Ebola Funds Diverted to Fight Zika
The White House will announce plans to transfer funds allocated to fight the Ebola epidemic in Africa to a new battle against Zika in Central and South America. Most of the $600 million is expected to go through the Center for Disease Control. [NYT]
Largest-Ever Health-Care Acquisition Deal Is No More
Pfizer will announce the cessation of its $160 billion acquisition of Botox maker Allergan today after the U.S. Treasury started cracking down on loopholes exploited in corporate mergers to avoid paying taxes. [NYT]