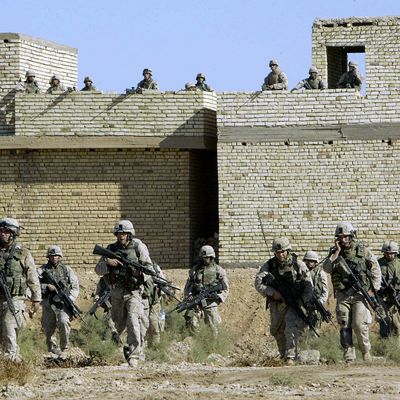 U.S. marines on patrol in Iraq.
Photo: EHDI FEDOUACH/AFP/Getty Images/2004 AFP
Good morning and welcome to Fresh Intelligence, our roundup of the stories, ideas, and memes you'll be talking about today. In this edition, 200 U.S. troops will deploy to Iraq, the Supreme Court is split over the fate of millions of immigrants, and IBM has a bad case of the Mondays. Here's the rundown for Tuesday, April 19.
WEATHER
A state of emergency continues in Houston where an ongoing deluge caused flooding that has killed at least five people — the rain there shows no sign of letting up. Other serious storms are expected from the Rocky Mountains through Texas. In New York, there's a slight chance of rain, but it should be a nice day with temperatures around 70 degrees. [Weather.com]
FRONT PAGE
Never-Ending War Not Over Yet
The United States will deploy 200 ground troops and eight Apache helicopters to Iraq to help fight the Islamic State. The buildup comes as the Iraqi military begins preparations to retake Mosul, the third largest city in Iraq, which has been under ISIS control since 2014. U.S. military officials describe the deployment as the largest of its kind in the past year; the troops will also be stationed closer to the front line than they have been in recent years. [AP]
EARLY AND OFTEN
Supreme Court Split on Obama Immigrant Action
The Supreme Court — chugging along with only eight justices since Antonin Scalia's death — seems split down the middle over President Obama's executive action that protected millions of immigrants from deportation. Conservatives who have been blocking the president's court appointment have reason to celebrate as a tie means a lower-court ruling to throw out the action will stand. [NYT]
Republican Strategist Takes Page From Trump Playbook, Sues Him
Republican communications strategist Cheri Jacobus is suing Donald Trump and his campaign manager Corey Lewandowski for $4 million, claiming they falsely impugned her reputation. Trump referred to Jacobus as a "third grader" — she is, in fact, an adult — and a "real dummy." Seeing as impugning people's reputations is basically Trump's whole platform, we're sure a lot of people are eagerly watching the suit's outcome. [Politico]
Weeping Gillibrand Calls Out Bernie on Support for Gunmakers
Speaking on Politico's Off Message podcast yesterday, Senator Kirsten Gillibrand began to weep as she discussed Bernie Sanders's voting record on holding gunmakers accountable for mass shootings. Through her tears she said Sanders isn't "fully getting how horrible it is for these families." Gillibrand replaced — you guessed it — Hillary Clinton on the New York Senate. [Politico]
Michigan Governor Threatens to Poison His Family
Michigan governor Rick Snyder told reporters yesterday that he and his wife will exclusively drink Flint's tap water for the next three weeks despite plenty of proof his office knows the water is basically poisonous. Two reporters came to his home to watch him drink the water, and his office even released official water-drinking photos. Flint residents were less than impressed.
THE STREET, THE VALLEY
IBM: And You Think You're Having a Rough Monday
IBM released its earnings yesterday, and let's just say things did not go well. IBM announced its worst revenues in 14 years, sending stocks tumbling almost 5 percent. The company just hasn't been able to keep up with the move to mobile and cloud computing. [WSJ]
Youth Increasingly Just Chilling
Another company having a rough day is Netflix. The streaming service and — apparently — Millennial sex facilitator announced that new subscribers at home and abroad are signing up more slowly than analysts expected … and down went its stock by as much as 8 percent. [Reuters]
Starting Next Month Target Employees Will Be Underpaid More Money
Target employees will get paid a minimum of $10 an hour, according to widely reported news that the company has neither confirmed nor denied. The move comes as minimum wage becomes a hot-button issue in the country and companies like Walmart have moved to (slightly) raise their base pay.

'Most Influential Man in Silicon Valley' Has Died
Bill Campbell, a Silicon Valley legend known to those in the tech industry as "Coach," died in his sleep after a drawn-out battle with cancer. He was 75. Over the years, Campbell acted as a mentor to luminaries such as Steve Jobs and Mark Zuckerberg. [CNet]
MEDIA BUBBLE
If You'd Won a Pulitzer You'd Know by Now
This year's Pulitzer Prize winners have been announced. Among the winners is Hamilton, a play of some kind, and many incredibly talented writers, artists, and journalists around the country. It's a great group and worth reading the whole list. Congratulations! [Pulitzer.org]
Like Students Everywhere, Supreme Court Sides With Google Over Book Authors
The Supreme Court has upheld a lower-court ruling dismissing a suit brought by the Authors' Guild — and a few non-guild authors — against Google Books that claimed the service violated authors' copyrights. [NYT]
Verizon, Hearst Come to Complex Media Agreement King Solomon–Style
As both Hearst and Verizon scramble to snap up as many digital-media companies as possible, a potentially awkward situation was handled civilly when both companies acquired half of Complex Media, an outlet aimed mostly at young men. It looks like both companies paid in the ballpark of $150 million. [Mashable]
PHOTO OP
Ethiopian Runners Sweep Boston Marathon
Yesterday, for the first time in its history, Ethiopian runners won both the men's and the women's races at the Boston Marathon. Here, Atsede Baysa crosses the finish line of the women's race.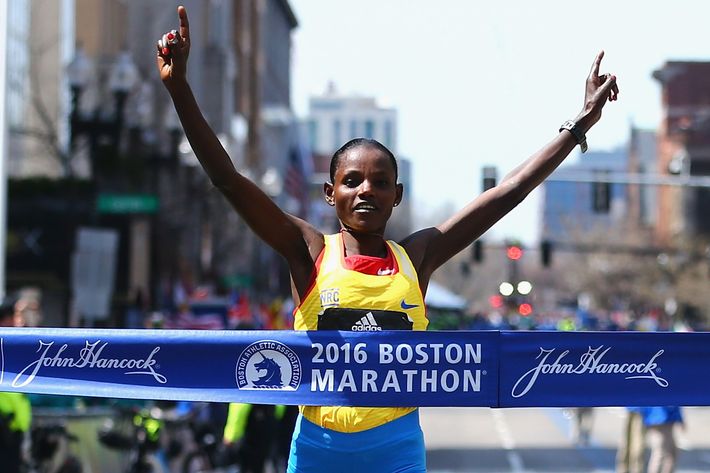 MORNING MEME
Are We the Only Ones Who Called 7-Eleven to Make Sure Everything Was Okay?
In a speech yesterday in Buffalo, New York, Donald Trump confused a generation-defining terrorist attack with a beloved chain of Slurpee purveyors. No big deal — New Yorkers love that kind of thing.
OTHER LOCAL NEWS
This Is Why Regulating Rodeos Is So Important
What's being described as an "informal rodeo" in Lino Lakes, Minnesota — we only attend black-tie rodeos — descended into some pretty rodeo-specific chaos after dozens of police officers were required to break up a huge brawl in the calf-roping area involving "spurs and whips." [ABC]
Anti-LGBT Groups Have So Many Bathroom Issues
The San Francisco Chinese Christian Union, described by the Southern Poverty Law Center as an anti-LGBT hate group, is suing the city of San Francisco over the outdoor urinals recently installed in one of the city's public parks, which they call "grossly unseemly." [SFGate]
HAPPENING TODAY
New York Votes
Today's New York primary is actually important, and analysts are expecting record turnouts — whether those numbers are enough to overturn sizable leads by Hillary Clinton and Donald Trump is yet to be seen. Go vote! Or pretend to vote and enjoy a long lunch break. [CNN]
John Kerry to Meet Iranian Minister
Secretary of State John Kerry is set to meet Iranian foreign minister Mohammad Javad Zarif in New York today where they will discuss the ongoing nuclear deal between the two countries and the civil war in Syria. [Reuters]
Stoners Must Stay at Home and Smoke Pot, Sounds About Right
Despite recent decriminalization, the Washington D.C. council is voting today on legislation that would permanently ban people from smoking marijuana in public, dashing the city's hopes for pot clubs à la California. As you can see, our source for this is Johnny Green writing for the Weed Blog so, you know, grain of salt. [The Weed Blog]