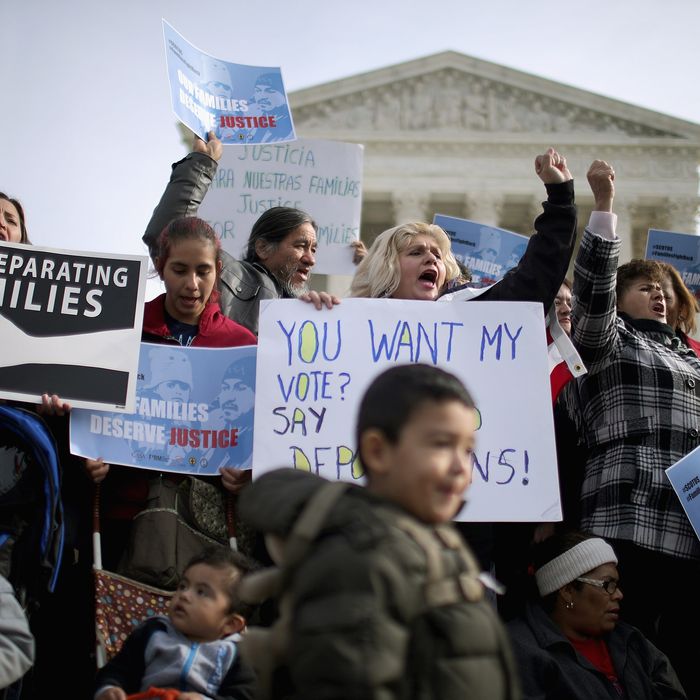 Immigration activists rally in front of the U.S. Supreme Court.
Photo: Chip Somodevilla/2016 Getty Images
Good morning and welcome to Fresh Intelligence, our roundup of the stories, ideas, and memes you'll be talking about today. In this edition, Obama's immigration action comes before the Supreme Court, Emma Stone is not great at filling out forms, and another cheating scandal is brewing in the world of professional cycling. Here's the rundown for Monday, April 18.
WEATHER
Expect rough weather today from Kansas through central Texas and into Louisiana with hail, high winds, thunderstorms, and the ever-present threat of flash floods. High temperatures on the West Coast show no signs of abating, while in New York, a lovely Monday should mark the start of a very nice — if a bit cloudy — week. [Weather.com]
FRONT PAGE
Supreme Court to Determine Validity of Obama Immigration Action
President Obama's executive action to spare millions of undocumented immigrants from deportation goes before the Supreme Court today. The justices will determine whether the president overstepped his executive authority when he took action to protect up to 4 million undocumented immigrants without criminal records and who had children living here legally after Republicans in the House of Representatives blocked his more comprehensive legislation. If the eight-judge court ties, the lower court's ruling to throw out the president's executive action will stand. [Reuters]
EARLY AND OFTEN
Conservatives Briefly Think Celebrities Support Them
The Los Angeles Times revealed that more than half of the members of the American Independent Party, a radical conservative political party, registered in error. Thousands of Californians, including celebrities such as Emma Stone and Demi Moore, thought they were registering as independents. Politics aside, this story paints a pretty bleak picture of literacy in Southern California. [LA Times]
Racist Presidential Candidate Was Once a Racist Pageant Boss
A story in the Boston Globe brought to light a complaint filed against Donald Trump in 1997 by two of his business partners alleging that the presidential candidate would not allow African-American pageant contestants to attend parties at his house. Is this supposed to be surprising? [Boston Globe]
Unhinged Campaign Manager Does His Thing on TV
Donald Trump's campaign manager, Corey Lewandowski, he of the recently dismissed battery charge, appeared on Fox News where he went thoroughly off the rails, going on an error-laden rant against the delegate system and attacking Republican Party of Florida chairman Blaise Ingoglia. [Politico]
Clooney Must Have Learned How to Endorse From Ben Carson
Outspoken Hillary Clinton supporter and very famous person George Clooney said on NBC's Meet the Press that he hopes Bernie Sanders stays in the presidential race and that he would support Sanders if he won the nomination. He also agrees with Sanders about the "obscene amount of money" in politics, and he "agrees completely" with people who protested the fundraiser he attended for Clinton. But he still supports Hillary — he really does. [Politico]
THE STREET, THE VALLEY
OPEC Dysfunction Keeps Oil Nice and Cheap
Oil prices have fallen a full 5 percent after major oil producers failed to reach an agreement that would control oil output. This is all because of a disagreement between Iran and Saudi Arabia — suffice it to say, oil should stay cheap for the foreseeable future. [Reuters]
Inevitable Event Could Have Been Much Worse
It finally happened — a drone collided with a commercial airliner. A British Airways flight crew reported striking a drone while coming in for a landing at Heathrow airport in London. Luckily no one was hurt and the plane wasn't damaged. [The Verge]
Motorcyclists Doing It Wrong
A joint investigation from television channels in Italy and France has uncovered evidence that professional cyclists have been cheating in races using concealed motors and magnetized tires. The motors were discovered using specially designed infrared cameras — now that's some Olympic-level cheating. [Fittish]
World Famous Wall Builders Have No Love for Trump
Chinese finance minister Lou Jiwei publicly spoke about Donald Trump in an interview with The Wall Street Journal. Lou described Trump as an "irrational type" and said that if he came into power, the United States would cease being the "world's major power." [WSJ]
MEDIA BUBBLE
Three More Men Accuse Afrika Bambaataa of Molesting Them As Kids
Three more people have come forward accusing hip-hop pioneer Afrika Bambaataa of molesting them when they were children. The first accusation came to light in a story in the New York Daily News last week. Members of Bambaataa's legal team have yet to comment on the accusations. [Jezebel]
Amazon Gets Into the Netflix Business
Amazon is rolling out a new standalone subscription service to compete with other streaming services. In case there was any doubt as to whom the move targets, Amazon launched the new service with a starting price exactly one dollar cheaper than Netflix's. [WSJ]
Margaret Sullivan's Departing Wisdom
Margaret Sullivan has written her last column for the New York Times in which she both praises the paper for its world-class journalism and takes it to task for its sense of superiority and infallibility and its increasing openness to clickbait. Sullivan is leaving her post as the Times' public editor to write a media column for the Washington Post. [NYT]
PHOTO OP
It Must Be April
Expect to see a lot of pictures that look like this, as the annual Coachella Valley Music and Arts Festival is in full swing through April 24.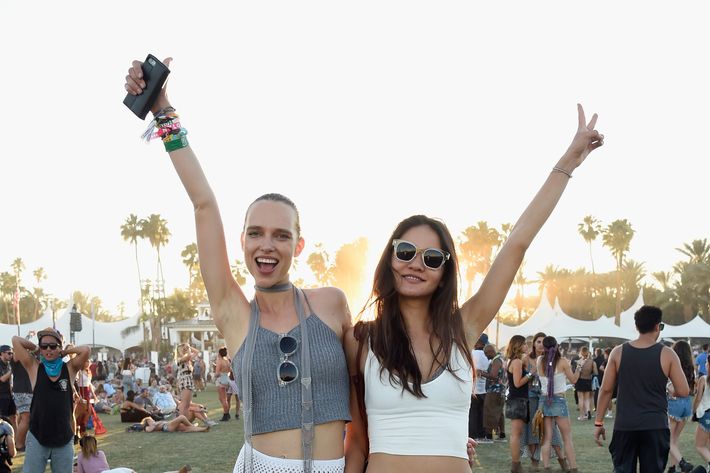 MORNING MEME
Amber Heard and Johnny Depp Go Full North Korea
Actress and wife of Johnny Depp Amber Heard avoided a dog-smuggling charge today by pleading guilty to lying on her immigration forms when she flew to Australia with her Yorkshire terriers. Now the couple has recorded this totally bizarre apology video. Something feels insincere. 
OTHER LOCAL NEWS
Worst Person Ever in Hilarious Misunderstanding
Either this Florida woman kidnapped her friend's kitten and threatened to harm it if the friend didn't cough up $20, or said Florida woman got drunk and sent hilarious — those are sarcasm italics — fake-ransom texts to a friend who'd just lost her kitten. Either way, that Florida woman is not so nice. [The Gainesville Sun]
Napping Employee Rewarded With Free, Brief, Boring Vacation
A FedEx employee loading a cargo plane in Memphis, Tennessee, decided to take a nap amongst the boxes. Short story shorter, he woke up 10,000 feet in the air en route to Lubbock, Texas. He got quite the talking-to, but no one at FedEx could think of a worse punishment than spending a day in Lubbock. [WREG] 
HAPPENING TODAY
Earnings Season for Tech Companies Kicks Off
It's earnings season, in which tech companies announce their quarterly performance. IBM's earnings are due today, Intel and Yahoo will report tomorrow, and Google and Microsoft will release their earnings later in the week. [NYT]
Obama's EuroTrip Not at All Like the Movie
The president is in Europe this week where he will have high-profile meetings with the heads of both Germany and the U.K. at what is a very tumultuous time for the continent. [NYT]
Happy Tax Day!
For most Americans, tax returns are due today. We like to celebrate tax day by availing ourselves of some of the public services our money goes toward funding, so go check out a book from the library or ask a cop if you can ride in his car. [IRS]