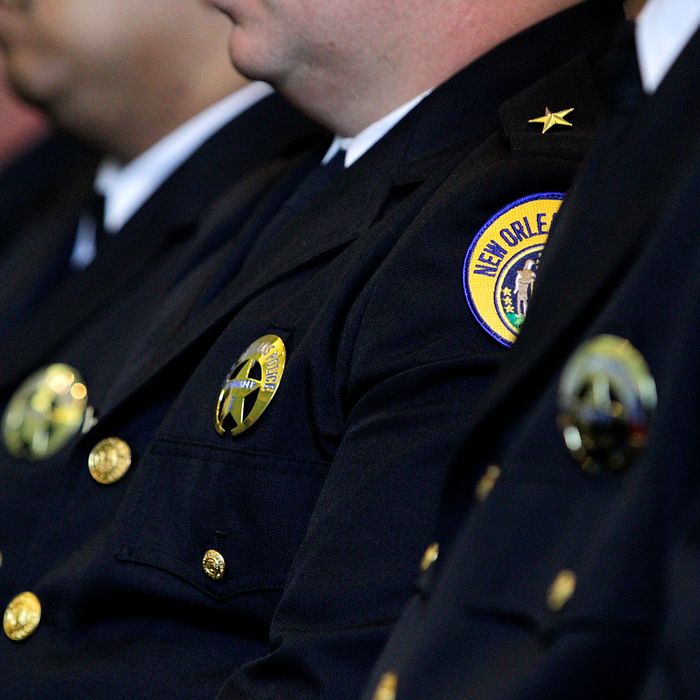 New Orleans police out of line.
Photo: Sean Gardner/2012 Getty Images
Good morning and welcome to Fresh Intelligence, our roundup of the stories, ideas, and memes you'll be talking about today. In this edition, police plead guilty in Hurricane Katrina shootings, Ben Carson gives his two cents, and criminal charges come down in Flint. Here's the rundown for Thursday, April 21.
WEATHER
Today should be the last day of storms in Texas where deadly flooding has been dogging the state all week; there might also be severe thunderstorms in the Mississippi Valley. Tomorrow will be another in a streak of nice days in New York City with lots of sun and temperatures in the mid-70s. [Weather.com]
FRONT PAGE
Police Plead Guilty in Katrina Civilian Shootings
It took more than a decade, but it looks like some justice will finally be served for the families of those killed by police following Hurricane Katrina. Eleven years ago, police shot six people while they were crossing a bridge trying to escape the devastation of Katrina, killing a teenager and a disabled man and injuring four others. Today in federal court, five New Orleans police officers plead guilty to conspiracy, obstruction of justice, and civil-rights charges in exchange for lighter sentences; they should each spend between three to 12 years in prison. [NYT]
EARLY AND OFTEN
Why Is Ben Carson Still on TV?
New faces for the $5, $10, and $20 bills were announced yesterday, and Ben Carson was on hand to offer his two cents. Believe it or not, his thoughts were confused and divisive. Ben Carson just loves Andrew Jackson — because he balanced the federal budget, not because Carson hates Native Americans — that he would prefer to see Harriet Tubman on a different bill, like the $2. Yes, he really said that. [Politico]
It Turns Out Poisoning Tens of Thousands of People Is a Crime
Michigan attorney general Bill Schuette announced the first criminal charges in the ongoing Flint water crisis yesterday. Two state regulators and a city employee will face multiple charges including evidence tampering, violations of the Safe Drinking Water Act, and willful neglect of duty. Schuette made it clear that these were only the first charges with more to come, and in a statement that we're sure has the governor sweating, said "no one is off the table."
Big Win for Democrats in Supreme Court Redistricting Ruling
In a move that should benefit Democrats and minorities, the Supreme Court ruled that states can redraw districts with slightly different boundaries if the redistricting will benefit minority populations. This is the third redistricting question the court has ruled on recently, each time the finding has been in favor of the Democratic position. [USA Today]
Human Cockatoo Gets Wings Clipped
The day after it was reported that Donald Trump's jet's registration had lapsed, the Federal Aviation Administration sprang into action to ground the plane until Trump — or more likely his employees — gets his paperwork in order. Big mistake, FAA — prepare to be dismantled on day one of the Trump presidency. [Bloomberg]
THE STREET, THE VALLEY
Rich People and Buying Things: A Love Affair Going Strong
After a rough year, American Express surprised analysts by beating their predicted-earnings estimates across the board. Still, the company's troubles are far from over, and the CEO has vowed to cut $1 billion in expenses by 2017. [Bloomberg]
Hopes for BMW Phone Dashed: BMW and Daimler Back Out of Apple Negotiations
A German business publication is reporting that both BMW and Daimler — car companies — have cut off negotiations with Apple — not yet a car company — over a special project called "Project Titan." We're going to go out on a limb and say "Project Titan" might be a car. [The Verge]
Bill Campbell's Death Stalls Apple Earnings Release
Apple was supposed to announce its second-quarter earnings this Monday, but the company has decided to postpone the announcement until Tuesday so employees can attend influential Silicon Valley mentor Bill Campbell's memorial service. [CNet]
Judge Rules Against FBI in Child-Porn Hack
Would you believe that an operation in which the FBI secretly ran a child-pornography-distribution website is backfiring? A court has already thrown out all of the evidence in one of the cybersting's arrests, and more challenges are coming. [TechCrunch]
MEDIA BUBBLE
Schilling Out Over Bigoted Facebook Post
One-time Red Sox pitcher and well-known sports commentator Curt Schilling has been fired by ESPN after an offensive, anti-transgender meme he posted to Facebook came to light. In a statement, ESPN declared itself "an inclusive company" and called Schilling's actions "unacceptable."
Reality: Enjoy It While It Lasts
Verizon has purchased RYOT Corporation, a company specializing in virtual reality. RYOT will now be part of a new unit, under the Huffington Post, which is owned by AOL — which in turn is owned by Verizon — and will work with all of AOL's media properties. Long story short: Expect to see a lot more 360-degree videos. [WSJ]
Reporter Wants a Taste of That Sweet Pulitzer Action
This is awkward. Ex–Sun Newspapers reporter Brian Gleason was thrilled to learn that his old employer had bagged its first Pulitzer …  before learning that it was for an unsigned editorial he wrote. The paper decided to split its Pulitzer with Gleason, and in the end there were no hard feelings. [NYT]
PHOTO OP
Back to Work, Hippies
Yesterday was, of course, 4/20, and this is how they celebrated in the city by the bay. Just look at all that famous San Francisco fog.
MORNING MEME
It was only a matter of time before crying Jordan got in on this whole new $20 bill story. Good riddance, Mr. Jackson.
OTHER LOCAL NEWS
Someone's About to Be Spoiled
An Evansville, Indiana, woman saw what expectant mothers everywhere secretly hope to see when they get their first ultrasound: the son of god. Like the mother says: "You can see the hair and his legs crossed and everything." [NBC]
We're Going to Call You Nickels
A missing cat has been found in Price, Utah, living inside a couch that was dropped off at a local thrift store. The cat is now reunited with its owner, and if you want to see pictures of a very confused cat on an old couch, here they are. [UPI]
HAPPENING TODAY
Sandwich Chain Wisely Waits Until After 4/20 for Dollar Sandwich Day
Drop everything: Jimmy John's is selling sub sandwiches for $1 today. The deal lasts from 11 a.m. to 3p.m. We know what we're doing for lunch. [Jimmy John's]
All Eyes on Saudi Summit
President Obama will meet with the Gulf Cooperation Council tomorrow in Saudi Arabia. The president wants a greater commitment from the Gulf States in fighting ISIS, but we have a feeling there will be a lot of talk about oil as well. [VOA]
Car Seller Gets Into the Car-Buying Business
Volkswagen will actually meet today's deadline to present a framework for how it will deal with the whole falsifying-emissions scandal. Its solution is the automotive-behemoth equivalent of a do-over: Volkswagen will just buy back all the affected vehicles. All half-million of them. Ouch. [Reuters]