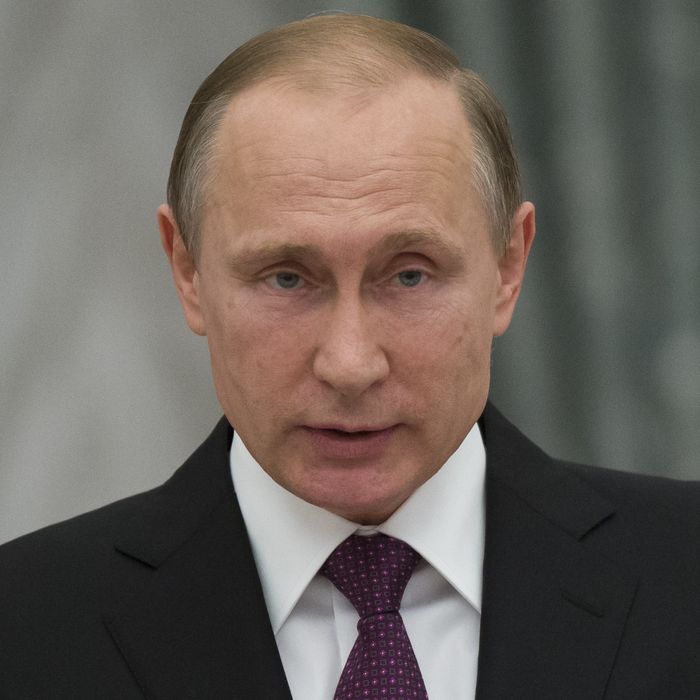 Russian president and confirmed billionaire Vladimir Putin.
Photo: Pavel Golovkin/AFP/Getty Images
Good morning and welcome to Fresh Intelligence, our roundup of the stories, ideas, and memes you'll be talking about today. In this edition, a massive leak exposes the hidden wealth of world leaders, Clinton and Sanders debate about debates, and Tesla's Model 3 is a hit. Here's the rundown for Monday, April 4.
WEATHER
A large winter storm is blowing in from the Great Lakes and will hit New England today. New York will miss the worst of it but should still see showers all day and into the evening. [Weather.com]
FRONT PAGE
Unprecedented Data Leak Lays World Leaders' Finances Bare
A huge leak from one of the world's most important offshore-services companies has revealed the hidden wealth of world leaders, celebrities, and captains of industry. Data from the "Panama Papers" leak was first obtained by German newspaper Süddeutsche Zeitung, and in the last year, the International Consortium of Investigative Journalists has corroborated the information. Yesterday's release, which included the hidden offshore finances of 12 current and former world leaders and 128 politicians from more than 50 countries, was only the first round of what could be many information releases. Among the biggest revelations is the considerable wealth of Russian leader Vladimir Putin, who's connected to $2 billion in offshore accounts.
EARLY AND OFTEN
Ted Cruz Victorious in America's Most Baffling Primary, Says Ted Cruz
Ted Cruz has declared victory in the weekend's North Dakota primary even though, due to the state's esoteric rules, no candidate actually wins there. Cruz claims 18 of the 25 available delegates have agreed to support him, although they're not technically obligated to support anybody. Democracy. [CNN]
Clinton Says She Will Not Be Questioned by the FBI
Hillary Clinton said in an interview on Sunday that she does not expect to be questioned by the FBI in connection to her use of a private email server while acting as secretary of State. Her announcement came a day after the State Department announced it would not go forward with a planned internal review of the incident at the request of the FBI. [NBC]
Trump Unveils Foolproof Campaign Strategy: Ask Other Candidates to Drop Out
Speaking in Wisconsin yesterday, Donald Trump called on John Kasich to drop out of the Republican race before that state's primary tomorrow. Trump questioned why Kasich was "allowed to run" in the first place and said all Kasich does is "go from place to place and lose," which seems a bit harsh. [Politico]
Democratic Debate Debate Gets Confusing
Both Bernie Sanders and Hillary Clinton have agreed to participate in a debate in New York before the state's primary on April 19. Unfortunately, while Sanders has agreed to a debate on NBC on April 10, Clinton has agreed to a debate over at ABC on April 15. Get it together, guys. [Bloomberg]
THE STREET, THE VALLEY
Tesla Orders Hit Quarter-Million in Less Than Two Days
More than 253,000 people ordered Tesla's first mass-market offering, the Model 3, in the first 36 hours after it went on sale. Unfortunately for its eager customers, the company won't actually be able to deliver the cars for up to a year-and-a-half. [Reuters]
Google Pulls Taliban Propaganda App
Just when you think the Taliban couldn't get any less likable, they go and get into the app business. Their first tech outing hit a considerable snag yesterday when Google decided to pull the app: a Pashto-language Android app that launched on April 1 and gave users access to Taliban propaganda articles and videos. [The Guardian]
Alaska Air to Purchase Virgin America
Bloomberg Businessweek reports that Alaska Air is close to finalizing the purchase of Virgin America, the last bearable American carrier. But it's not too late for the deal to fall through, especially because there are rumors JetBlue could derail everything with a last-minute offer. [Bloomberg]
FBI Just Rubbing Apple's Face in It Now
Following its success — with the help of a third party — in unlocking an iPhone used by one of the San Bernardino shooters, the FBI has published a letter saying it would be delighted to help other law-enforcement agencies hack iPhones in their investigations where possible. [CNet]
MEDIA BUBBLE
Second-Most-Popular Country-Music Awards Hit Las Vegas
The 51st annual Academy of Country Music Awards kicked off in Las Vegas last night and saw big wins for Chris Stapleton, who took home four awards including album of the year, song of the year, and male vocalist of the year.
Ariana Huffington Says Media Too Easy on Trump
Speaking on CNN yesterday, Ariana Huffington said that by not consistently challenging Donald Trump's more outlandish statements, the media is helping to make him mainstream. Every story on the Huffington Post that references Trump includes an editor's note reminding readers that Trump is a "a serial liar, rampant xenophobe, racist, misogynist, and birther." [HuffPo]
Gay Talese: Women Write Now?
At a conference at Boston University over the weekend, pioneering New Journalism standard-bearer Gay Talese said, speaking to an audience including many female journalists, that he cannot name one female writer who has inspired him. That must have been a very tense room. [Jezebel]
PHOTO OP
Amtrak Recorders Recovered
The recorders aboard an Amtrak train have been recovered after its deadly crash yesterday outside of Philadelphia. Hopefully they can tell investigators how fast the train was going; they may also contain video footage of the collision.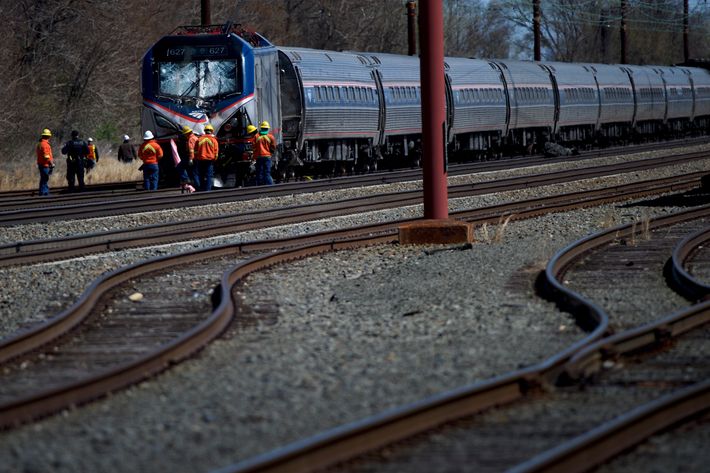 MORNING MEME
The internet is obsessed with Taylor Swift's unflappable bodyguard. This is clearly a man who has seen it all.
OTHER LOCAL NEWS
Punk-Rock Chihuahua in Bay Area Police Chase
A black Chihuahua wearing an oversize human-skull collar led the California Highway Patrol on a long, low-speed chase over the San Francisco Bay Bridge on Sunday. The criminal pooch was eventually captured and is now in animal-control custody. [AP]
Expected Influx of Sociopaths Will Feel Right at Home in Cleveland
The childhood home of famed serial killer Jeffrey Dahmer is available to rent for $10,000 a month — just in time for the Republican National Convention in Cleveland. These real-estate guys really know an opportunity when they see it. [Reuters]
HAPPENING TODAY
Trial of the Century Enters New Stage
Gawker Media is filing court papers today to have a recent verdict, which found Gawker owed Hulk Hogan $115 million after the media company published excerpts of Hogan's sex tape on its website, thrown out, or at the very least decreased. [NYT]

Republicans Campaign Hard in Wisconsin
Republican candidates are going all out in Wisconsin ahead of the tightly contested primary there on Tuesday. Trump even spent last night in the state, which is almost unheard of, as he reportedly prefers to sleep in his own super, super luxury bed in New York. [NYT]
Today Is Yankees Opening Day, Maybe
Today is supposed to be opening day at Yankee Stadium, but there's talk of pushing everything back a day due to rain. We'd hate for anyone to get chilly. [NYT]