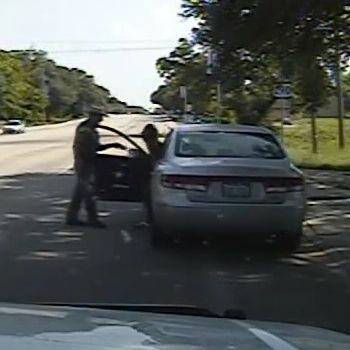 The fateful traffic stop.
Good morning and welcome to Fresh Intelligence, our roundup of the stories, ideas, and memes you'll be talking about today. In this edition, a panel suggests massive changes to the jail where Sandra Bland died, North Carolina waters down its controversial bathroom bill, and Mark Zuckerberg believes robots are the future. Here's the rundown for Wednesday, April 13.
WEATHER
It looks like the Gulf Coast is getting the worst of it today; they're being battered by severe thunderstorms and hail, and a flash flood warning is in effect. Meanwhile New York City can look forward to a very pleasant day: sunny, calm, and cool. [Weather.com]

FRONT PAGE
Civilian Panel Recommends Large-Scale Changes to Waller County Jail
The civilian committee convened to investigate Waller County jail following Sandra Bland's mysterious death in one of its cells released its findings yesterday. It recommended knocking the whole place down and replacing it with a new facility, and it also found the jail needed to improve its mental-health screening procedures. Bland was arrested last year in Prairie View, Texas, after a routine traffic stop and was later found dead in her cell with a trash bag around her neck; the county coroner ruled her death a suicide. [Reuters]
EARLY AND OFTEN
Hate Lite
Apparently porn was the last straw. Bowing slightly to widespread condemnation, and more likely to the threat of losing money from companies like PayPal, North Carolina governor Pat McCrory is revising his infamous anti-transgender bill. The changes would allow discrimination cases to be heard in state court and include gender-identity and sexual-orientation considerations in equal-employment policy. On the whole, though, the bill is still awful. [NYT]
Paul Ryan Wouldn't Be President If You Paid Him, Which of Course You Would
Despite having been basically campaigning for months, Paul Ryan clarified yesterday that he wouldn't be president even if you begged him — or if his name was submitted in a contested convention. Ryan said he had too much to take care of in the House and didn't want people questioning his motivation. That last bit is not a joke.
Clinton Demonstrates Presidential-Level Blame Shifting
Controversy continues to swirl around the "skit" Hillary Clinton and Bill de Blasio appeared in together that featured a joke about "colored people time." Clinton deftly dodged the blame for the incident that she was literally a part of, calling the whole thing de Blasio's skit. [Politico]
Trump's Son-in-Law's Newspaper Makes Shocking Endorsement
The New York Observer has finally announced its much-speculated-about presidential nomination. An editor at the paper, which is owned by Donald Trump's son-in-law, recently admitted to helping write one of Trump's speeches. In fact, we can't keep it a secret anymore: It's Trump! The New York Observer endorsed Donald Trump.
THE STREET, THE VALLEY
Starbucks Investors Have a Funny Way of Showing Brand Loyalty
The incredibly unpopular changes to Starbucks's loyalty program are having real effects on the company's value. Analysts have downgraded its stock and, just yesterday, said stock fell a full 4.2 percent in its biggest drop since early February. [Bloomberg]
New York to Enter 21st Century by 2021
New York City finally announced a public bid to update its bizarrely antiquated subway system. New Yorkers have five years to plan a celebratory MetroCard burning, which is the soonest the city might actually change anything.
Space Continues to Be So Cool
The winners of NASA's annual National Innovative Advanced Concepts Awards have been announced. This year, the space agency has selected 13 outlandish — get it? — moonshot — get it? — concepts that will each receive $100,000. Ideas include a kind of space-trash sweeper, robots that transform asteroids into engines, and engineering microbes for whatever urban biomining is. [TechCrunch]
Facebook Keynote: Humanity's F8 Sealed
Facebook's F8 Keynote kicked off yesterday with big news about the direction of one of the world's most important companies. Facebook founder Mark Zuckerberg believes robots are the future — not the scary kind but the customer-service, personal-assistant kind. In other news, we'll never get a real human being on the phone again. Great. [The Telegraph]
MEDIA BUBBLE
21 Reasons BuzzFeed Is Having a Bad Day
Sources reported yesterday that online media company BuzzFeed missed its 2015 revenue projections by $80 million. As a result, BuzzFeed is cutting its internal projections for this year by half. The company is disputing the figures while refusing to provide any of its own. [FT]
Cracked.com Sold to E.W. Scripps
Info-humor site Cracked.com, where we learned every fact we've ever pretended to have read in a book, is being sold to one-time newspaper company E.W. Scripps by new-media bad boy Demand Media. How much is Cracked.com worth? A cool $39 million. [Re/code]
College Basketball Worth a Lot of Money
The National Collegiate Athletic Association is extending its media agreement with CBS and Turner Networks for the next eight years for $8.8 billion. Yes, you read that right — that's more than $1 billion a year. [MultiChannel]
PHOTO OP
Nerds Mating
These two early adopters had the time of their lives yesterday at Facebook's F8 developer conference in San Francisco.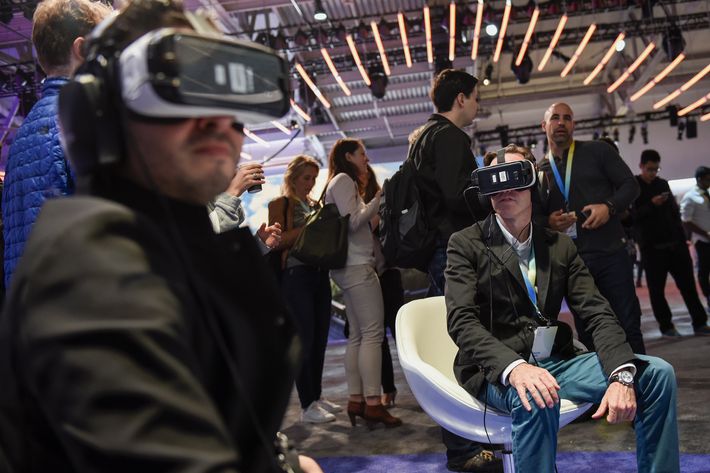 MORNING MEME
Bono was back on Capitol Hill yesterday talking about the various crises confronting the world. When he got to fighting ISIS, Bono shared some of his typical out-of-the-box thinking: Send in the comedians! Worth a try, but can we start with someone more expendable than Amy Schumer? 
OTHER LOCAL NEWS
Survivor Grandma Resists Urge to Eat Dog
A missing 72-year-old woman has been found after being lost in the Arizona wilderness for nine days. Ann Rodgers became disoriented after she ran out of gas in the White River Indian Reservation while driving to visit her grandchildren in Phoenix. Both Rodgers and her little dog are going to be just fine. [ABC]

Illinois Police Kind of Miss the Point of Body Cams
The police department in Minooka, Illinois, is giving up on wearing body cams because officers are sick of people asking to see the footage. The police chief claimed excessive requests from suspects and defense attorneys put undue strain on the department's administrative staff. Clearly getting rid of the cameras was the only option. [RawStory]
HAPPENING TODAY
Warriors Could Make History
The Golden State Warriors have a chance to break the Chicago Bulls' legendary record of 72 wins if they manage to defeat the Memphis Grizzlies in today's game, which is the last before the playoffs. [Newsday]
Washington Square Park Will Bern
Bernie Sanders is planning a major rally today in Manhattan's Washington Square Park. If Sanders isn't enough of a draw, he will be joined by Vampire Weekend, the Dirty Projectors, Spike Lee, and Graham Nash along with lots of other other celebs. [amNewYork]
Robert De Niro Spottings to Spike in Lower Manhattan
The 15th iteration of the Tribeca Film Festival kicks off today with its usual stuffed-to-bursting schedule. This is the first year the festival will feature a United States–specific competition designed to shine a light on the accomplishments of American filmmakers.