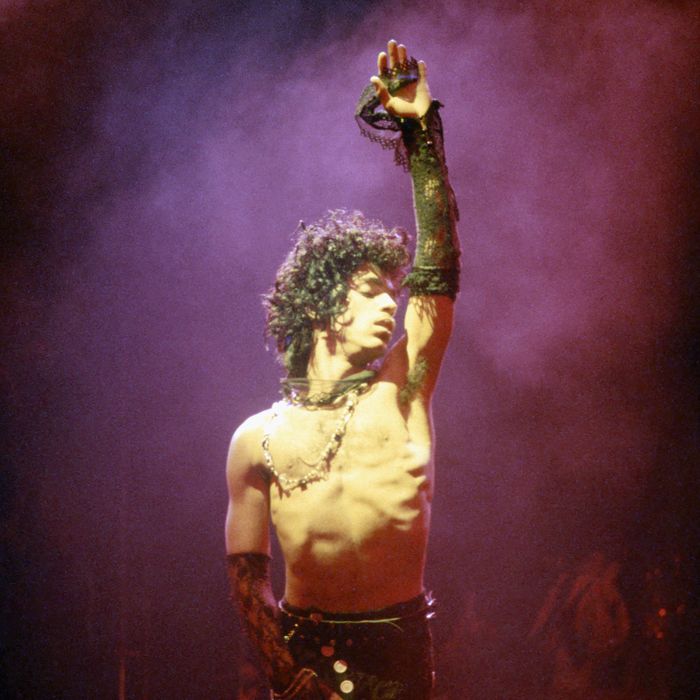 Prince ascending.
Photo: Michael Ochs Archives
Good morning and welcome to Fresh Intelligence, our roundup of the stories, ideas, and memes you'll be talking about today. In this edition, the world mourns Prince, Trump goes off message, and politicians attempt to save the planet. Here's the rundown for Friday, April 22.
WEATHER
The rain that's been pummeling Texas is moving east, bringing showers and thunderstorms from the South all the way up the Eastern Seaboard. The Northwest should also see its share of rain, and even a bit of snow at higher elevations. New Yorkers can expect their share of the East Coast rain starting tomorrow evening and continuing through the night. [USA Today]
FRONT PAGE
Funk, Soul, Style, and Sex All Dead
The inhumanly gifted, legendarily inscrutable, and otherworldly sex god that was Prince died yesterday at the age of 57. He was found unresponsive in the elevator of his Minnesota estate by paramedics responding to a 911 call. Very little is known about the circumstances of his death, but it has emerged that Prince's jet was forced to make an emergency landing last week when he suffered an apparent drug overdose. Prince was one of the world's most influential musicians, and his death has sent shock waves through, well, through everywhere. His musical talents and savant's eye for what's cool captivated the world for decades. Rest in purple, Prince.
EARLY AND OFTEN
Republicans Manage to Make the IRS Seem Sympathetic
If you can't get rid of taxes altogether, at least you can make them harder to collect. That seems to be the logic behind the latest in the ongoing Republican war against the Internal Revenue Service: The House passed six anti-IRS bills this week including a measure denying all IRS bonuses until "customer service improves." So, never. [NYT]

Opportunity Knocks, Opportunists Answer
New York Republican National Committee member and active Republican fundraiser Jennifer Saul Rich and state GOP chairman Ed Cox have both thrown their support behind presidential front-runner Donald Trump. Cox praised Trump's "remarkable political skill" while Saul Rich was more taken with his "vast private-sector experience." It is really hard to think of anything negative to say about that guy. [Politico]

Trump Complicates Everyone's Opinion of Him
Just when you think you've got him pegged, Trump comes along and says something like this. Appearing on NBC's Today Show yesterday, Trump spoke out against the raft of anti-LGBT "bathroom bills" gaining support across the South. Trump said people should be free to "use the bathroom they feel is appropriate." [Reuters]
Emmanuel to Fix Broken Police Department by Changing Almost Nothing
After Chicago mayor Rahm Emanuel appointed a panel to look into the city's police department and that panel came back with damning findings of widespread racism in the force, Emmanuel said he would thoroughly overhaul the department. Yesterday, Rahm announced his planned reforms, which will address nearly 30 percent of the panel's recommendations. Hey, that's almost half!
THE STREET, THE VALLEY
Can You Believe It? A Shadowy Group of Mercenary Hackers Overcharged the FBI
Yesterday FBI director James Comey told reporters the agency paid hackers "more than I will make in the remainder of this job, which is seven years and four months" to unlock the iPhone used in the San Bernardino shooting. Apparently he didn't expect anyone at the New York Times to have a calculator; the paper calculated that sum to be $1.3 million. [NYT]
Sears Announces More Closures
Things still aren't going so well for Sears. Yesterday, the retail giant announced it would be shutting an additional 78 stores, which represents a full 5 percent of all Sears outlets and will be a major blow to the company. [Reuters]
A Rough Day for Tech Titans
Both Alphabet, Google's parent company, and Microsoft, your parents' computer company, had less-than-ideal days. Alphabet saw its profits miss analyst expectations for both earnings and revenue, and Microsoft faced similar disappointments with its cloud computing not growing as fast as anticipated. [Bloomberg]
Great News for Lovers of Accountability
Government regulators announced a new rule yesterday that will make Wall Street executives wait four years before they can cash in their bonuses. That should be enough time to see if their actions destroyed the global economy and to hopefully adjust the bonuses accordingly.
MEDIA BUBBLE
Hospital Reality Shows Might Be Over; Humanity Much Improved
NewYork-Presbyterian Hospital agreed to pay $2.2 million to federal regulators after it allowed TV crews to film two grievously wounded patients without their consent — one later died. The agreement also forced the Feds to clarify the rules: namely that film crews must get permission from everyone they want to film before filming them. [NYT]
Fox Does the Old-White-Man Shuffle
Big changes are afoot at Fox News: Jay Wallace is now the executive vice-president of news and editorial, replacing Michael Clemente, who will head a new unit producing — of course — longform content. [Politico Media]
Univision Is About to Get So Millennial Guys
First the Onion, now this: Univision has bought Disney out of its stake in the cable channel Fusion. With the purchase, Univision will create Fusion Media Group, a new platform including Fusion, the Onion, and Univision's recently purchased black news and culture website, the Root. [FT]

PHOTO OP
Out of This World
This might be the coolest memorial ever tweeted, which seems appropriate for Prince.
MORNING MEME
The running-man challenge has jumped into baseball. Here, the Arizona Wildcats bring their "A" game.
OTHER LOCAL NEWS
Local Business Productivity Soars
The owner of an auto shop in Mankato, Minnesota, is under arrest after it emerged he was paying his employees their bonuses in meth. Residents are already mourning the end of the shop's trademark half-hour full-service package. [KEYC]
Stakeout Joke!
After being spotted stealing steaks from a Walmart in Longview, Texas, a meat thief led police on a high-speed chase in which he began pelting police cars with the steaks. [UPI]
HAPPENING TODAY
Planet Saved!
Even as you read this, world leaders are coming together at the United Nations in New York to sign the Paris Agreement: the most comprehensive and far-reaching climate change treaty ever devised. Still, experts mostly agree that it will not accomplish nearly enough, and the planet is still doomed. TGIF. [NYT]

Now Even the Earth Gets a Day. Where Will It End?
Today is Earth Day. For New Yorkers that means it's also a citywide car-free day, which doesn't mean anything really — it's only a suggestion. It does mean that you can ride Citi Bikes for free — still too expensive, are we right? — and that Mayor Bill de Blasio will spend the day hoping no one sees him taking town cars to photo-ops in the subway. [Gizmodo]
Country That Left Britain Tells Britain Not to Leave Europe
President Obama is in the U.K. today where he is sure to wish Queen Elizabeth a happy birthday before meeting with Prime Minister David Cameron and getting to the business at hand: pleading — American presidents do not beg — with the Brits not to leave the European Union. [NYT]