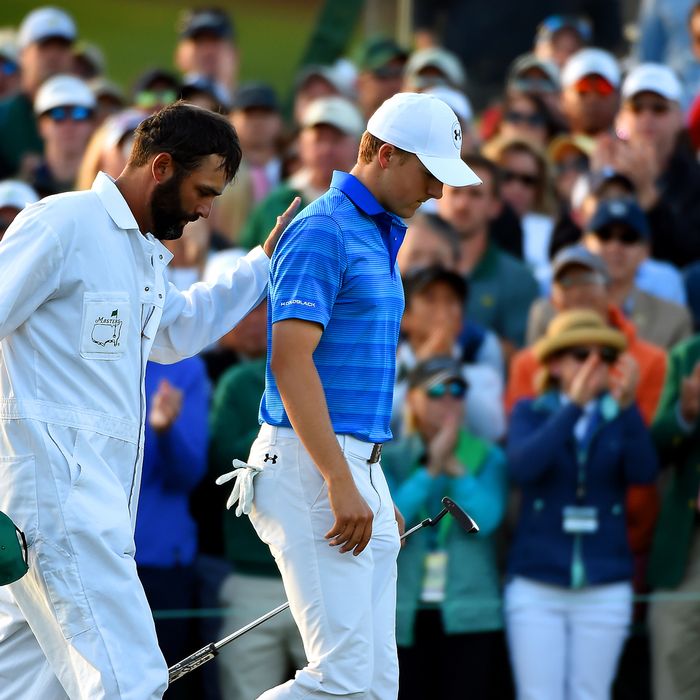 Jordan Spieth had a rough time.
Photo: Jeff Siner/Charlotte Observer
Good morning and welcome to Fresh Intelligence, our roundup of the stories, ideas, and memes you'll be talking about today. In this edition, Jordan Spieth shanks it, the CIA says no to torture, and a mystery unfolds in space. Here's the rundown for Monday, April 11.
WEATHER
April continues to be a rough month for the Midwest and plains states with severe thunderstorms and fist-sized hail set to rage through the first half of the week. No thunderstorms are in store for New York, but lots of rain is expected with temperatures tomorrow hovering in the low 60s. [Weather.com]
FRONT PAGE
Jordan Spieth Suffers Masters Meltdown
After a promising first nine holes, Jordan Spieth, the 22-year-old winner of last year's Masters Golf Tournament, lost the plot with two bogies and a quadruple bogie, effectively handing the coveted green jacket to 28-year-old English golfer Danny Willett. Had he won, Spieth would have been the first person to win two consecutive Masters tournaments since Tiger Woods — remember him? — in 2002. [NYT]

EARLY AND OFTEN
Between New York and Ted Cruz, Feelings Are Mutual
According to a recent Fox News survey, both Donald Trump and Hillary Clinton are holding considerable leads in New York. On the Republican side, Kasich is coming in second — which in the Kasich camp counts as a win — and Ted Cruz is in a distant third with only 15 percent of the vote. New York values in action. [NYT]
CIA Now America's Moral Compass
CIA director John Brennan said, during an interview on CNN, that the spy agency will not engage in waterboarding or other forms of torture, even if the president (read: Donald Trump) orders it. The CIA has developed such strong convictions since it stopped torturing people seven years ago. [Politico]

Obama Promises Obvious Conflict of Interest Won't Be a Problem
Speaking on Fox News, President Obama assured the American people that his administration will not interfere in the ongoing investigation into Hillary Clinton's, ahem, unorthodox use of a private email server to conduct business while secretary of State. That settles that. [Bloomberg]
Trump Snags Coveted Satirical Endorsement
Apparently Donald Trump is getting desperate. Last night, Trump's general counsel, Michael Cohen, retweeted an endorsement from Representative Steven Smith. The only problem is that Smith doesn't exist except as a popular tea-party parody account. [Gawker]
THE STREET, THE VALLEY
Solar Energy Gets a Windfall
SolarCity, the largest solar-panel installer in the United States, has received financing worth $188 million for a variety of solar projects in a tax-equity deal with Bank of America and another unknown investor. [Bloomberg]
Google Fiber Backpedals in Kansas City
After promising a lifetime of high-speed internet access for Kansas City Google Fiber subscribers willing to pay a one-time installation fee, Google is changing its tune. Now subscribers must fork over $50 a month if they want to enjoy the fastest tier of access. [Re/code]
2016 Full of Bad Omens for Banks
Banks have had the worst start of the year since 2008 — of financial-crisis fame — and analysts are predicting a rough year: a 20 percent decline in earnings for America's six largest banks. That sounds bad. [Reuters]
Space Mystery!
A mystery is unfolding on Kepler, NASA's planet-hunting probe, which switched itself into emergency-hibernation mode 75 million miles away from Earth last week. Nobody knows why, so obviously it's aliens. The probe has already discovered more than 1,000 planets, including the most Earth-like one ever found. [NBC]
MEDIA BUBBLE
Daily Mail–ification of Media Now Literal
The Wall Street Journal is reporting that the Daily Mail might get into the bidding war over Yahoo's online business. That would put the British tabloid up against other bidders such as Verizon and (maybe) Google. [WSJ]
After Two Months The Life of Pablo Hits Number One
After two months, Kanye West's newest gift to humanity, The Life of Pablo, has hit number one on Billboard charts thanks to new rules that count streaming numbers in figuring an album's ranking. Although basically no one bought the album, millions streamed it on Spotify, Apple Music, and especially Tidal. [Forbes]
Political Stunt Decries Media Stunt
In a campaign season beset with accusations that the media is biased, inaccurate, and gives Donald Trump disproportionate coverage, the Boston Globe yesterday decided to release a fake front page with satirical news about a Trump presidency complete with a big picture of Trump in the middle. In response, Trump called the paper "stupid." [Bloomberg]
PHOTO OP
When the Patriarchy Is Hungry, It Eats
While Hillary carefully resisted eating a delicious piece of Junior's cheesecake on camera yesterday because she's a woman and the world is a terrible place, Bernie Sanders suffered no such compunction and totally housed this hot dog at Nathan's Famous on Coney Island.
MORNING MEME
Yes, there are more where this came from. [The Verge]
OTHER LOCAL NEWS
When It Comes to Coffee, Goats Not Super Discerning
In the kind of news that makes a young reporter's career, this weekend, a goat named Mille wandered into a Starbucks in Rohnert Park, California. Baristas tried to feed her a banana, but she ate a box instead. [AP]
Dog Botches Suicide Attempt
An Eagle Mountain, Utah, family had quite a scare yesterday when, while hiking near Zion National Park, their one-year-old sheepdog poodle named Toby leapt off a cliff and fell 300 feet down a mountain. Don't worry; Toby survived and is recovering just fine. [AP]
HAPPENING TODAY
Yellen Meets Obama at White House
President Obama is meeting Federal Reserve chair Janet Yellen today to discuss the economy in general and Wall Street reform, in particular. Even Vice-President Biden got an invite. [Reuters]
John Kerry Super Diplomatic in Hiroshima
Secretary of State John Kerry will visit the Hiroshima Peace Memorial Museum today where he'll push for a nuclear-free world, wring his hands a good deal, and carefully not apologize for America dropping the bomb. [WaPo]
Candidates Crowd Albany
Albany is in something of a parking crisis as Bernie Sanders, Donald Trump, and John Kasich all descend on the capital to campaign ahead of New York's April 19 primary. [ABC]