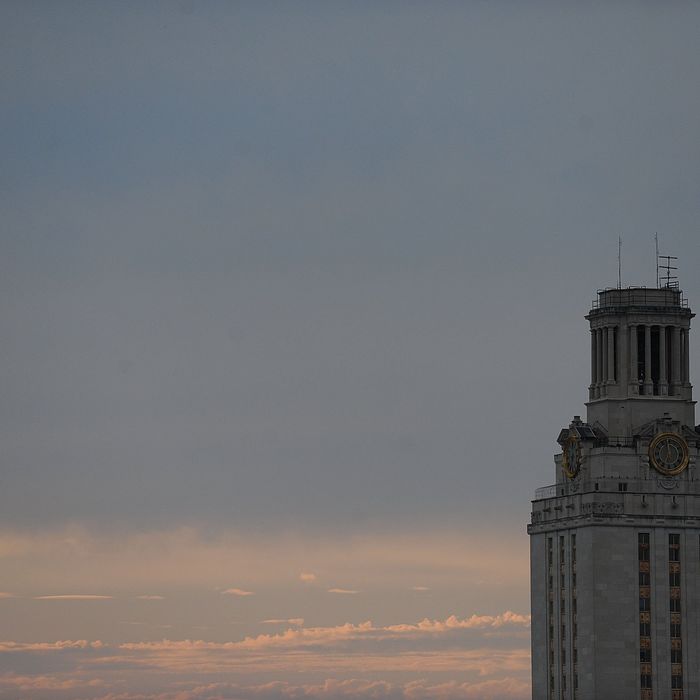 The Tower at UT Austin.
Photo: Ronald Martinez / Staff
Good morning and welcome to Fresh Intelligence, our roundup of the stories, ideas, and memes you'll be talking about today. In this edition, a suspect emerges in the UT murder investigation, Clinton takes on Black Lives Matter, and Uber is forced to pay up. Here's the rundown for Friday, April 8.
WEATHER
Snow may be coming to New York City this weekend, but we're still luckier than plenty of cities in the northeast and Great Lakes areas, where record-low temperatures are expected. Another type of record is set to be broken in Seattle, where temperatures could hit the high 70s. [Weather.com]

FRONT PAGE
Breakthrough in Hunt for University of Texas Killer
University of Texas at Austin officials told students to remain vigilant Thursday while authorities continue to hunt for Haruka Weiser's killer. Yesterday, police announced a breakthrough: surveillance footage of a man they describe as a "person of interest" in the investigation. Weiser was an 18-year-old freshman dance and theater major; on Tuesday her remains were discovered near a creek where students often congregate. [My San Antonio]
EARLY AND OFTEN
Giuliani Doesn't Know What an Endorsement Is
In an interview, Rudolph Giuliani stated unequivocally that he is voting for Donald Trump in the upcoming New York primary. Then, beginning to equivocate, he said he would not formally endorse Trump. He also compared Donald Trump to Ronald Reagan, causing Reagan to turn over in his grave. [NYT]
Clinton Accuses Black Lives Matters Protesters of Defending Killers
Speaking in Philadelphia, Bill Clinton interrupted his planned remarks  — Hillary must love when he does that — to address a Black Lives Matter protester. He offered a full-throated (note: we did not say factual) defense of his controversial crime bill that many feel unfairly targeted minorities, before managing one of the most awkward segues of the campaign: "So I'll tell you another story about a place where Black Lives Matter: Africa."

The South: Another Day, Another Discriminatory Bill
Seeing how popular similar measures have been in North Carolina and Mississippi, South Carolina decided to get into the telling-people-where-to-go-to-the-bathroom game by introducing legislation that would compel everyone to use public facilities intended for their birth sex. [Reuters]
Obama Doesn't Hire Black Lesbians From Skokie
Answering questions after a talk at University of Chicago Law School, the president was asked to defend his nomination of Merrick Garland — a straight white guy — from a diversity perspective. Obama said the courts have become historically diverse under his tenure and joked, "But at no point did I say: 'Oh, you know what? I need a black lesbian from Skokie in that slot. Can you find me one?'" [Politico]
THE STREET, THE VALLEY
Stop the Presses! Janet Yellen Says Everything Is Fine
Fed head Janet Yellen appeared with three of her predecessors in New York City Thursday. She said the U.S. economy was doing fine and the Federal Reserve is on track to increase interest rates, so everyone can relax now. [Reuters]
Valeant Investors Do Not Read the News
Valeant, the business equivalent of a Marx Brothers movie, just had its best three days in more than two decades, despite not having named a CEO or filing its now extremely late earnings reports. [Bloomberg]
Uber: Among the Safest Rides on Some Roads
Uber has agreed to pay out up to $25 million in a suit filed jointly by the cities of San Francisco and Los Angeles claiming the company overstated the rigor of its background checks. As part of the settlement, the company can no longer make claims that it offers the "safest ride on the road" and that its background checks are "gold standard." We feel like most people already knew that. [CNet]
More Like Keystone Sieve
Brace for depressing news: The company that runs the Keystone pipeline has revised its figure for how much oil it has leaked by more than 16,600 gallons, all of it in South Dakota. In oil-company parlance, this is called a whoopsie. [CNN]
MEDIA BUBBLE
Big Changes at Mashable
Online media company Mashable is going through a transformation. Two of its executives have been replaced, there have been significant layoffs, and the World, News, and Politics sections of its website will all be cut. If you haven't guessed already, the company plans to focus on video content. [Ad Age]
Today in Gay Talese News
In what was actually a very nice gesture, New York Times executive editor Dean Baquet Thursday took umbrage with a recent sympathetic feature in the paper following perceived sexist behavior from Gay Talese. He strenuously defended New York Times Magazine journalist Nikole Hannah-Jones, who has found herself at the center of Talese-Gate. [NYT]
Verizon Gets Into the Yahoo Business
Verizon is going ahead with a bid for Yahoo's core business. Although both AT&T and Comcast have dropped out of the bidding, Google has reportedly expressed interest. Hasn't it already taken all of Yahoo's business? [Bloomberg]
PHOTO OP
Ted Cruz Tries Really Hard
Here is Ted Cruz in Brooklyn, rolling out matzoh as leaders of the Orthodox Jewish community look on. And a-courtin' he does go.
MORNING MEME
These burglary suspects in Los Angeles ended their high-speed police chase the L.A. way: with ten minutes of taking selfies in their convertible. This story is incredible, and it's really worth reading the whole thing on Gizmodo.
OTHER LOCAL NEWS
The Law Swoops in Where Human Decency Apparently Does Not
Police in Fairfax, Virginia, were ticketing people for expired inspection stickers while they were in line for inspections so often that the state finally had to pass a law banning the practice. What a good use of everybody's time. [WaPo]
A Far-From-Perfect Crime
Three Sarasota, Florida, residents have been arrested after they were filmed setting up a murder to look like self-defense on surveillance cameras that they themselves had installed. Turns out you can be too careful. [Fox]
HAPPENING TODAY
Single, Celibate Man Wants to Tell You How to Raise Your Family
The pope is set to release a long-anticipated paper on the family Friday, which could have serious repercussions for the millions of Catholics all over the world who take that kind of thing seriously. There are already signs the paper could represent a radical shift for the Church. [WaPo]
Life Imitates Futurama: Space Delivery Company Back on Track
SpaceX will resume delivering cargo to the International Space Station Friday after a nine-month break thanks to an earlier rocket failure. Onboard today's rocket is a kind of inflatable bubble that astronauts will try to live inside. Space is so cool. [Bloomberg]
White People Come Around to N.W.A
N.W.A will be inducted into the Rock and Roll Hall of Fame Friday, and every surviving member of the group is set to appear together onstage. They won't play any music, though — a crushing disappointment to Paul Shaffer, who reportedly had a really kick-butt medley ready to go. [NYT]