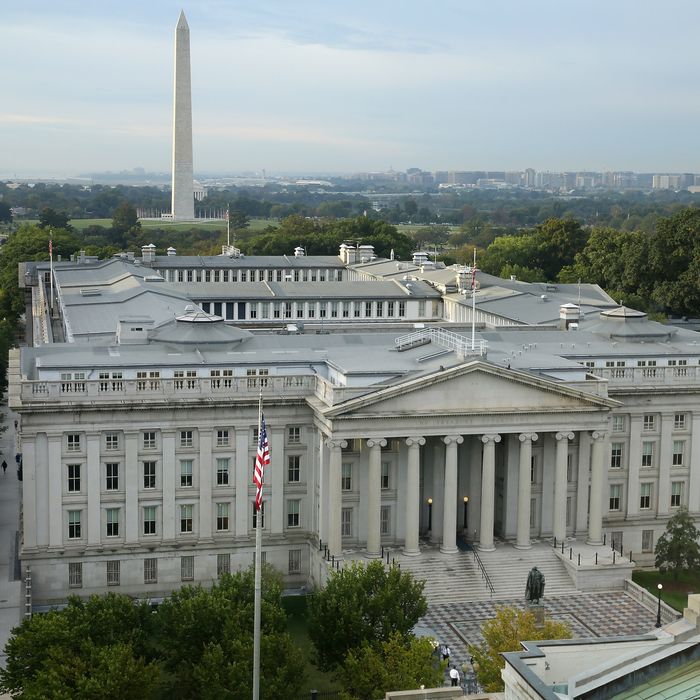 The U.S. Treasury, making moves.
Photo: Chip Somodevilla/Getty Images
Good morning and welcome to Fresh Intelligence, our roundup of the stories, ideas, and memes you'll be talking about today. In this edition, the U.S. Treasury Department scrambles to close banking loopholes, Tennessee gets in on the bigotry game, and the White House turns its back on the encryption bill. Here's the rundown for Thursday, April 7.
WEATHER
In the North, chilly temperatures are here to stay as a cold front makes its way from the Great Lakes through New England. Meanwhile, spotty thunderstorms are ongoing in the Southeast, the Bay Area should get a break from a recent hot spell, and here in New York, we can expect rain and temperatures in the high fifties. [Weather.com]
FRONT PAGE
Panama Papers: America Begrudgingly Takes Action
Following global outrage over the recent Panama Papers leak, the U.S. Treasury Department has finally decided to pass a long-delayed rule that will compel banks to learn the identities of people behind the accounts of shell corporations. Don't worry, offshore-account holders; the rule will have to pass the White House's muster first, and we all know how quickly that goes. [Reuters]
EARLY AND OFTEN
Jim Risch Endorses Ted Cruz With Idaho's Famous Enthusiasm
Idaho senator Jim Risch gave Ted Cruz what might be the most begrudging endorsement in political history yesterday. Appearing on CNN, Risch told Wolf Blitzer that he would never support Trump and that Kasich couldn't win. When Blitzer interpreted that as an endorsement, Risch replied, "I guess it depends on your definition." Whoa, calm down, Jim. [Politico]
What Does a First Lady, Senator, and Secretary of State Know About Running a Country?
Time to revamp that résumé, Hillary. Bristling at Clinton's accusation that he isn't qualified to be president, Sanders retorted that she isn't qualified to be president, either. Take that, Establishment.
Trump Rally Temporarily Closes Domestic-Violence Center, Optics Not Great
A Long Island domestic-violence crisis center was forced to shut down briefly yesterday because of road closures caused by a nearby Trump rally. The center closed at 1 p.m. and will resume regular operations at 9 a.m. [The Hill]
Tennessee Will Not Be Out-Uglied by Upstart Mississippi
After similar anti-LGBT legislation passed in Mississippi and North Carolina, and almost passed in Georgia, Tennessee is hopping on the bandwagon. The state's House of Representatives passed a bill yesterday that would allow therapists to refuse to treat patients if they disagree with the patient's morals (read: same-sex attraction).
THE STREET, THE VALLEY
John Prine Song Gets Happy Ending
In a first for an industry that isn't exactly famous for its accountability, Don Blankenship, an ex–coal company CEO, has been sentenced to a year in prison after 29 men died in an explosion in one of his mines. [BBC]
Progress As Usual: Financial Services Excoriate Retirement-Broker Bill
A much-hailed bill from the Department of Labor, which seeks to protect people's retirement savings by compelling brokers to behave in their clients' best interests — yes, you really have to compel them to do that — has passed in a weakened state thanks to the machinations of the financial-services industry. [Reuters]
White House Won't Support Encryption Bill. Obama: Maybe Next Year?
The White House has decided not to support a recently introduced and wide-ranging bill that would give federal judges the authority to compel tech companies to break into their own encrypted devices. [Reuters]
Rare Bad News for Michigan Autoworkers
Thanks to disappointing sales of its midsize sedan, Fiat Chrysler Automobiles announced yesterday that it would lay off up to 1,300 workers and cancel a full shift — there are only two shifts — at its plant in Sterling Heights, Michigan. [CNN]
MEDIA BUBBLE
Can We Call it Talese-Gate Yet?
Journalism pioneer and peaked New York social mainstay Gay Talese is in hot water — again. First, he struggled to name a single female journalist who has inspired him while speaking at a conference, and yesterday, a prominent journalist taking part in said conference reported what she perceived as his racist and sexist behavior.
They'd Have to Pay You to Use Facebook Live? No Problem.
Facebook has admitted to paying major media companies such as Vox, BuzzFeed, and the New York Times to use its new Facebook Live video-streaming feature. This revelation comes after Facebook announced it will also pay celebrities to use the service. [Re/code]

Verizon Bets Big on AwesomenessTV, Makes Us Feel Old
Verizon will spend $156 million to buy a just-under-a-quarter stake in AwesomenessTV, the online-video channel. Hearst will take the other 24.5 percent while Dreamworks remains the majority owner. Also, AwesomenessTV exists. [Variety]
PHOTO OP
Not Worth the Headache
Buffalo Bills linebacker A.J. Tarpley announced his retirement from football last night in an Instagram post. The rookie has only played in one season but said he's retiring to protect his health after suffering a series of concussions.
MORNING MEME
Hillary Clinton's laughter when she's accused of being "ambitious" and setting out to destroy the Democratic party might be the most beautiful moment of this election season so far. It's just so authentic.
OTHER LOCAL NEWS
Florida Man Gets What He Clearly Deserved
A Clearwater, Florida, man was apprehended as he tried to flee police on his hoverboard — you know, the kind that can't go fast or handle stairs and bursts into flames all the time? In a shocking twist, he was booked for marijuana possession. [BBC]
Halloween Paranoia to Become Year-Round
A middle-schooler in Ione, California, found a stash of meth disguised as candy hidden at his school. The "candies" were apparently made to look like Sweet Tarts, and there's no mention of how the child knew they were really meth. There's something someone isn't telling us here. [UPI]
HAPPENING TODAY
"Jackie" to Be Deposed Today
"Jackie," the woman at the center of a discredited Rolling Stone article about campus rape, will be deposed today by attorneys for a University of Virginia administrator and for Rolling Stone. The magazine's college-rape story created shock waves when it was released, but it was retracted after many of the story's assertions were proven false. [Newsplex]
It's That Time of Year Again: Golf Time!
Round one of the Masters Golf Tournament kicks off tomorrow at the Augusta National Golf Club in Augusta, Georgia. Don't be a sucker; wear proper footwear.
Bill Clinton Continues Tour As First Spouse
Bill Clinton is in Scranton, Pennsylvania, today to stump for his wife in the lead up to the Pennsylvania primary on April 26. Following Hillary Clinton's loss in Wisconsin, all eyes are on the East Coast, and both candidates are pulling out all the stops. In this case, all the stops is Bill Clinton. [Citizens Voice]