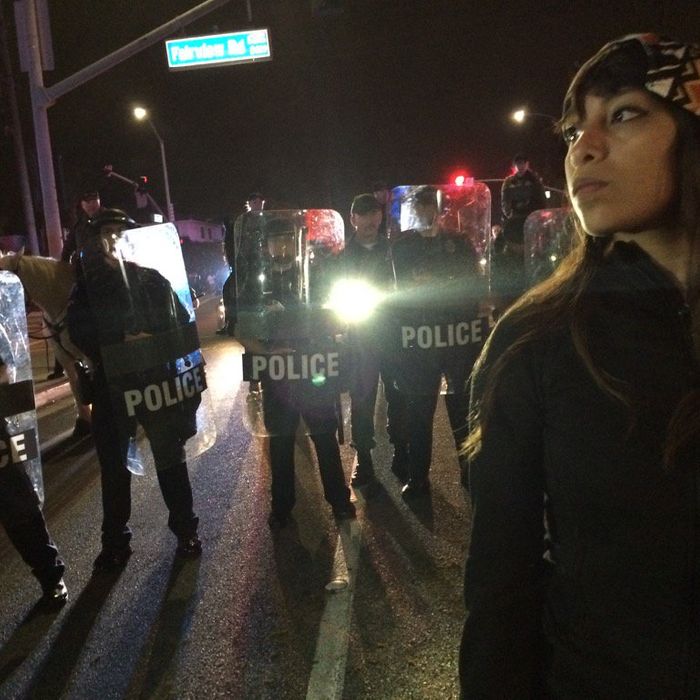 The faces of modern America.
Photo: Matt Pearce, Los Angeles Times
Good morning and welcome to Fresh Intelligence, our roundup of the stories, ideas, and memes you'll be talking about today. In this edition, a California Trump rally gets violent, Cruz gets forgetful, and Amazon gets paid. Here's the rundown for Friday, April 29.
WEATHER
April is almost over, but that isn't stopping snow from falling in the Rockies, serious storms from raging across the southern plains states, and the mid-Atlantic from staying cold and wet. New Yorkers can expect another gray day with temperatures reaching the upper 50s. [USA Today]
FRONT PAGE
Protesters Smash Cop Car, Block Freeway at California Trump Rally
Arrests have been reported after protesters clashed with police and Trump supporters outside of a sold-out Trump rally in Costa Mesa, California, last night. Inside Donald Trump claimed 31,000 people turned out to support him (the amphitheater only holds 18,000), while outside riot police were called in to deal with protesters — mainly young and Latino protesters — who demonstrated angrily, at times jumping on police cars and breaking patrol-car windows. As Trump supporters left the venue, reports emerged that they menaced protesters with their cars, and at least one photo of a Trump fan with a bloodied face circulated on social media. [LA Times]
EARLY AND OFTEN
Bobby Knight Loves Trump Guts
Speaking in Indiana, legendary college-basketball coach Bobby Knight proudly endorsed Donald Trump. He then addressed "this presidential crap," saying Trump was presidential because, like Harry Truman, he would have the "the guts to drop the bomb." Knight described Truman as one of his three favorite presidents; we're just going to guess the other two are Obama and Carter. [Politico]
Two More Congressmen to Play for the Orange Team
Congressmen Jeff Miller of Florida and Bill Shuster of Pennsylvania both came out in favor of Donald Trump yesterday. That means Trump now has endorsements from 11 members of Congress but only one senator. Well, one-and-a-half if you count Bob Corker, who said he was willing to extend Trump an "attaboy" but not a full endorsement. Now that's how you politick. [Reuters]
North Carolina Lawmakers Use Hilarious Inside Joke to Thwart Equality
State Democratic senators introduced a bill that would repeal North Carolina's controversial bathroom bill yesterday. Senate leaders responded by assigning the bill to committee: first, the Senate Appropriations Committee, and then, the Senate Ways and Means Committee. Lest you start thinking this is progress, the Senate Ways and Means Committee is described amongst senators as an "inside joke" that hasn't met in years and is used mostly as a place to send bills the government wants to die. Democracy in action. [News & Observer]
Ted Cruz's Memory Cause for Concern
After former Speaker of the House John Boehner let years of pent-up anger and frustration fly and called Ted Cruz "Lucifer in the flesh," Cruz responded by saying he has never worked with Boehner and hardly knows the man. Too bad Gawker uncovered that Cruz in fact used to be Boehner's attorney. We feel like that might be pretty hard to explain away, but the devil has his ways.
THE STREET, THE VALLEY
Amazon Rakes in Big Profits
Amazon's sales and profits both handily beat analyst estimates yesterday, sending its shares up 13 percent. Amazon CEO Jeff Bezos is famously disinterested in profit, focusing instead on investing in new projects and customer service. Still, somehow selling everything at a cut-rate price and delivering it to your door in an hour for free actually makes money. [Bloomberg]
Bad News for All: U.S. Economy Stalls
The economy expanded at its slowest pace in more than two years in the first quarter of 2016. The slowdown is mostly due to Americans not buying enough — but that's our whole thing — and our strong dollar putting a damper on overseas exports. But don't worry; experts say things should pick up soon. [Reuters]
$160 for a Pizza Emoticon Not Fooling Anyone
Venmo, PayPal's hugely popular peer-to-peer payment app, is under investigation from the Federal Trade Commission. It's being investigated for deceptive trade practices, although the specifics of its alleged violations haven't been released. The company published a statement saying costs incurred by the investigation could force it to change the way it does business. [Bloomberg]
Is This What the Internet of Things Means?
Google is reorganizing to put more emphasis on its devices. The company is putting all its devices into one division under the purview of ex–Motorola president Rick Osterloh. One of Osterloh's first jobs will be reimagining the creepy and obnoxious Google Glass as the hopefully easier-to-love Project Aura. [CNet]
MEDIA BUBBLE
New York Times CEO the Focus of Discrimination Lawsuit
A multimillion dollar class-action lawsuit has been brought against New York Times CEO Mark Thompson by two women who used to work in the paper's advertising department. The suit claims that the employees — both black and in their 60s — were unfairly passed over for promotions and paid less because of their age, race, and gender, and that gender discrimination was commonplace at the company, leading to a hostile work environment.
Core Media Group Files for Bankruptcy Despite Improving All of Our Lives
The production company responsible for American Idol and So You Think You Can Dance filed for chapter 11 bankruptcy yesterday. Core Media Group is estimated to hold at least $300 million in debt, but Core representatives released a statement saying they expect a rapid reorganization. [Variety]
Shrek Gets a Peacock Sidekick
The rumors were true: Comcast is going ahead with the purchase of DreamWorks, the extremely successful production company and animation studio, which will now be a part of the NBCUniversal division. When we say extremely successful we mean it — Comcast apparently had to fork over $3.8 billion for the sale. [CNN]
PHOTO OP
Half-a-Shirt Is Just Enough Shirt
Just look at what former Ohio State running back Ezekiel Elliott wore to the NFL draft yesterday. Whatever world allowed this to happen is a world we're proud to be part of.
MORNING MEME
Want to prove how hip you are? This is the meme for you. It's actually two memes in one!
OTHER LOCAL NEWS
Underrated Educational Film Gets Tennessee High School in Hot Water
Parents are up in arms after it emerged that a high-school class in Jackson, Tennessee, was shown clips from The Human Centipede 2 (Full Sequence). The school's superintendent confirmed the film was screened but refused to provide details such as what class it was in and, for the love of god, why? [CBS]
After 100 Years of Practice, Grandma Perfects Her Birthday Wish
An interview with Carol Lensch, a Chesterfield, Virginia, woman celebrating her 100th birthday, is making the rounds on the internet after she said all she wanted for her birthday was a "pole dance." Although to be honest we find her follow-up statement even more apt: "I don't know why I said that." [NBC]
HAPPENING TODAY
Oil Companies' Financials Drop, Probably Their Stock Prices, Too
Oil companies including Exxon Mobil and Chevron will release their first-quarter earnings today. The closely watched announcement comes amid an exceptionally tumultuous time for oil, as increased American production and a glut in the Middle East sees prices continue to decline. [The Street]
New Music From Kesha Released Today
Kesha released her first new song in years today following a much-publicized legal battle with her producer, Dr. Luke, who she claims sexually and emotionally abused her. The single is a collaboration with Zedd and will be released in partnership with Dr. Luke's production company — meaning Dr. Luke still had to approve the single before it was released. [NYT]