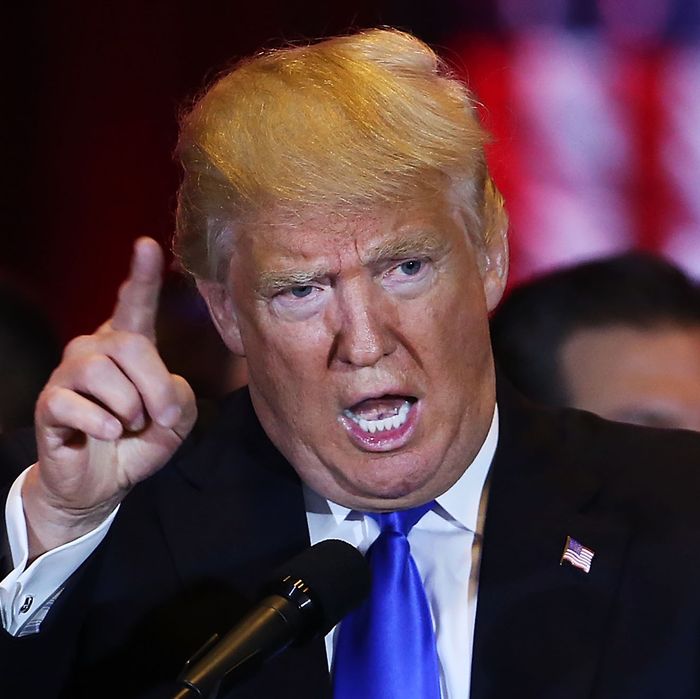 Chris Christie slowly losing his will to live.
Photo: Spencer Platt/Getty Images
Good morning and welcome to Fresh Intelligence, our roundup of the stories, ideas, and memes you'll be talking about today. In this edition, Trump takes the Northeast, Kasich doesn't do himself any favors, and Apple has a historic day — in a bad way. Here's the rundown for Wednesday, April 27.
WEATHER
Yesterday's severe weather is moving south and if anything is getting more severe — this time with hailstones the size of baby fists and tornado warnings in effect for much of Oklahoma and north-central Texas. Plus, severe thunderstorms are expected in Kentucky, Ohio, and West Virginia. The rain should let up in New York City today, but the gray skies will linger. [Weather.com]
FRONT PAGE
Trump Sweeps the Northeast, Sanders Sweeps … Rhode Island
Donald Trump swept each of yesterday's primaries in Maryland, Delaware, Pennsylvania, Connecticut, and Rhode Island. Hillary Clinton came close to following suit, but her progress was halted in Rhode Island where Sanders won by a solid 12 points. Despite a fairly rough day, the Sanders campaign has vowed to stay in the game through the summer, although Sanders might "reassess his candidacy," whatever that means. Oh, and Cruz and Kasich were there, too.

EARLY AND OFTEN
Establishment Candidates Triumph in Maryland and Pennsylvania
Chris Van Hollen in Maryland and Katie McGinty in Pennsylvania won their respective states' Senate primaries yesterday. Their victories, along with a win for Baltimore mayoral candidate Catherine E. Pugh, sent a strong signal that the Democratic Establishment still has some clout, despite the well-publicized success of certain antiestablishment outsider candidates. [NYT]  
Trump Adds Lena Dunham, Whoopi Goldberg to List of Deportees
After Lena Dunham announced she, along with Whoopi Goldberg, will move to Canada if Donald Trump wins the presidency, Trump called their bluff and said that by driving them out he would be doing the country a favor. Maybe, but he would ruin The View. [NYT]
Kasich Campaigns Hard for the Pity Vote
Poor John Kasich. It looks like his campaign missed a deadline, and now his name won't even appear on the Oregon voting pamphlet. He really isn't doing a great job holding up his side of the Kasich-Cruz alliance — maybe he got it backward and thought he was supposed to win Indiana and do as terrible a job as possible in Oregon? [Politico]
Sanders Teases Elizabeth Warren for VP
While speaking on MSNBC, Bernie Sanders allowed he would consider choosing a woman for his running mate. And then he said those two words that make the hair stand up on communist necks all over New England: Elizabeth Warren. Still, Sanders was very clear that he was not committing, that it was too early to choose a running mate, and that many women were up to the job. Plus, he'd hate to start another fight with Hillary Clinton. [Politico]
THE STREET, THE VALLEY
Oil Prices Change, Details Below
Oil prices have hit a 2016 high after the American Petroleum Institute reported U.S. stockpiles of crude of fallen by 1.3 million barrels in the past week. You're welcome, Saudi Arabia. [Reuters]
End of an Era: Apple Announces First-Ever Drop in iPhone Sales
Yesterday was a rough day for tech companies. First, Apple announced its first decline in iPhone sales in history and its first drop in revenue in more than 13 years. Then, Twitter revealed it also had some bad news to share: Despite changing the math it uses to record new users, which sent new-user figures up by 2 percent, its sales numbers were still disappointing and its stocks took a major dive. [Time]

Nothing to See Here: Top Anti-Money-Laundering Official Takes Job at Major Bank
Just in case you forgot how shady everything is: Jennifer Shasky Calvery, the director of the Treasury's Financial Crimes Enforcement Network and head of the Justice Department's anti-money-laundering unit, has quit her post to take a high-level job at HSBC — a bank which, would you believe it, is in the midst of a dispute with the government. [WSJ]
The U.S. Makes Durable Goods?
The U.S. received fewer orders for durable goods than expected last month. The disappointing numbers are symptomatic of the none-too-impressive performance of domestic consumers and weak-and-getting-weaker global sales. [Bloomberg]
MEDIA BUBBLE
Alex Wagner Joins the Magazine World
MSNBC anchor Alex Wagner is leaving MSNBC to join The Atlantic as a senior editor. In her new gig, she will write, take an active role in its video platform, and lead the company's live events. [Politico]
It Begins: Columnist Quits Over Las Vegas Review-Journal's Pro-Casino-Mogul Agenda
John L. Smith, a columnist at the Las Vegas Review-Journal, has quit after the paper wouldn't allow him to criticize casino tycoons Steve Wynn and Sheldon Adelson. Oh, and did we mention Adelson's family owns the paper? Like all good columnists, he left behind an angry screed. [Las Vegas Sun]
New York Times Pulls French Good-bye
The New York Times is cutting 70 jobs in its Paris bureau, including its entire editing and pre-press print-production operations. The cuts are part of a larger shift to redefine the paper's global presence and simplify its production process with editing and print production centered in New York and Hong Kong. [NYT]
PHOTO OP
Apt Political Metaphor
We hope you're not eating your breakfast or planning on sleeping ever again.
MORNING MEME
Lori Loughlin Killing It
Confession: This it totally who we thought of when we first heard the song.
OTHER LOCAL NEWS
Nightmarish Police Sketches Will Haunt You
Two men tried to lure a child into a car with candy in Washington, D.C., yesterday, and police are still looking for them. Here's the thing: The police sketches of the two men are the scariest things you'll ever see, including one man's tattoo of what appears to be an evil snowman. [WaPo]
Not a Joke: Oklahoma Allows Forced Sodomy If Victim Is Drunk or Unconscious
The Oklahoma Court of Criminal Appeals — the state's highest criminal court — has ruled that the state's law against forced sodomy does not apply if the victim is either intoxicated or unconscious. This is totally real; someone actually avoided a conviction because of this. [Tulsa World]
HAPPENING TODAY
Dennis Hastert Sentenced Today
One-time House Speaker Dennis Hastert will face sentencing today for illegally structuring loans he took out to pay off the victims he molested while working as a high-school wrestling coach — got all that? Depending on the sentencing, Hastert could become the highest-ranking federal officeholder to ever go to prison. [PBS]
Get Ready for Turbulence Puns: Boeing Financials Land Today
This is the week when most aerospace and defense companies release their numbers for the quarter, and Boeing is kicking things off tomorrow with what will be a closely watched disclosure. Expectations are that the first quarter could be on the weaker side for the aerospace company. [The Motley Fool]
Ex-Governor Takes Up Supreme Court's Time With Pet Project
One-time Virginia governor Bob McDonnell takes his quest to get his multiple corruption charges thrown out all the way to the Supreme Court today. McDonnell is claiming that, if his actions constitute corruption, then all politicians are guilty of corruption. Can Supreme Court judges vote "duh?" [Roanoke Times]