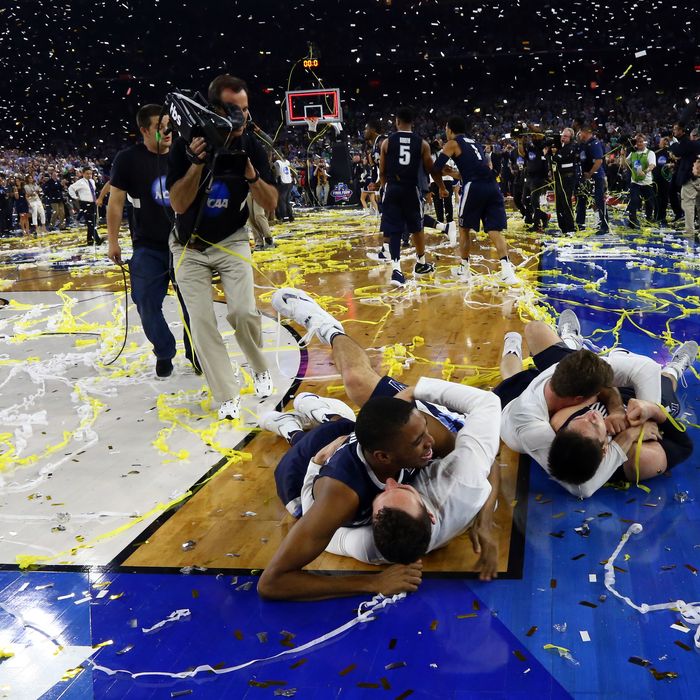 Villanova celebrates a surprise victory.
Photo: Ronald Martinez / Staff
Good morning and welcome to Fresh Intelligence, our roundup of the stories, ideas, and memes you'll be talking about today. In this edition, the Villanova Wildcats take the NCAA championship with a buzzer-beating three-pointer, the Supreme Court upholds the one-person-one-vote principle, and the Treasury Department goes after tax inversions. Here's the rundown for Tuesday, April 5.
WEATHER
A colder-than-average April continues with high winds and frigid temperatures in the Great Lakes and Northern Plains states, snow in New England, and temperatures barely breaking 40 degrees in New York City. [Weather.com]
FRONT PAGE
Villanova Takes NCAA Championship in Nail-Biter
Villanova came out on top after an intense match against North Carolina in Houston last night. Kris Jenkins made a three-pointer in the last seconds of the game, which was just enough to put the Wildcats ahead of the expected winners, the North Carolina Tar Heels. This is only Villanova's second NCAA title — their last was in 1985. [Sports Illustrated]
EARLY AND OFTEN
SCOTUS: One-Person-One-Vote Kind of the Whole Point
In what could be a big win for Democrats, the Supreme Court has rejected a challenge to the one-person-one-vote principle. Conservative activists had argued that only citizens who can legally vote should be considered for the purposes of determining equal representation in drawing districts for legislative bodies, but the justices unanimously found that ridiculous.
The Debate Debate Over, Now the Debate
The great debate debate is finally over now that both Clinton and Sanders have agreed to the terms of a debate in New York before the state primary on April 19. The two candidates will meet on April 14 for an event hosted by NY1 and CNN at the Brooklyn Navy Yard. The decision is something of a victory for the Clinton campaign, which had been pushing for April 14 because it totally called it first or something. [NBC]
Trump: World's Most Important Job 'Boring As Hell'
In this, the strangest campaign season ever, Donald Trump bragged to his supporters that he could be presidential if he wanted to, but he just doesn't want to, okay? Both his wife and daughter have counseled him to tone it down, but being presidential would be "boring as hell," and he is going to put it off for as long as possible. Like, until after he's done being president. [Politico]
All of Those Facebook Posts You Shared Worked: DOJ Investigates Arizona Election
The Department of Justice will investigate reports of voting irregularities and prohibitively long lines at polling places with large minority populations in Arizona's Maricopa Country, the most populous county in the state. The reports spring from Arizona's primary on March 22 when voters had to wait up to five hours to cast their ballots. [Reuters]

THE STREET, THE VALLEY
Nothing to See Here: Company's Stocks Plummet As Treasury Moves to Close Tax Loopholes
The U.S. Treasury Department made a major announcement yesterday saying it would change the rules related to tax inversions in order to curtail widespread corporate-tax loopholes. The results were pretty immediate: In one case Allergan, a New Jersey–run pharmaceutical company that pays taxes in Ireland, saw its stock price fall a full 21 percent. [Bloomberg]
Amazon Announces Amazon Announcement
Amazon CEO and amateur astronaut enthusiast Jeff Bezos announced on Twitter yesterday that Amazon will be making a big announcement next week: namely, a new line of next-generation Kindles. [The Verge]
Light a Candle for Coach Seats That Recline: Alaska Air Confirms Virgin America Purchase
A rumored last-minute offer from JetBlue never materialized, so Alaska Air is going ahead with plans to buy Richard Branson's domestic carrier, Virgin America, for $2.6 billion. The acquisition will give Seattle-based Alaska Air access to lucrative routes in California and the Eastern Seaboard. [Bloomberg]
Obama Administration: Internet Providers Should Suck, Honestly
The White House unveiled new labels from the U.S. Federal Communications Commission yesterday that will help consumers choose internet service providers. The labels will list all fees and price add-ons as well as internet speed and stability. Service providers aren't legally obligated to use the labels, but if they do, the government has promised not to investigate them for transparency violations. Just when you thought this wasn't shady. [Reuters]
MEDIA BUBBLE
New York Times Didn't Ignore Panama Papers, Just Didn't Know They Were a Thing
The New York Times has responded to criticism that it didn't pay sufficient attention to the Panama Papers leak. The Times would have been on it, you see, but it didn't know the leak existed. [NYT]
New York Observer Won't Secretly Help Trump Anymore, Doesn't Get What the Big Deal Is
The New York Observer has said its editorial employees will no longer help Donald Trump after it came out that the paper's owner, who's also the Donald's son-in-law, wrote one of Trump's speeches with help from editor Ken Kurson who is — you guessed it — in charge of the paper's election coverage. They'd hate to be thought of as biased. [NYT]
Disney Heir-Apparent Pulls a Simba
Walt Disney COO Tom Staggs, who was widely expected to succeed CEO Robert Iger, has stepped down from the company unexpectedly. Staggs will stay on in an advisory capacity for the rest of the year. No reason has been given for his abrupt departure. [Bloomberg]
PHOTO OP
Donald Trump Appears With the One Woman Who Can Stand Him
After realizing he's not super popular with women — although we bet he's still not sure why — Donald Trump brought his wife, Melania, out to stump for him in Wisconsin. That solves that.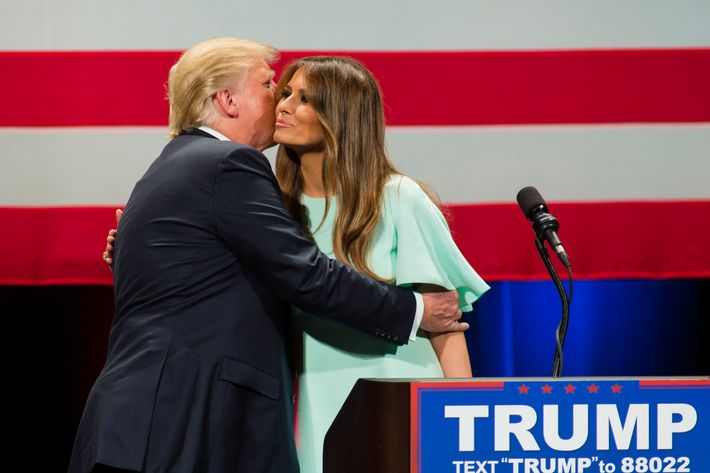 MORNING MEME
The internet might've reached peak "Crying Jordan Meme" when his alma mater lost the NCAA Men's Championship. So far, this one's our favorite.

OTHER LOCAL NEWS
Crab-Buffet Brawl Totally Understandable, Crab Is Just So Good
A brawl at a Manchester, Connecticut, Royal Buffet is being blamed on the crab legs. Details are hazy, but a couple was arrested, a 21-year-old man was punched in the face, and his mother sprayed so much pepper spray that the Health Department had to shut the restaurant down while it was thoroughly ventilated. [Fox]
Florida Exactly How We Pictured It
A Plant City, Florida, man was surprised to find a nine-foot alligator leaning against the door of his mobile home. We're not sure why he was so surprised — it seems like this kind of thing happens all the time down there. [UPI]
HAPPENING TODAY
Wisconsin Primary Seen As a Big Deal
Today's vote in Wisconsin is one of the most significant and closely contested in this recent round of primaries. Polls at this stage favor Ted Cruz and Bernie Sanders, but anything could happen. [FiveThirtyEight]
Pennsylvania Mulls Law Changes in Light of Clergy Sex Abuse
Lawmakers in the Pennsylvania House Judiciary Committee will vote tomorrow on a bill that would do away with all statutes of limitations for filing civil and criminal suits related to the sexual abuse of children. The state is reckoning with widespread revelations of children abused by clergy. [NYT]
Today Is Opening Day at Yankees Stadium, Seriously This Time
We said yesterday was going to be opening day, but we promise it's going to be today. Just, you know, bring an umbrella.
[CBS Sports]