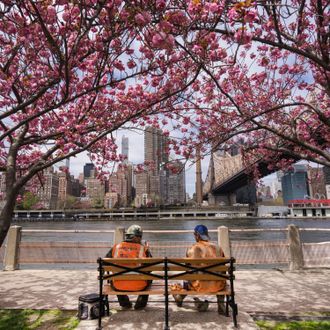 Springtime, finally.
Photo: Zoran Milich
A high-pressure system promises to deliver New York a long-overdue stretch of near-perfect spring weather this weekend. Searching for something to complain about, we found none: no snow flurries, no rain drops — even clouds might be hard to come by. If we're really reaching, Saturday could be a little breezy. 
Even the National Weather Service can't contain its glee, saying to expect "abundant sunshine." Temperatures will keep rising through the weekend. The mercury will reach the high 60s on Saturday and inch into the 70s on Sunday.
The clear and mild weather will continue through the beginning of the workweek, with Monday's highs coming very close to 80 degrees. So, basically, summer! There's no chance of rain until Tuesday, but, at least downstate, it will probably just be a bit cloudy, leaving registered voters affiliated with a political party (New York's complicated!) zero excuses for not dragging themselves to the polls. 
As a consolation for the pretty miserable first half of this month, the meteorologists have filled the rest of the seven-day forecast with nice sunshine icons and above-60 degree highs. Enjoy it while it lasts. (It won't.)