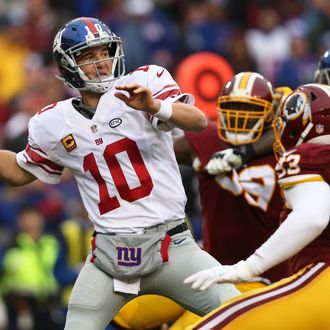 The Giants and Redskins, at FedEx Field last season.
Photo: Patrick Smith/Getty Images
The NFL released its 2016 schedule last night, but a version of the Giants schedule tweeted out by the team included a notable inconsistency: Most opponents were referred to by their team name, but the Redskins were referred to as "Washington." The Redskins' name, of course, has long been a source of controversy, and several media outlets have announced that they'll no longer use it.
If the Giants are trying to take a stand here, though, they're not fully committing. Deadspin reached out to a team spokesperson last night, and he said the use of "Washington" wasn't deliberate, and that they use "Washington" and "Redskins" interchangeably when referring to the franchise. The spokesperson said they'd be sending the version with "Redskins" in it separately. Indeed, the team name is used in two other tweets about the schedule posted by the Giants last night.
But when asked if there were other versions of the schedule in which any other individual team is identified by its city and not its nickname, the spokesperson said that "no, on our graphics, no other team is referred to by both city and nickname." And when asked by the Washington Post if the controversy around the team's name had anything to do with the the unusual circumstances here, the spokesperson replied only that "we use both names." In other words, it would appear that the Redskins are getting special treatment here, even if the Giants stop short of banning the use of their nickname altogether. An article on the announcement of the schedule on the team's website uses the name "Redskins."
It's not unprecedented for a rival team to avoid using the name. Last year, the Eagles released a media guide in advance of their game against the Redskins that listed the match-up as "Philadelphia vs. Washington," even though all other guides that season used teams' nicknames. A page inside that guide also mentioned "Washington" 20 times, but didn't use the name "Redskins" once.