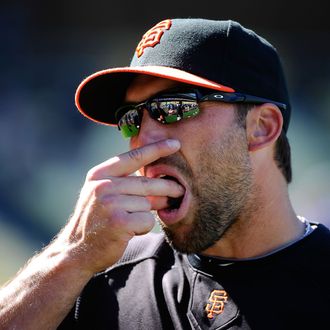 Former big-leaguer Pat Burrell packs a chew in 2011.
Photo: Kevork Djansezian/Getty Images
Last month, New York's City Council voted to ban smokeless tobacco from ticketed sporting events, and Mayor de Blasio has said he'll sign it into law. The vote followed the passing of similar legislation in Los Angeles, San Francisco, and Boston, with a ban in Chicago set to take effect later this year. The ban applies to any sporting event to which tickets are sold, but it's expected to hit Major League Baseball teams the hardest, since smokeless tobacco has long been entrenched in big-league dugouts. (It's been banned by baseball throughout the minor leagues since 1993.) But how many ballplayers actually use smokeless tobacco? Well, a lot. 
One recent estimate, from the Campaign for Tobacco-Free Kids, places the number of big-leaguers who use smokeless tobacco between 25 and 30 percent. A spokesperson for the organization says that while there aren't many definitive recent studies, a number of things informed that estimate, including various surveys over the years, as well as informal surveys of individual teams, often by local reporters. (One survey, for instance, of 58 players invited to Red Sox spring training in 2014 found that 21, or about 36 percent, were users.)
That estimate is roughly in line with one from 2014 by the Professional Baseball Athletic Trainers Society. That year, PBATS estimated that approximately 33 percent of Major Leaguers used smokeless tobacco — a figure that's down from 50 percent from two decades earlier, but still about five times higher than the rate of use among American men overall, which recently has been around 6 percent.
A Major League Baseball spokesperson says the league has seen the Campaign for Tobacco-Free Kids estimate, and believes the figure is indeed around 30 percent.
Some players have spoken out against the ban because they don't like the idea of the government telling them what they can or cannot do with a legal substance. "We're grown men," said Cubs pitcher John Lackey, who doesn't use smokeless tobacco. "People in the stands can have a beer, but we can't do what we want? That's a little messed up."
But others who do use it have said the bans will be challenging. "It's going to be hard because you're an addict, pretty much," Cubs catcher Miguel Montero said last month. "It'll be tough to quit cold turkey. Hopefully [this] will help me to quit." An anonymous member of the Mets who also uses told the Post, "It's definitely an addiction and it's a tough addiction to get away from, because you're always around it and there's certain triggers."
One 1989 study did show that users who were deprived of smokeless tobacco for 24 hours experienced withdrawal symptoms and increased reaction time. (It's worth remembering, of course, that players who don't quit entirely can still use smokeless tobacco before coming to the ballpark.) But a 1988 study of Major League and Minor League ballplayers showed that using smokeless tobacco doesn't actually increase performance on the field, despite the momentary buzz of energy it provides. Players from at least one team don't believe that it does, either: In a recent survey of 25 San Francisco Giants players (including seven who said they've used it within the past year), only one said he believed smokeless tobacco offered any performance-enhancing benefit. Seventeen others said it did not, and seven were unsure.