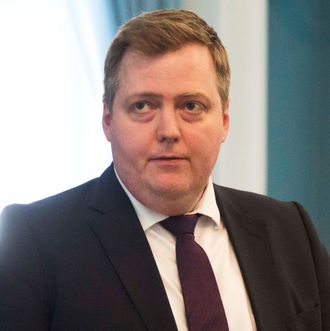 Iceland's prime minister, Sigmundur David Gunnlaugsson.
Photo: Halldor Kolbeins/AFP/Getty Images
Icelandic prime minister Sigmundur Davíð Gunnlaugsson has reportedly resigned Tuesday, following damning revelations in the massive "Panama Papers" data leak. Documents from the Panamanian law firm Mossack Fonseca linked Gunnlaugsson and his wife to an offshore company that reportedly had stakes in three Icelandic banks that collapsed during the country's 2008 financial crisis. The leak raised serious questions about a grave conflict of interest for the prime minister. 
News of Gunnlaugsson and his wife's offshore holdings had led to calls for a snap election, and thousands protested outside the capital in Reykjavik Monday, demanding the prime minister's ouster. Gunnlaugsson originally refused to step down and insisted his assets were declared and taxed in Iceland, per The Guardian. But the public outcry and pressure from Iceland's opposition party — alongside the weakening resolve among his own coalition — seems to have forced his hand Tuesday.
Gunnlaugsson is just one of the high-profile leaders and politicians caught up in this data leak. Russian president Vladimir Putin had about $2 billion tied to his name; others, including Pakistani prime minister Nawaz Sharif and Ukrainian president Petro Poroshenko, were also outed for having offshore dealings.