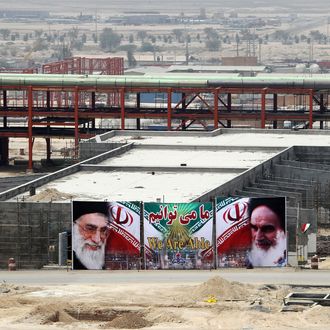 A gas-field development in southern Iran.
Photo: Atta Kenare/AFP/Getty Images
Over the weekend, the Organization of Petroleum Exporting Countries (OPEC) decided to get the band back together for one more price-fixing scheme, 15 years after the group's last significant effort to coordinate output. With oil prices mired around $40 a barrel, Russia, Qatar, and Venezuela were hoping for a production freeze to avoid glutting the market any further. But Saudi Arabia decided it would rather accept deflating prices than risk ceding market share to Iran, and the deal collapsed. Now oil futures are dipping, American shale producers are sweating, and your summer energy bill is shaping up to be a bargain.
Newly freed from international sanctions, Iran is trying to regain a foothold in the global market and has no interest in "sanctioning itself," Iranian oil minister Bijan Namdar Zanganeh told reporters on Saturday. Thus, Tehran chose to back out of the meeting. And the Saudis have no intention of aiding Iran's resurgence by turning off their own spigots.
"The weekend talks are a demonstration that the Saudi government, as the deputy crown prince has clearly stated, doesn't want to cede market share," Ed Morse, head of global commodity research at Citigroup, Inc., told Bloomberg. "They are fearful that the world may be in a weak or bearish market for a long period of time. In a bear market, as they learned from the 1980s, if they cede market share it is very difficult to get it back."
Oil prices hit multiyear lows in February, but had edged up in the months since. However, crude's recent rallies were spurred in part by optimism that an OPEC agreement would be reached. With no deal out of Doha, West Texas Intermediate fell to $38.70 a barrel on Monday.
The growing glut of Middle Eastern oil puts American shale producers in a tough spot. Since it costs more to extract oil from American shale than a Saudi oilfield, the surplus of cheap foreign supply will force cutbacks from U.S. producers. The U.S. Energy Information Administration projects domestic crude production to fall an average of 8.6 million barrels a day in 2016 and 8 million barrels a day in 2017, according to MarketWatch.
OPEC will meet again in June. But barring a sudden reconciliation between Iran and Saudi Arabia — or a historic collapse in crude prices — a summer deal seems unlikely.