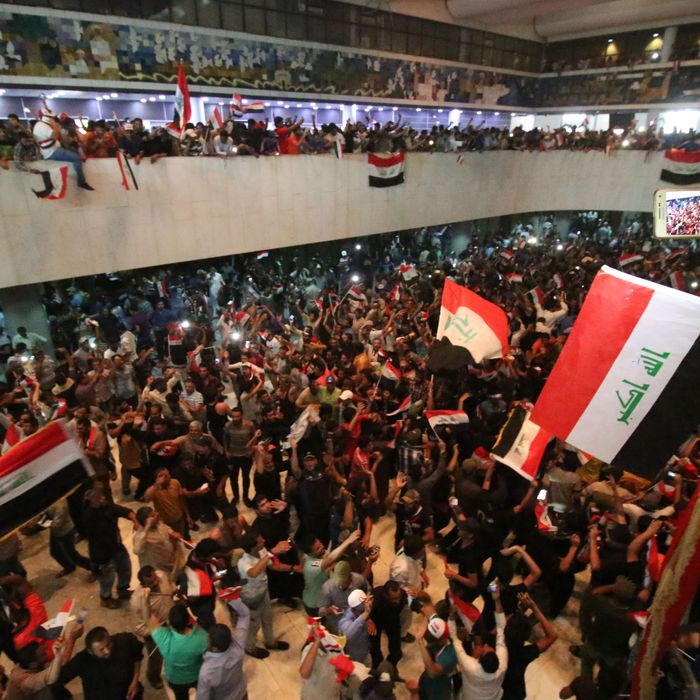 The protesters, once they made it inside the Parliament building.
Photo: Haidar Mohammed Ali/AFP/Getty Images
Hundreds of anti-corruption protesters breached Baghdad's fortified Green Zone and stormed the Iraqi Parliament building on Saturday afternoon, according to the Washington Post and New York Times. While the protest was largely nonviolent, it nonetheless pushed Baghdad authorities to announce a state of emergency, increase security, and lock down the city's roads and checkpoints. The protesters, mostly supporters of the powerful Shiite cleric Moktada al-Sadr, were reportedly motivated by frustration with corruption and sectarian quotas in the current government under Prime Minister Haider al-Abadi. Once they entered the Parliament building, the protesters not only waved Iraqi flags, but apparently used those flags to beat fleeing, berated lawmakers. They also took photos, broke some furniture, and smashed the windows of politicians' cars.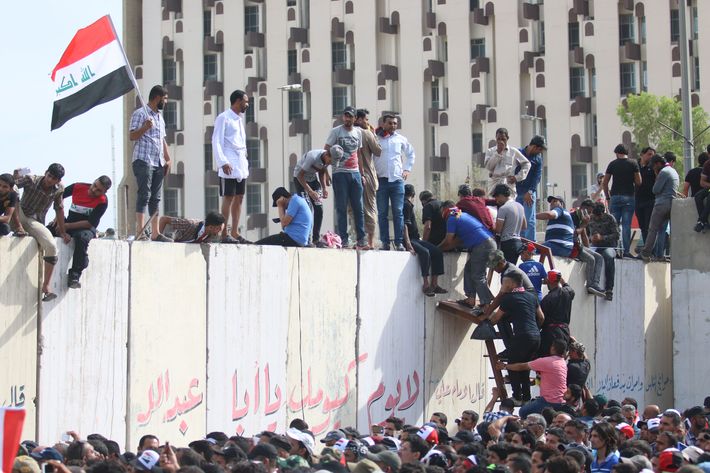 As the Times notes, breaking into the Green Zone is a largely symbolic act, as to many in Iraq, the heavily-fortified area represents the divide between the country's elite and common citizens, as well as tyranny and corruption dating back to the U.S. occupation and before. No shots were reportedly fired by security forces guarding the Green Zone, which suggests that those guards may be sympathetic to the protesters' views. Speaking at a news conference earlier on Saturday, the cleric al-Sadr said that he was "standing and waiting for a major uprising of the Iraqi people", and his supporters seem to have responded.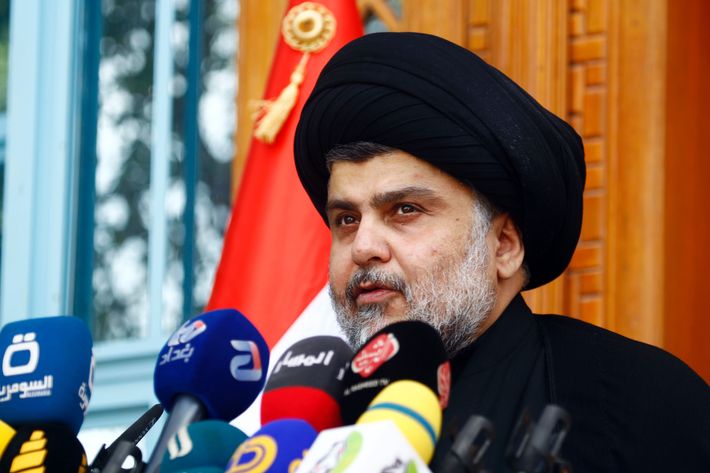 The Iraqi government is already in a state of crisis as oil revenue drops and the war against ISIS persists, and indeed the protest followed an afternoon session of Parliament, which failed to reach quorum, at which Prime Minister al-Abadi was going to try and reshuffle his cabinet in response to criticism that it was too partisan and sectarian. In addition, when sessions of Parliament have been able to proceed, they have often been dysfunctional and even violent, as politicians have even attacked one another over disagreements. 
The U.S. Embassy, which is also located in the Green Zone, was apparently not at risk during the breach, but the continuing political unrest in Iraq has U.S. officials worried, according to the Post, that Iraq will not be able to fulfill its role in the fight against ISIS, and last week President Obama warned the Iraqi government that "now is not the time for government gridlock or bickering."
Here is a compilation of videos taken of the protests: