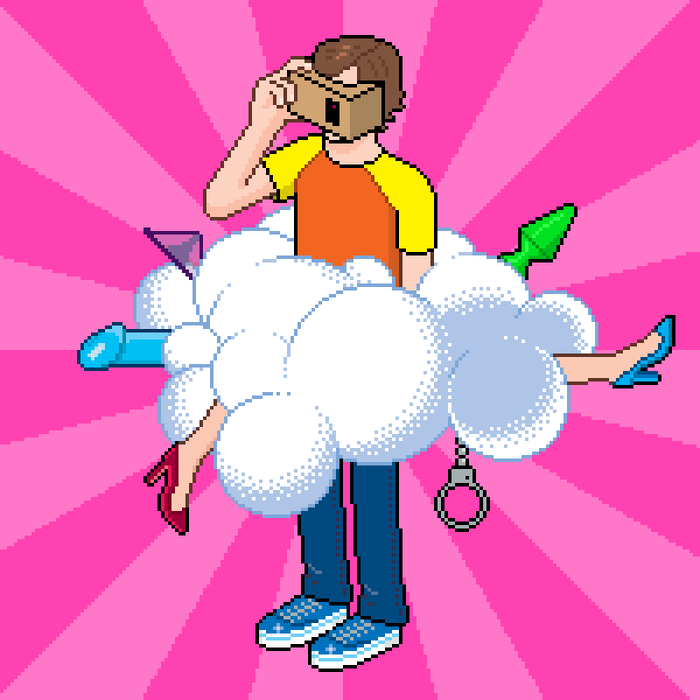 I'm lying naked in a doctor's office and a nurse is standing over me, booty tilted toward my forehead. She's trying to insert a butt plug where God and sex-toy manufacturers intended. It keeps slipping out. I look over to the corner of the room and then back to her, up and down her body as it towers over mine. "It's just too big," she says in a silken whisper. But she manages. Butt plug in place, the nurse lowers herself onto me.
That's when I put down the headset.
You see: I'm not in a doctor's office. There's no sexy nurse standing over me. The man lying on the examination table has flat abs, a hairy stomach, and a big penis — none of which I possess. I'm actually sitting on my sofa, holding a cube of cardboard, my cell phone tucked inside it like a swaddling baby. I'm watching VR porn, and I'm confused as hell.
As a homosexual of the highest order, I haven't been inside a vagina since I came out of one headfirst, more than three decades ago. It feels weird to find myself screwing a female nurse. But it feels even weirder to realize that I'm just sitting here on my couch, pitching a prodigious tent in my jeans. VR porn is so good it even got this gay dude all riled up.
When I first started reading about virtual reality for regular folks, I knew VR porn couldn't be that far away. Now that much-hyped gadgets like Facebook's Oculus Rift are available, and tech and video-game companies are investing billions in the technology, it's only a matter of time before we're all regularly avoiding our families with a pair of goggles or a strap-on headset.
And if you want to know what that's going to be like, you need to watch some porn. If VHS, DVD, and streaming video have taught us anything, it's that the adult industry is always a few years ahead of its less prurient cousins when it comes to finding uses for technology. In other words: Porn is doing today what Hollywood will be doing tomorrow. I owed it to my fellow man to find out what that is, exactly.
The first step was getting together the necessary tools. The Oculus, priced at $599.99, might be the gadget of choice for the wealthy porn aficionado, but it was clearly beyond my budget. I went with the people's VR headset: Google Cardboard, only $17. I got this one, but there are several different models that work for all sorts of phones. It was pretty easy to fold the flat cube of cardboard into something that resembled a homemade View-Master, though mine wouldn't entirely stay closed so I had to use a piece of duct tape. (I can't tell if it's reassuring or terrifying that our new virtual future is as bootleg as our present.)
Thus equipped, it was time to find some porn. My first stop was the website of the enormous porn studio Naughty America, where you can find about 50 VR movies geared entirely to straight guys. I scrolled through the library and decided to go with Dr. Nikki, Assologist, starring Nikki Benz, mostly because of the title. (Okay, entirely because of the title.)
On the site, there's a little button under the movie summary that reads, "Watch This Fantasy Now," but that's a bit misleading. VR porn isn't nearly as easy to view as the old-fashioned kind; there's a whole process involved. Between downloading the video and the appropriate app, syncing your phone, and selecting your playback mode — depending on what gadget you're using and how the movie was filmed — you could be spending 20 minutes in Dr. Nikki's waiting room. It might seem like it's not worth all the hassle. But VR porn is actually a pretty awesome experience.
Let's start with the less sexy stuff. The user interface works smoothly and seamlessly. The movie itself is meant to be a hands-free experience — because, well, you know. You can fast-forward the video or realign the image by moving your gaze toward on-screen controls. (You can also dismiss the control menu, because nothing kills the mood more than a giant floating pause button.)
But you're not here to hear about the design, right? Let's talk sexiness. The idea behind "POV," or point-of-view, porn — filmed, as you might gather, from the point of view of one performer — has always been that viewers can more easily imagine themselves in the scene. But it rarely works that way. When watching porn in the traditional manner, there's a distance between yourself and the actual screen. You can't feel like you're the lucky dude in the movie because you know that you're watching a movie.
You get the complete opposite experience with VR porn. Here, with your earbuds in and goggles over your eyes, it's totally immersive. When you look up, there's a ceiling above you. When you look left, you can see your sexy nurse. The camera trains on whatever it is that interests you most, whether that's Dr. Nikki's breasts or the weird anatomy poster on the wall. There's no cameraman forcing your POV, just you. The image quality isn't exactly HD (the Google Cardboard acts as a magnifying lens for the phone screen, so you can see individual pixels) but you really do feel like you're there — with the caveat, obviously, that the sensations felt by your avatar aren't quite the same as those you're feeling. Unless you're really good at keeping tempo.
Having dipped my virtual toe in the world of hetero porn, I thought it was time to find something that was geared more toward me. Leave it to the people at San Francisco-based Kink.com to deliver. They have a VR site featuring 13 completely free scenes. While all of them cater to the S&M crowd, there is every configuration you could hope for: boy/girl, boy/boy, girl/girl, just a girl, boy/boy/boy, and girl/girl/fuck machine.
If you're going to play around in a virtual environment, you may as well go to a depraved sex den where a master whips a boy and forces him to serve someone. Alas, something weird happened when I entered the dungeon: It kept pulling to the right. It was like trying to eat a plate of fries when the waitress was steadily moving it inches away from me. To look "straight ahead" in the scene, I had to keep my head cocked over my right shoulder — incredibly uncomfortable considering all the other strenuous activity I was engaging in. (There's a way to re-center the video using the pointer control, but it's annoying, and I had to keep doing it every three minutes or so during the scene.)
This speaks to the biggest current problem with VR porn: Small quirks and interruptions are more distracting than they would be on a regular screen. You're looking for an immersive experience, after all, and there's not much that's immersive about odd angles and weird visual tics. The lenses make use of stereoscopic vision, combining two slightly different images to create the illusion of depth, and when the two don't line up, it's disorienting. And every once in a while there are some weird perspective issues: In Dr. Nikki, Assologist, when you — well, the performer — stand over the titular medical professional, the movie turns into Attack of the 50-Foot Penis, with poor Dr. Nikki shrunken and seemingly in the distance, like the dirtiest scene cut from Alice in Wonderland.
By the same token, it can be a problem when the immersion works too well. In the Kink scene I started from the point of view of Jesse Colter, who was getting Jonah Marx off using all of my — er, his — orifices. But, unexpectedly, the POV switched — and I was suddenly looking through Jonah's eyes as Jesse got him off. It was like a betrayal: I didn't want to be someone else, especially a bottom sporting two sets of pinkish cheeks from being slapped and spanked so much. If I was going to be Jesse Colter (and, oh, to be Jesse Colter, just for a day), I wanted to be him the whole time.
On the other hand, I thoroughly enjoyed the perspective shift in Tough Guys, from Virtual Real Porn, the only site I could find that specializes in VR porn. A few minutes into the video, which stars overly tattooed stud Antonio Miracle giving it to Mario Domenech, the point of view shifts from the pitcher to the catcher, and now I'm looking through Mario's eyes. Suddenly "I" am being railed by the hot, muscled, tattooed Euro man of my dreams. I can look up and see into his eyes, I can look down and see a body that's, well, what I'd like to see when looking down during sex. And, well, importantly, Mario is touching himself just like I am. Rather than pretending my hand feels like a mouth, I'm just pretending it feels like a hand. It's almost entirely immersive: The only thing absent from the experience is someone else's sweat dripping on me and the unmistakable smell of pheromones and lube.
It's just like sex. Actually, it might even be a little bit better. You don't have to deal with the mess, pain, and the worry of pleasing another person as well as yourself.
Of course, pre-filmed POV porn isn't the only way to have adult experiences in virtual reality. Camming companies — websites where performers put on shows over webcam, usually in exchange for tips from viewers — are eager to cash in on this new technology, too. CamSoda puts on a bimonthly 360-degree 3D session with women in a room doing all sorts of things. In a recorded clip the company showed me, a single room contained eight women, one Hula-Hooping topless, others mugging for the camera, and one moaning in the corner as a robotic dildo machine did its work.
To me, camming has always been the most boring form of porn: It's live, and it's customizable, but there's rarely real, multi-person sex, and you have to share your favorite cam girl (or boy) with a room full of yahoos asking her to show off her feet — or something else stupid you just don't care about. The VR room, while cool, didn't exactly change my opinion.
But I'm not really the target audience. Daron Lundeen, CamSoda's president, told me that the most successful cam girls are the ones who provide more than just sex. Models who can create a sense of intimacy and connection will get themselves repeat, and often high-paying, customers. "I can get off a lot more with a human connection than a super-high-def video," Lundeen says. "For us it's about connecting the people more. We think VR is going to do that." Lundeen says he's most looking forward to augmented-reality technologies — headsets that take what you see in the real world, and then add a layer of the virtual. Like, say, a cam girl sitting on your couch holding a glass of wine.
To Lundeen, this is the real future of VR porn: not the wild narrative fantasies of traditional porn, but the intimate "girlfriend experience" of escort work. It makes sense to me — but I'm also not sure you have to choose between the two. Isn't that the beauty of the on-demand age? It's all available to you with just the press of a button. Want to go to an orgy filled only with the hottest adult stars on the planet? Done. Want a nice young lady to tell you what a jerk your boss is before giving you a night to remember? Done. Want to be a top? A bottom? Both at the same time? Just want to complain about your boyfriend to a pretty, sympathetic face? It's all possible. It might not be real, exactly, but sometimes that's better.