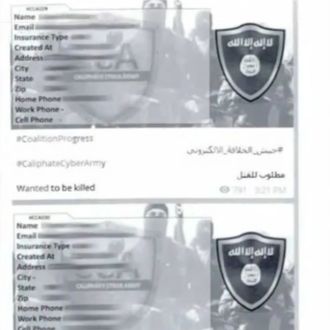 An image from the list.
Photo: MEMRI JTTM
An ISIS-linked hacking group has posted a hit list that includes the names of thousands of New Yorkers. The list, released by the ISIS-related group Caliphate Cyber United, reportedly includes as many as 3,600 names, some of whom are employees at the State Department and the Department of Homeland Security, but many of whom are average residents. Experts speculate that the list is being used as a scare tactic and that there's no immediate threat.
The list includes both names and personal information, with an announcement that says, "We want them #Dead," according to NBC New York. None of the people on the list are well known, and ABC 7 reports that they live in areas that vary in affluence, which leads law enforcement to believe it's a random fearmongering project. NBC New York's report includes a map that shows the highest concentration of people on the list in Brooklyn.
NBC News terror analyst Laith Alkhouri says the information was posted to a channel accessible only to certain ISIS supporters and was taken down after a short time. (Doing it this way, he says, makes it harder for law enforcement to track, since the group knows the details will become known publicly anyway.)
The FBI is notifying those named on the lists. In a statement, it said, "The FBI routinely notifies individuals and organizations of information collected during the course of an investigation that may be perceived as potentially threatening in nature." Such lists have been released before, but they've typically been shorter and included information only on military personnel, government officials, and diplomatic officers.
Said an 88-year-old man named on the list to NBC New York: "It sounds like psychological warfare. Make 3,000 people in this city very upset."