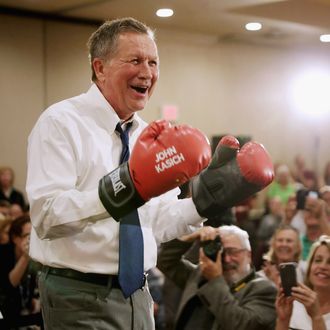 John Kasich is showing his lack of political chops even as he touts himself as the most electable candidate.
Photo: Chip Somodevilla/Getty Images
Theoretically, one of the "winners" in New York Tuesday night was Ohio governor John Kasich, who won somewhere between three and six delegates (his first pledged delegates in close to a month) with about a fourth of the vote. Yeah, Trump beat him about 30 to 1 in delegates and by 35 points in the popular vote, but Kasich finished comfortably ahead of Ted Cruz, who's been trying to define Kasich right out of the race as a hopeless loser. 
So Kasich's long-shot candidacy gets a bit of a reprieve, despite Trump's perilous progress toward a first-ballot victory that would make both Kasich and Cruz bystanders in Cleveland. What's Kasich's strategy for helping avoid that disaster and making himself the ultimate choice of an open convention? 
That's hard to say. A thorough exploration of the Kasich campaign by Bloomberg's Mark Niquette earlier this week didn't reveal any big, clear targets in the upcoming primaries, and certainly didn't indicate the kind of coordination with Cruz — overt or telepathic — you'd expect from a campaign that needs to block Trump and draw a series of inside straights to stay in the game. Instead, the idea seems to be to show a pulse by picking up "100 to 150" delegates somewhere in the country, while working behind the scenes to harangue actual and prospective delegates with promising general-election polls in the hopes they will come around to Kasich in Cleveland. If there is a realization that picking up those token window-dressing primary delegates in places like Indiana and California could wind up helping Trump reach his goals, the Kasich people are being awfully quiet about it.
Worse yet, as RealClearPolitics' Rebecca Berg shows in a devastating bit of reporting today, Team Kasich isn't doing a lot to get people already sold on him into a position to nominate him on a later ballot. 
While representatives for Donald Trump and particularly Ted Cruz have maintained a visible presence at the state and congressional district meetings where many delegates are being selected, often identifying and rallying behind a slate of their preferred candidates, Kasich's organization has been weak or nonexistent. As a result, only a small share of the delegates selected thus far would favor Kasich on a second or subsequent ballot at an open convention.
Berg notes a particularly embarrassing no-show for the Kasich campaign in Virginia:
At the 10th Congressional District convention in Ashburn, Va., last weekend, rows of Trump and Cruz yard signs lined the parking lot, while volunteers for each campaign distributed lists of their preferred delegates. The district, which backed Sen. Marco Rubio, would have been fertile ground for Kasich to try to pick up support.

But there were no Kasich yard signs, and no volunteers distributing delegate slates. Not one would-be delegate expressed support for the Ohio governor. One prominent Kasich supporter, former Rep. Tom Davis, did attend the convention; he thought there would be opportunities to sway delegates friendly to Cruz or Trump, but on this day he showed no signs of trying to persuade them to Kasich's cause. Ultimately, supporters of Cruz won the three delegate slots.

This dynamic has played out repeatedly across the country.
It sometimes seems the Kasich campaign believes in a sort of rhetorical enchantment whereby assertions of success are all that matters. It claims deep wells of support among Indiana's newly elected (but not yet pledged) delegates. But Berg can find no evidence they've even contacted these people.
 "The Kasich campaign didn't ask me who I was for, so I don't know who they're talking to," said one Indiana delegate, Mike Murphy, who is uncommitted to any candidate for a second ballot. "How can they declare victory?"

Having declared victory, however, Kasich will now almost certainly expend some effort to avoid embarrassment in Indiana's May 3 primary, whether or not that makes sense strategically. 
If Kasich doesn't clumsily help Trump to a first-ballot nomination, though, it seems his wizards think his electability argument will sweep all before it in Cleveland. Niquette harvested this quote from Kasich's prize consultant, Charlie Black:
Charlie Black, a longtime Republican strategist advising Kasich who worked on Ronald Reagan's delegate-wrangling operation at the contested Republican convention in 1976, said Kasich doesn't necessarily need that popular support, or even to win another state primary, to be the nominee.

"A lot of primary voters don't care about electability, but delegates will," Black said.
Maybe, but a lot of delegates also care about what primary voters think, and make judgments about a candidates' electability based not just on dubious early polls but on how effective they are during the nomination contest. As John Kasich aimlessly wanders around the country touting his theoretical appeal, he is illustrating his lack of actual appeal. And that will likely be his undoing.