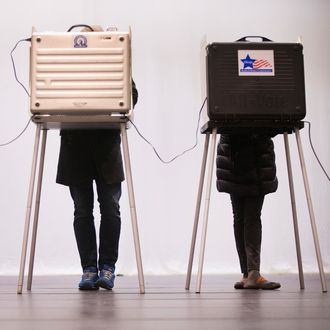 Voters cast their ballots in Chicago.
Photo: Scott Olson/2016 Getty Images
The controversy over North Carolina legislation continues as a federal judge on Monday upheld a series of Republican-backed changes to the state's voting laws. Opponents maintain that the sweeping changes leave minority voters at a disadvantage — a fact that's likely to impact the upcoming election, as North Carolina is traditionally a swing state. But District Judge Thomas Schroeder found that the plaintiffs, which included the U.S. Department of Justice and the North Carolina chapter of the NAACP, "failed to show that such disparities will have materially adverse effects on the ability of minority voters to cast a ballot."
The changes will prohibit people from registering and voting on the same day, end the early voting period seven days early, end preregistration (which allowed underage voters to register if they'd turn 18 by the date of the election), and prohibit ballots from being counted if they're cast outside a voter's home precinct. Schroeder also left intact a provision requiring North Carolina voters to have a photo ID.
Opponents of the changes say they disenfranchise minorities. "By meticulously targeting measures that were most used by people of color, the legislature sought to disturb the levers of power in North Carolina, ensuring only a select few could participate in the democratic process," Penda D. Hair, co-director of the Advancement Project, said in a statement to the New York Times. A spokesperson for the Justice Department told the Times they're "reviewing the decision carefully and evaluating [their] options."
But Schroeder said the Justice Department's argument was "made more difficult after black voter turnout increased in 2004," the Associated Press writes. And although he acknowledged the "significant, shameful past discrimination" in North Carolina's history, he also said that "for the last quarter century, there is little official discrimination to consider." 
Unsurprisingly, North Carolina governor Pat McCrory came out in support of the ruling.