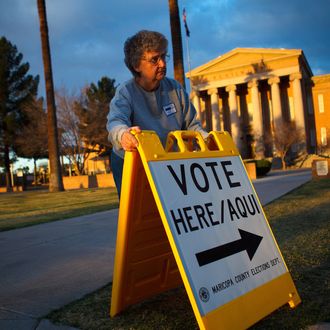 Vote here…if you can.
Photo: Jonathan Gibby/2012 Getty Images
It's not just Donald Trump who doesn't quite trust the primary system. The Civil Rights Division of the U.S. Department of Justice has launched an investigation into Arizona's March 22 primary following reports that the state's distribution of polling centers violated federal law. According to Reuters, the department is looking into complaints that exceedingly long lines — some voters waited up to five hours to cast their ballots — occurred disproportionately at polling stations with high levels of minority voters.
In a letter to officials in Maricopa County, which manages elections for 4 million people in Arizona, the DOJ cited reports of "a disproportional burden in waiting times in some areas with substantial racial or language minority populations." The county is under scrutiny for cutting down its number of polling stations from 200 in 2012 to just 60 this year, forcing voters to queue until well after nightfall.
Although county officials say it was a cost-cutting measure, the reduced number of polling stations was most evident in Phoenix, where most residents are black, Latino, or of another minority group, according to Buzzfeed. Phoenix mayor Greg Stanton called the whole thing "a fiasco" and said it was the "latest move in a culture of voter disenfranchisement" in the state.
The DOJ's letter is a request for information from the county on policies, voter data, and any planned response from local elections officials. The county's elections director told Reuters she intended to comply with the request and that the information will be made public by the April 22 deadline.
Arizona's primary results were certified by the Associated Press on Monday. Although Clinton won the Democratic contest there, Bernie Sanders's campaign is considering challenging those results. After all, now is not the time for Sanders to be pragmatic.