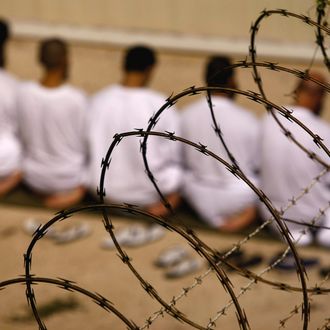 A group of detainees in Guantanamo Bay.
Photo: John Moore/Getty Images
The Justice Department is allowing a lawsuit by alleged victims of the Central Intelligence Agency's torture — er, "enhanced interrogation" — program to go forward, in a surprising reversal after it repeatedly invoked the state-secrets privilege to block similar cases in recent years.
The lawsuit, filed last October in Washington state by the American Civil Liberties Union on behalf of three former CIA prisoners, accuses psychologists James Mitchell and Bruce Jessen, former Air Force trainers whose company was contracted with the CIA to help design and run that program, of human-rights violations.
In a filing submitted in advance of a hearing on Friday, the Justice Department said it was concerned with ensuring that certain classified information was not disclosed, but did not immediately invoke state-secrets and indicated it would consent to let the case proceed to discovery (when the parties share information). The department could still invoke this privilege to prevent the airing of classified material later on.
In every previous lawsuit brought by alleged victims of the torture program, the ACLU notes in a blog post responding to the news, President Barack Obama's administration, like Bush's before him, invoked state-secrets at the start and never let the cases see the light of day.
The ACLU credits the Senate's investigation into the torture program, a 500-page executive summary that was released in December, with forcing the department's hand, as the government can no longer credibly demand to preserve the secrecy of something the details of which have already been publicized. The Senate report revealed that not only was the torture program more extensive and extreme than previously realized, but also it produced very little useful intelligence to show for it.
The detention and interrogation program began to face scrutiny in the later years of the Bush administration, and Obama signed an order barring the use of torture techniques in the first days of his presidency in 2009.