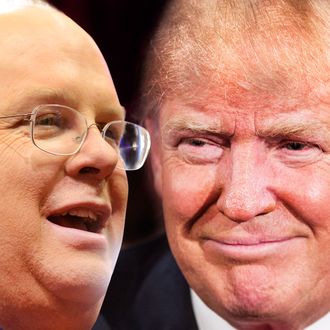 True Detective
season eight.
Photo-Illustration: Daily Intelligencer; Photos: Getty Images
Karl Rove has shown little affection for the GOP front-runner. The conservative (former) kingmaker has called Donald Trump "a petty man consumed by resentment and bitterness," one with "staggeringly bad" favorability numbers and an voracious appetite for "sowing divisions." But like a fifth-grade boy relentlessly teasing his schoolyard crush, Rove may be flinging these hostilities to mask a secret attraction. Or, at least, a secret tolerance.
On Tuesday afternoon, Rove's super-pac, American Crossroads, held a conference call with prominent Republican donors in which Karl & Co. argued that Trump could beat Clinton in a general election. One GOP bigwig told Politico that the conversation marked "a softening of the anti-Trump position" among his fellow party pooh-bahs, saying, "It's not that they support him, only that if he's the guy, we can do something to stop Hillary."
Crossroads spokesperson Ian Prior elaborated on this view, in an interview with the news site: "There has been a hardening narrative from the media and others that Hillary Clinton can start planning her inaugural ball — that is simply false and we believed it was important to communicate that to our supporters," he told Politico. "What we have in fact seen is that there is such intense dislike and distrust of Hillary among the general electorate that the presidential race will be close, regardless of the GOP nominee."
The best available data suggests that, barring a repeal of the Nineteenth Amendment, a Trump-Clinton race will not be close. On the other hand, that data also shows that more than half of America has a negative opinion of Clinton. Assuming she maintains her significant lead over Bernie Sanders, Clinton will become the second-most-unpopular non-incumbent presidential nominee in recorded history, just behind a certain proto-fascist reality star.
Eyeing this fact, along with polls that show nearly 60 percent of the country saying Clinton is dishonest, Republicans have to wonder: If the GOP Establishment wasn't calling Trump a closet-liberal con man all the time, could they make this thing a race? 
Many conservative leaders refuse to entertain such questions. Politico reports that a few #NeverTrump operatives were flummoxed by Crossroads' conference call, concerned it will dissuade donors from funding the counter-revolutionaries in the party's civil war. Most of Trump's conservative dissenters would prefer to wait another four years for a crack at the White House than hand the party apparatus over to an unpredictable authoritarian.
But for donors who aren't ready to forfeit November's contest, Trump may be the best horse to back. Yes, he would be a historically awful nominee. But the same could be said about Ted Cruz, and nominating anyone else would be inviting a mutiny from the party's base. At least with Trump you'd be throwing your lot in with the consensus choice of the GOP electorate. Plus, hell hath no fury like a Donald scorned — if Trump is cast aside at a convention, despite laying claim to more primary votes than any other candidate, he will declare himself the martyr of an illegitimate party. Polls show that more than 50 percent of Republican voters are likely to agree with him. Republican National Committee member Randy Evans seemed to show deference to that view on Wednesday, when he said Trump would become the nominee if he enters the convention with 1,100 pledged delegates — 137 less than a majority.
Give the Donald some media training, "very serious" advisers, and a multi-million-dollar rebrand, and maybe, just maybe, the Republican Party can capitalize on Clinton's vulnerabilities. All things being equal, this should be a tough cycle for the Democrats — winning a third straight White House term has been a challenge for both parties throughout their histories.
Still, Crossroads' latest anti-Clinton ad gives cause for skepticism. The 30-second spot argues that Clinton is the "new Nixon," because she has occasionally used some of the same English words to describe her email scandal as Tricky Dick once did to obfuscate his role in Watergate. That's a fine enough way to launder donor money to some friend's ad firm. But evoking Nixon is unlikely to be an effective message in a Trump-Clinton race — after all, Donald is the candidate campaigning on behalf of a silent majority, while receiving occasional advice from Nixon lackey Roger Stone and assembling a private security force to spy on protesters.
Even if Rove finds a less flawed metaphor for Clinton's alleged dishonesty, it will be no easy feat turning the man behind Trump University into the candidate of candor.