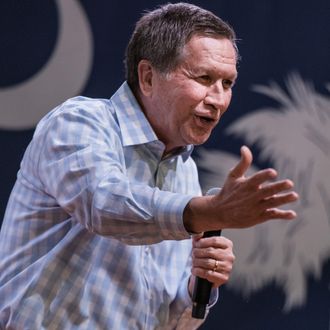 John Kasich, learned man.
Photo: Sean Rayford/Getty Images
John Kasich's travels in New York brought him yesterday to a Jewish bookstore, where he met students of the Talmud. Having thus met people who spend their entire day scrutinizing religious texts, Kasich's reaction was to ask them if they were aware of facts about those texts that they probably knew as very small children. "They sold [Joseph] into slavery, and that's how the Jews got to Egypt. Right? Did you know that?" For those who never attended Sunday school, this is a bit like visiting MIT, wandering into a physics lab, and asking people if they ever heard of this guy named Isaac Newton.