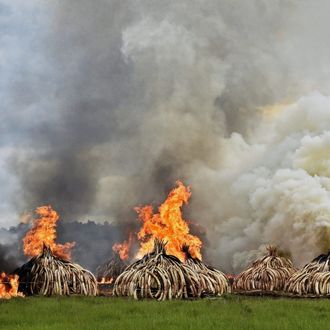 The ivory pyres are expected to burn for several days.
Photo: Carl De Souza/AFP/Getty Images
More than 100 tons of illegal ivory were set ablaze by the president of Kenya on Saturday in Nairobi National Park, creating a bonfire that the country hopes will send a message of deterrence to wildlife poachers in the country and continent. The BBC reports that the 12 towers of now-buring tusks comprised all the ivory the Kenyan government had confiscated, representing about 5 percent of global ivory stores and some $100 million in value. The ivory is likely to have originated from as many as 8,000 elephants, according to one wildlife trade expert who spoke with CNN. 
About $80 million worth of rhino horn, 1.35 tons, was also torched, as were a variety of animal skins and other poacher-sourced products. It was the largest-ever burn of illegal wildlife products by a factor of seven, and the fourth large burn conducted by the Kenyan government since 1989.
Some 450,000 to 500,000 elephants live in Africa, though more than 30,000 are killed each year by poachers for their ivory, and some experts fear the animals will become extinct over the next few decades if poaching isn't curbed. However, Kenya's bonfire has also drawn criticism from some in the conservationist community who say that destroying large caches of ivory only makes it more rare and valuable, and thus, encourages more poaching. That opposition to Saturday's burn included the government of Botswana, where about half of Africa's elephants live, and which has enacted some of the strongest policies against poachers on the continent, including a shoot-to-kill order, and a total ban on all hunting in the country.
Others have suggested that Kenya sell the ivory and then use the money to bolster elephant projection efforts, but Kenya dismissed that rationale. Kitili Mbathi, director general of the Kenya Wildlife Service, says ignoring the stockpile's value is the point, noting that they were burning their confiscated ivory to "demonstrate to the world that ivory is only valuable on elephants."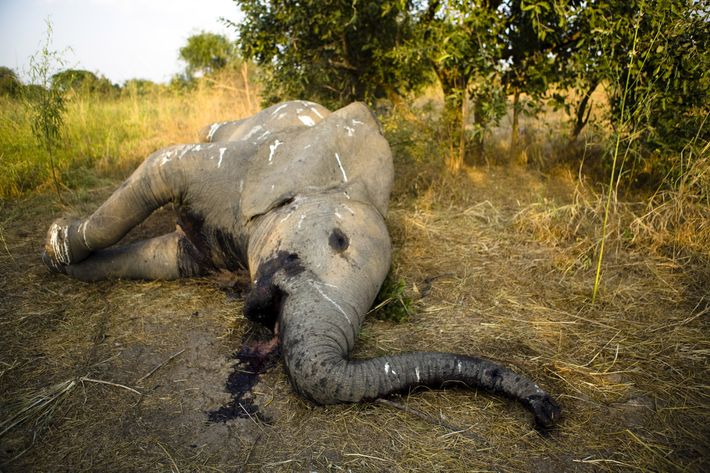 Anti-poaching crusader and current chair of the Kenya Wildlife Service Richard Leakey, who helped come up with the concept of mass-destroying ivory and spoke at the burn, told the crowd that after a previous large burn, the price of ivory dropped 98 percent. In an interview with Scientific American last week, Leakey also dismissed the logic of selling confiscated ivory instead of destroying it: 
[After a largely successful ban by the Convention on International Trade in Endangered Species in 1989] there was still a lot of ivory sitting around in storerooms, and some countries—South Africa in particular, Botswana, Namibia, Zimbabwe—thought that this could earn them money if it was sold. They persuaded CITES to allow them to put it on the market. We in Kenya felt that once the ivory trade got going again, it would be very difficult for people to distinguish between a valid export document and a false one. So, very quickly, ivory was again being poached and exported out with doctored documents. The price rose sharply and big criminal cartels started taking an interest. It was a deplorable situation.
Leakey said that he hoped Saturday's burn will get enough publicity to make the news — and a moral impact — in Asia, where most poached ivory and rhino horns are ultimately purchased.
As CNN points out, elephant conservationists also claim an elephant generates 76 times as much tourist revenue alive as its tusks do on the black market after its been killed. 12 percent of Kenya's GDP is from tourism.
Watch a video of Saturday's lighting ceremony in Kenya here: