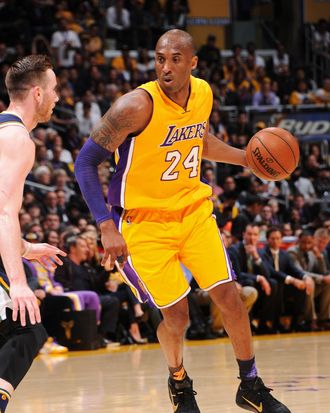 Kobe Bryant, in a rare moment on Wednesday night when he wasn't shooting the ball.
Photo: Andrew D. Bernstein/NBAE/Getty Images
Before it even began, it looked like the final game of Kobe Bryant's career would be overshadowed by the Warriors' pursuit of their record 73rd win, scheduled to take place at the same time in Oakland. ESPN even bumped the Lakers' regular-season finale to ESPN 2 in order to air Golden State's potentially historic game. But as the Warriors' cruised to an inevitable victory, Bryant's last game became must-see viewing, as Kobe scored 23 points in the fourth quarter to hit 60 on the night, leading his team to a comeback win in the process. The Lakers made sure Kobe had the ball in his hands as he approached 50, and later 60, points: His 50 field-goal attempts were the most since the league began officially tracking the stat in 1983–84. For a player long criticized for shooting too much, it was a rather perfect way to go out.
The fact that Kobe shot the ball so much on his 60-point night wasn't lost on people:
Kobe had 37 points through three quarters — the rest of his team combined had 29 — and during an interview before the fourth quarter started, ESPN's Lisa Salters asked Lakers coach Byron Scott about potentially getting him to 50. "Well, we're gonna see, we're gonna try," said Scott. And try they did, especially late in the quarter as he approached the mark.
And with 1:45 left to go, he banked in a shot to become the first player to end his career with a 50-point game:
Even after hitting the 50-point mark, he kept on shooting and kept making shots. After he hit this three to cut Utah's lead to one and give him 56 points with just under a minute to go, suddenly 60 seemed within reach:
Jay Z and Jack Nicholson really liked that shot:
Snoop Dogg, too, was loving the final moments of Bryant's career.
Kobe would hit a jumper to reach 58 points and put the Lakers ahead by one, then sink two late free throws to hit 60. Here's the final point of his career:
Ironically, Kobe would finish his night with an assist, throwing the ball down court in the final seconds to Jordan Clarkson, who now becomes the answer to a trivia question:
Kobe came out of the game with 4.1 seconds left and gave a hug to Shaq on the way out:
After the game, Kobe addressed the crowd: "The thing that had me cracking up all night long was the fact that I go through 20 years of everybody screaming to pass the ball, then on the last night, they're like, 'Don't pass it!.'"
Some people on Twitter compared his farewell to the night Derek Jeter notched a walk-off hit in his final Yankee Stadium at-bat …
… Though others pointed out that there was a crucial difference between the two:
And as Kobe entered the Lakers' locker room, he was greeted with a Champagne shower — likely the first such celebration in the locker room of a team that just ended a season with a 17–65 record: