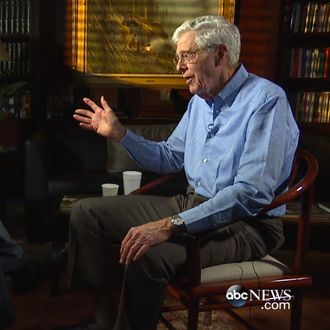 No GOP Convention for our summer plans.
Photo: ABC
Right-wing mega-donor Charles Koch is apparently going to skip the opportunity to spend mid-July in Cleveland this year, saying in an interview with ABC News that aired Monday that he doesn't plan to attend the 2016 Republican National Convention. 
"Why go?" Koch said. "We're not interested in politics. We're interested in moving us towards a culture and policies that will enable people to improve their lives." Koch, along with his brother David, has poured hundreds of millions into their "Freedom Partners" network, which supports a broad array of conservative causes and candidates. In the two-part interview, Koch said that he thought it "possible" that Hillary Clinton could be a better president than any of the GOP candidates.
Clinton, however, wanted absolutely nothing to do with that begrudging nod of almost-approval:
And Koch admitted that while he's really not thrilled with the the slate of GOP candidates this year, he doesn't support the idea of Paul Ryan swooping in and becoming the party's nominee at a contested convention. Koch said that the current Speaker is "better on the issues," but that giving him the nomination "would create the impression this whole thing is rigged, which — that's the opposite of the direction we want to go."