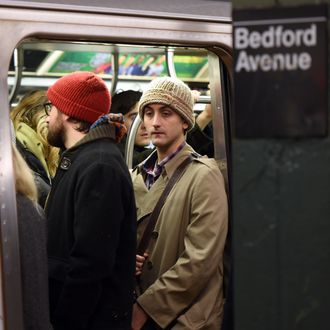 Abandon all hope, ye who enter here.
Photo: DON EMMERT
When the MTA announced it would close the L train for up to three years, Brooklynites resigned themselves to a year or more of miserable commutes. Whether officials choose to close both sides of the Canarsie Tube — the tunnel that carries the L train under the East River from Brooklyn to Manhattan — at once, or whether they close one side at a time and maintain reduced service, the shutdown won't be pretty.
There was no mention, however, of the shutdown affecting Manhattan. But according to The Wall Street Journal, "people familiar with the matter" say "an L train shutdown in Manhattan has been among the scenarios under consideration." In other words, in addition to the Bedford Avenue stop closing down, L train stops between First Avenue and Eighth Avenue might be defunct as well.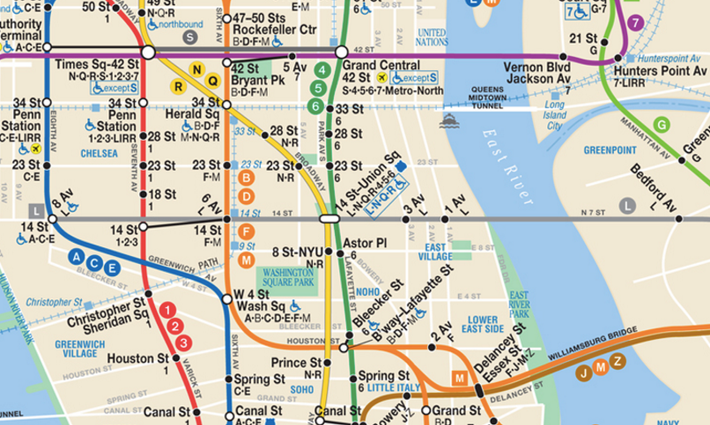 As WSJ points out, shutting down Manhattan stops might prevent train cars from getting to a yard in East New York where they undergo inspection and repair. "Those trains could then be trapped," said the unnamed source. "It all depends on the construction schedule and the plan." A Manhattan shutdown would also cut off a key crosstown route, throwing a wrench into the plans of even more commuters. 
In response to WSJ's inquiries, an MTA spokesperson simply said, "all options are still being examined," and plans are still "fluid," which is sure to be a comfort to the 400,000–odd commuters who take the L every weekday.