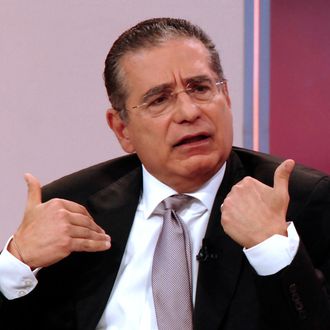 Ramón Fonseca, a partner in Mossack Fonseca, says his firm's hack is the real crime.
Photo: STR
The Panama Papers leak, which claimed its first political victim yesterday, stemmed from the Panama-based law firm Mossack Fonseca, a leading creator of shell companies for the rich to hide money. The company hasn't been charged with a crime and has denied any wrongdoing, but on Tuesday it went a step further and declared itself the victim. Ramón Fonseca, one of the firm's founding partners, told Reuters the company had been hacked and that "a government institution is studying the issue."
"We rule out an inside job," Fonseca said. "This is not a leak. This is a hack. We have a theory and we are following it," he said, but declined to elaborate.
Fonseca also said that the 11.5 million documents, which include company emails and information on the offshore holdings of 12 current and former world leaders, another 128 politicians, and public officials from more than 50 countries, have been "taken out of context" and called journalists' investigation of their contents a "witch-hunt." "The only crime that has been proven is the hack," he said. "No one is talking about that. That is the story."
Although he denied Mossack Fonseca had done anything wrong, Fonseca also said the company was being judged unfairly. "Fifteen years ago, due diligence didn't exist," he said, referring to the legal requirement that companies take certain steps to assure all business deals to which they're connected are above-board. "They are judging us by other standards."
Of course, it's perfectly possible that Mossack Fonseca's dealings were legal, but the dealings of its partners weren't. According to the International Consortium of Investigative Journalists, which confirmed the validity of the documents: 
[They] show that banks, law firms and other offshore players have often failed to follow legal requirements that they make sure their clients are not involved in criminal enterprises, tax dodging or political corruption. In some instances, the files show, offshore middlemen have protected themselves and their clients by concealing suspect transactions or manipulating official records.
On Tuesday, Icelandic prime minister Sigmundur Davíð Gunnlaugsson became the first high-ranking official to resign in light of evidence revealed in the leak, and it's possible there will be more political fallout, especially as more documents are released (this was just the first wave). 
Nevertheless, Fonseca thinks the whole thing will blow over. "This is a tropical storm, like the ones we have here in Panama where once it passes the sun will come out," he said. "I guarantee you that we will not be found guilty of anything."