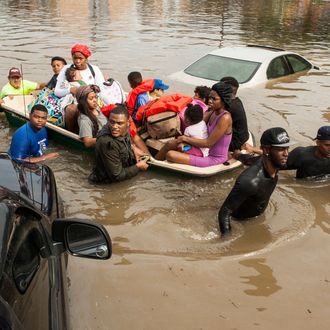 Residents evacuate a flooded apartment complex in a Houston neighborhood.
Photo: Brett Coomer/Houston Chronicle via AP
Torrential rains have pounded the Houston, Texas, area since Sunday night, overflowing waterways and inundating streets and homes with rising floods. At least five people have drowned after storms dumped more than 15 inches of rain in about 24 hours in some areas. 
The forecast calls for more storms through Tuesday, and though they won't be as severe, flash-flood warnings are in effect through Wednesday morning. All told, the storm unloaded more than 240 billion gallons of rain on the region, according to the Houston Chronicle. 
Texas governor Greg Abbott declared a state of emergency in nine counties in and around the Houston area, adding, "[T]his is the most [rain] I have ever seen in the state of Texas." At the edge of Harris County (which encompasses Houston), officials recorded more than 17 inches of rain in 24 hours.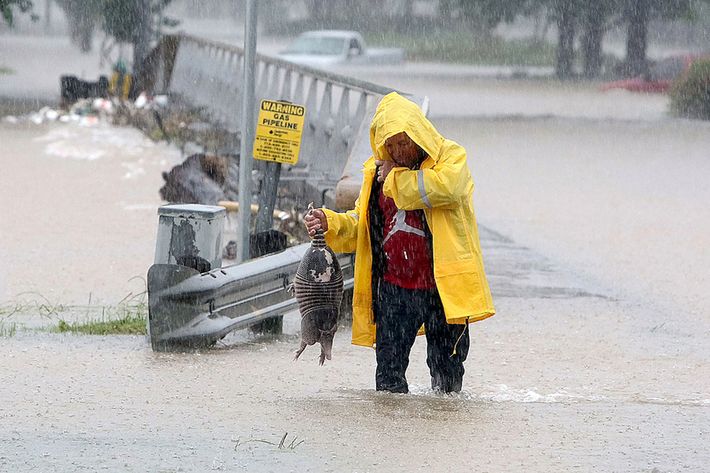 Schools and most businesses are closed. Public transportation is shut down. Floodwaters have rushed through more than 1,000 homes, and many more are without power. Officials were warning people to stay put to avoid being trapped in their cars; dozens of rescue operations are also under way to reach those who are stranded. A dramatic rescue operation went down Monday, as emergency workers and volunteers tried to save more than 80 horses from being swept away by the currents:
Details are still emerging about the five people killed, though early reports suggest most drowned trapped inside vehicles as rapid floodwaters coursed through streets and highways. A woman told a local NBC station that she had witnessed people trying to save a man caught in his car in the flowing water. "People were trying to bust out the window with their shoes," she said. "The water, the current. There was no way we could get him. He stayed in the truck. He died."
The Houston area is well acquainted with severe flooding — the city was inundated over Memorial Day last year — but many are calling this ferocious rainfall unprecedented. Officials add that the metropolitan area is kind of a ground zero for this kind of natural disaster thanks to its geographic location, its soil composition (dense, with a top layer of clay), and a huge building boom that increased the city's density, making it hard for the ground to absorb downpours.