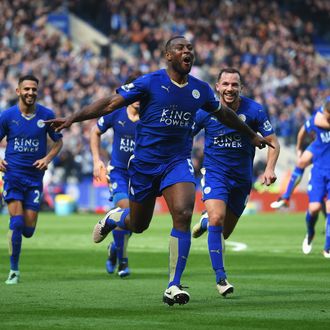 Leicester City celebrates a goal earlier this month.
Photo: Michael Regan/Getty Images
This weekend is a busy one on the pro-sports calendar: The NBA and NHL playoffs are in full swing, the baseball season is nearing the end of its first month, and the NFL will be holding the final rounds of its annual draft. But the must-see sporting event of the weekend is taking place at 9 a.m. New York time on Sunday, when Leicester City F.C. can clinch an improbable Premier League title and finish off one of the great underdog stories of all time.
To understand how stunning a Leicester City title would be, it's important to know two things. One is that the English Premier League is hardly known for its parity, and that the top tier of soccer there has come to be dominated by just a handful of teams. Since 1996, only four teams have won the Premier League title: Manchester United, Chelsea, Manchester City, and Arsenal.
But even if underdogs did have a decent chance to topple those giants, Leicester City would be an extraordinarily unlikely team to do it. The English football system is divided into tiers, and teams can rise or fall depending on where they finish. As recently as 2014, Leicester City was playing in the country's second tier, and, after being promoted to the top-level Premier League for last season, had to fight to avoid being relegated right back. (They'd wind up finishing 14th out of 20 teams last season.)
A Leicester City title was considered so unlikely that bookmakers offered 5,000-to-1 odds before the season. To put that in some context, the Atlanta Braves and Philadelphia Phillies are the longest shots to win the World Series this season, at 500-to-1. Or to put it another way, Ladbrokes, a betting shop offering those odds on Leicester City, has also offered 500-to-1 odds that Simon Cowell will be the next prime minister, and 1,000-to-1 odds that Hugh Hefner will admit he's a virgin.
Leicester City began the season with just one loss in 14 matches through the end of November. And though many believed they'd return to Earth during a difficult December stretch against powerhouses like Chelsea and Manchester City, they'd continue to play well into the New Year, and a win against Manchester United at Old Trafford on Sunday would clinch the title, giving them a ten-point lead with just three games remaining for their nearest rival. (Unlike pro leagues in the U.S., there are no playoffs in the Premier League. The team with the most points after the season is crowned the champion.)
Pretty much everything has gone their way this season, from getting a roster full of late-bloomers to break out at the same time, to the ability to focus strictly on Premier League matches while its closest pursuers also competed in the Champions League or Europa League, to the guidance of an underappreciated manager in Claudio Ranieri, to the players staying relatively healthy. Their timing was good, as the other traditional powers have struggled this season, at least by their standards. And Leicester City plays to its strengths: Rather than play a possession game, in which they control the ball themselves for long stretches, they expertly use an old-fashioned 4-4-2 formation, defending well and getting the ball upfield quickly to strike when they get an opportunity. They're led on the field by Jamie Vardy, who had been playing fifth-division football as recently as 2012, and this year broke the record for goals scored in consecutive Premier League games. (Vardy is suspended for Sunday's game because of an outburst at a referee.)
So what does it all mean? For one thing, other Premier League clubs may try to replicate the makeup of the team and imitate its quick-striking style — especially with a new monster TV-rights deal that'll be divided equally among all teams, possibly creating a bit more parity. It also means bookies will likely never again offer such long odds: Leicester City's win is expected to cost bookmakers across the country about 10 million pounds. (Ladbrokes, for instance, accepted 47 bets at 5,000-to-1 odds, and 23 of them are still live, with the rest having decided to cash out early.) But it also means that fans of any team — no matter how big an underdog they may be — can dream that one day everything will break their way as well, opening the door for another impossible championship.