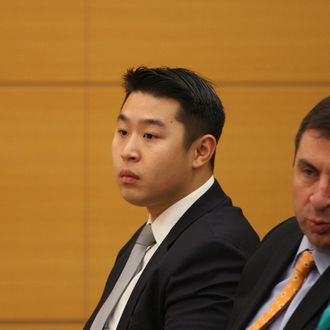 Peter Liang during his trial in February.
Photo: Pool/2016 Getty Images
Ex-NYPD cop Peter Liang will be formally sentenced next week after a judge denied the officer a new trial Thursday. A judge was supposed to hand down a sentence Thursday to Liang, who was convicted in February for the 2014 shooting death of Akai Gurley in the stairwell of an East New York housing project. But the court agreed to delay the date as the defense pushed for a mistrial based on new evidence that one of the jurors may have lied about his past — and his antipathy toward cops.
Liang's lawyers claimed the juror, 62-year-old Michael Vargas, failed to disclose that his dad was convicted and served seven years in prison for an accidental shooting, despite being asked by lawyers if any close family had ever been arrested or accused of a crime — let alone a very similar manslaughter crime. Liang's defense team found out about the omission in a Daily News interview Vargas gave after Brooklyn DA Kenneth Thompson took some by surprise when he recommended probation, instead of jail time, for the disgraced cop. 
Liang's team also pushed Vargas on some Facebook posts dating back to 2014 that appeared to disparage cops during questioning Wednesday. Vargas's cross-examination wrapped up Thursday, but the judge ultimately decided that the juror didn't purposefully withhold those details. Liang's manslaughter conviction stands, and he'll appear for sentencing April 19.