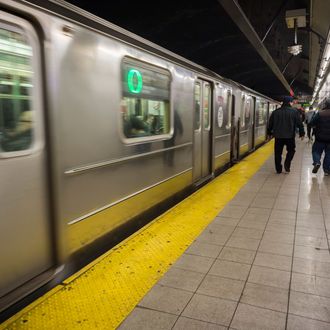 A 6 train, earlier this year.
Photo: Richard Levine/Corbis
A man who was lying on the track bed of the 77th Street station was struck and killed by a 6 train this morning, DNAinfo reports. The man was hit by a northbound train at around 4:30 a.m. and pronounced dead at the scene, police said. The NYPD is investigating how the man came to be lying on the tracks, and whether any criminality was involved. The incident caused a disruption in 6 train service, but it's since been resumed, with residual delays.