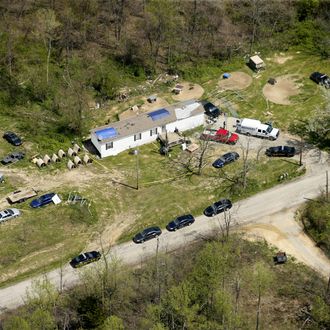 An aerial view of one of the Ohio residences where members of the Rhoden family were murdered by an unknown assailant.
Photo: Lisa Marie Miller/The Columbus Dispatch vía AP
Eight members of the same family were found murdered, execution-style, across four residences in a small rural community in southern Ohio on Friday morning, and authorities are still trying to figure out who is responsible for the mass shooting, according to CNN. Investigators believe at least one assailant remains at large, as none of the deaths seem to have been suicides. Seven adults and one 16-year-old are among the victims killed, all members of the Rhoden family and living near the town of Piketon in Pike County, Ohio. Seven of those killed all lived on the same road. Authorities say that some of the victims were shot in the head while they slept. One victim was killed as she lay in bed with a four-day-old baby, who survived, as did two other children, aged six months and three years. Ohio law enforcement members report they are working off of a few theories regarding the murders, and have interviewed more than 30 individuals about the crimes, but as of Saturday afternoon no arrests have yet been made.
Schools in Pike County were briefly put on lockdown for a time on Friday on account of the murders, but authorities have stressed that a single family was targeted and they don't think there is a threat against others in the community.
A Cincinnati businessperson has offered a $25,000 reward for information that leads to the killer's arrest, but authorities are warning community members to be careful and to presume that the assailant or assailants are armed and dangerous. In addition, the surviving family members of those killed have been offered police protection.