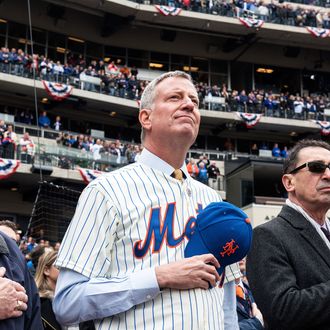 At least he wasn't booed during the national anthem.
Photo: Demetrius Freeman/Mayoral Photography Office
It's not uncommon for politicians to hear boos at sporting events, but it's become an opening-day tradition at Citi Field, where Friday afternoon Mayor de Blasio was booed at the team's home opener for the third straight year. De Blasio — a Red Sox fan who today wore a Mike Piazza jersey to the game — was introduced along with the fire and police commissioners during the pregame ceremonies, and heard boos as loud as the ones showered upon the visiting Philadelphia Phillies.
In 2014, during his first year in office, de Blasio was booed on opening day when he threw out the ceremonial first pitch. He got similar treatment when he was introduced before the home opener last year, that time as he stood with the families of Rafael Ramos and Wenjian Liu, the NYPD cops who were killed the previous December.
"It's mayoral tradition to be booed on opening day and it wouldn't be New York baseball without it," a mayoral spokesperson said in a statement after opening day 2015. But de Blasio learned firsthand that mayors in other cities don't always get the same reaction from baseball fans. Last April, he took in a Brewers game in Milwaukee during a trip to the Midwest to discuss income inequality. Said de Blasio afterward:
"I had the pleasure of taking in a Brewers game with Mayor Tom Barrett last night," de Blasio told a group at a speech Saturday in Milwaukee. "I was struck by how many people kept coming up to the mayor to thank him for his service."

"I go to quite a few baseball games in my city of New York, and I gotta admit — the reception isn't always that cordial," he added. "People recognize me, all right. But oftentimes our exchanges are limited to a few choice words . . . or even a particular finger!"
In a rather hilarious clarification, he later admitted that he didn't actually recall getting the finger, but rather was using poetic license.
De Blasio, by the way, has not yet made a public appearance at a Yankees home game, instead visiting Yankee Stadium only for soccer matches.