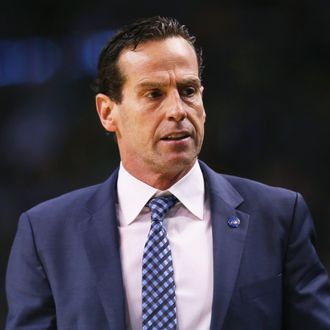 New Yorkers may remember Kenny Atkinson as an assistant for the Knicks under Mike D'Antoni and Mike Woodson.
Photo: Maddie Meyer/Getty Images
Back in January, with the franchise in turmoil after a lousy 10–27 start, the Nets fired their coach and reassigned their general manager. At the time, owner Mikhail Prokhorov said he took full responsibility for the state of the organization, which had struggled to find a stable leadership team and had come to prefer splashy trades and signings in a failed attempt to find immediate success. In February, the Nets took the first step in rebuilding the organization, hiring Spurs assistant general manager Sean Marks to be the team's new GM. And yesterday, the other major piece of the puzzle fell into place with the hiring of Kenny Atkinson as the team's new head coach.
Atkinson, who becomes the Nets' sixth coach since arriving in Brooklyn in 2012, most recently served as an assistant coach with the Hawks. (He'll remain with Atlanta through the end of the playoffs.) But New Yorkers may remember him as a Knicks assistant coach from 2008 to 2012 under Mike D'Antoni and Mike Woodson. Perhaps his greatest achievement in New York was helping transform Jeremy Lin, once a fringe NBA player, into a sensation who cashed in on his breakthrough and left the Knicks in 2012. In the Daily News, Frank Isola even wonders if Atkinson could join names like Tom Thibodeau and Steve Clifford on the list of former Knicks assistants who got away and enjoyed their coaching breakthroughs with another franchise.
A Long Island native, the 48-year-old Atkinson also worked as the Rockets' director of player development before beginning his NBA coaching career. Now, however, he takes on one of the least desirable jobs in the NBA: turning around a team without many assets, and doing so with an owner who may or may not be fully committed to patiently rebuilding. (Said Prokhorov in the same press conference in which he took the blame for the direction of the franchise: "I'm sure, for the next season, we'll be, I hope, a championship contender.")
At least for now, though, Prokhorov doesn't seem like he's expecting immediate results. Said Prokhorov about Atkinson: "Aside from his tremendous skills and experience, he has the mindset we need to build a winning team day by day, step by step. Together, we can do great things."