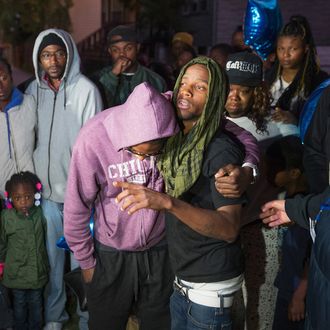 Mourning a gun-violence victim in Chicago this September.
Photo: Scott Olson/Getty Images
The number of people shot in Chicago so far this year has exceeded 1,000, according to data from the Chicago Tribune. The total stood at 1,008 as of Wednesday, which included a 4-year-old boy with a gunshot wound to the foot. The child had been walking down a block with his mom on the city's West Side when an argument erupted in the street. Gunfire followed. The boy is expected to survive.
Chicago has struggled with gun violence, but 2016's statistics scarily outpace the number of shootings in recent years. In 2015, the city didn't see this many gun victims until early June — a year marked by nearly 3,000 total shootings in Chicago. The city didn't reach 1,000 shootings until June in 2014 and 2013 either. According to the Chicago Police Department's CompStat data through April 17, shootings are up 67 percent compared to this time last year. They are up 133 percent compared to this time in 2014.
Murders are also on the rise. A total of 172 people have been killed in Chicago so far in 2016, an increase of about 64 percent compared to this time last year. (Chicago saw 488 homicides in 2015.) April has averaged a murder a day.
These distressing statistics come just as the Chicago Police Department is grappling with a damning report on the force's history of systematic racism. The independent task force, convened by embattled mayor Rahm Emanuel after the release of a 2014 video of the police shooting of 17-year-old Laquan McDonald, recommended a department overhaul to repair trust with minority communities and break the "code of silence" that led cops to turn a blind eye to abuses. Emanuel has signaled that he will instruct the department to start implementing some reforms — about 25 of the task force's 76 recommendations, including meetings with community leaders, "de-escalation training" to curb excessive force, and expanding the use of body cameras, reports the Tribune. 
But Emanuel will not go ahead with some of the more substantial reform recommendations, such as dismantling the Independent Police Review Authority, the board that evaluates police-involved shootings and has a track record of rarely finding fault with officers.
The Justice Department initiated its own federal investigation into misconduct within the Chicago PD this December, a probe that will likely take close to a year.