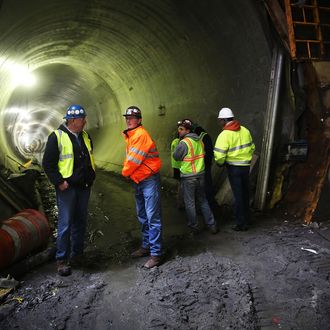 Workers in a Second Avenue subway tunnel in 2014.
Photo: Spencer Platt/Getty Images
The first section of the long-awaited Second Avenue Subway, which runs from 63rd Street to 96th Street, is set to open in December (maybe), but the next phase of the project — which would extend the line to 125th Street — has been plagued for years by uncertainty about funding. In a new version of its capital plan, however, the MTA has promised $1 billion toward the project — or $500 million more than had been in the agency's previous proposal.
The first version of the MTA's capital plan for 2015–19, released back in 2014, included a request for $1.5 billion for the project's second phase. Then a revised version released last fall included only $500 million for it — a cut that angered leaders in East Harlem, which the new line would serve.
But a state budget deal reached earlier this year called for restoring the project's funding, and the $29.5 billion spending plan approved by the MTA's board Wednesday allocates $1 billion for the Second Avenue line (as well as money for other upgrades like new train cars and a new fare-payment system). Via the Times, the agency also said it would apply for a federal grant program to pay for the additional $500 million needed for the project. The MTA's plan still must be approved by the state's Capital Program Review Board.
In all, the Second Avenue subway project is divided into four phases. The third would extend the line south to Houston Street, and the final one would extended it even farther downtown, past the Seaport to Hanover Square.