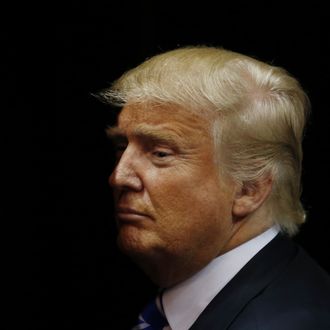 Specifics are for losers.
Photo: Eduardo Munoz Alvarez/2016 Getty Images
Jared Kushner, the publisher of the New York Observer, is married to Ivanka Trump, which makes the Donald his father-in-law. But that fact alone, the Observer's editors claim, is "not a reason" for the paper to endorse Trump for president. After Kushner and one of the paper's political editors, Ken Kurson, came under fire for personally penning Trump's only pre-prepared speech, today the Observer published a ringing 1,400-word endorsement of Trump — and it even came up with reasons for the endorsement besides "the boss is married to Ivanka."
Unfortunately, none of those reasons are good. Unlike Trump's Kushner-and-Kurson-approved AIPAC speech, which seemed to have actual thought behind it, the Observer's argument for Trump is basically fluff — "make America great again" padded out to fill a page. It includes well-intentioned run-ons such as, "But what every pundit's platitudes missed was simple: they failed to recognize that Mr. Trump's success is the result of one thing—optimism," and fragments like, "Faith that Americans have the will to craft a brighter future, and the leadership to make it happen."
In the same vein as the candidate himself, the paper fails to point to any of Trump's specific policy plans, instead ripping things like "14-point proposals" and "SAT-like cramming of policy details." Because why would Observer readers care about the policies of someone for whom they're being encouraged to vote?
Surely they're much more interested in, say, the condemnation of the "media elite" and the "professional political class," or the indisputable parallels between Trump's rise and the rise of Ronald Reagan. "We are reminded of another presidential candidate who was derided for being 'just an actor' and for proposing a vision for a stronger America," the Observer writes.
It goes on to describe Reagan's record as the governor of California, which it then compares to that one time Trump rebuilt a skating rink. Thirty years later, it writes, that project still stands as a shining beacon of "far-too-rare leadership in action" and "a can-do spirit."
The endorsement ends on a truly inspirational note:
In 1980 Ronald Reagan said, "The time is now for strong leadership," and by 1984 was able to declare, "It is morning again in America." Today, Donald Trump says it is time to make America great again. We agree.
Yet somehow, in more than 1,000 words, the Observer's editors fail to explain exactly how Trump will "make America great again." To be fair, they learned from the best.