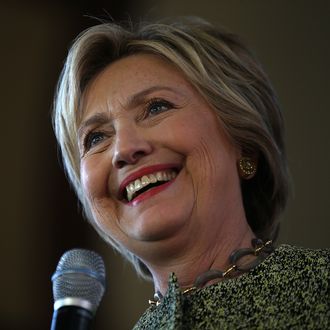 The finger-point of victory.
Photo: Justin Sullivan/2016 Getty Images
Donald Trump and Hillary Clinton have been the heavy favorites to win their respective New York primaries all week, and less than an hour after polls closed Tuesday night, both were declared winners. Almost as soon as polls closed at 9 p.m. EST, multiple outlets called the GOP race for Trump; with all precincts reporting, the Republican front-runner held 60 percent while John Kasich finished with 25 percent and Ted Cruz trailed with 15, according to the Upshot. 
In his victory speech, Trump declared the Republican race all but won, saying, "Cruz is just about mathematically eliminated." He actually said "Cruz" instead of "Lyin' Ted," which suggests his new hires are doing their best to groom him for the upcoming general election.
The Democratic race took about 45 minutes longer to unfold, but multiple outlets ultimately projected Hillary Clinton to be the winner. With all precincts reporting, Clinton held 58 percent to Sanders's 42 — it looks like renting out Times Square was worth the gamble.
Clinton's delegate lead is creeping toward insurmountable, and in her victory speech she once again made reference to uniting the Democratic party in the general election. "To all those who supported Senator Sanders, I believe there is much more that unites us than divides us," she said before bashing both Trump and Cruz.  
Despite Clinton's victory in the pivotal Empire State, Sanders told the Associated Press that he's "still got a shot to victory." He went on, "We have come a very long way in the last 11 months, and we are going to fight this out until the end of the process."
This post has been updated throughout.