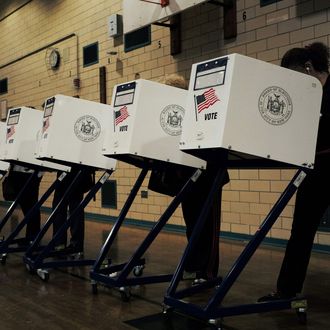 Vote different.
Photo: Jewel Samad/AFP/Getty Images
New York appears to be really bad at hosting primary elections, but really good at complaining about them. Less than halfway through the hotly contested Empire State primary, social media is overflowing with reported irregularities, and one voter-protection hotline has been inundated with "hundreds" of distressed calls.
"We're seeing a high volume of calls, which suggests this is not an election that is problem-free," Kristen Clarke, one of the organizers of the Election Protection hotline (and a fan of understatement), told ThinkProgress. Here are the seven primary problems with New York's big primary day:
1. Polling places didn't open on time.
2. Voting machines are malfunctioning.
3. Bernie Sanders has only five delegates on New York's ballot, but the ballot instructs voters to select six.
Bernie Sanders supporters in New York City are reporting a befuddling wrinkle in the state's primary ballots: The ballot asks voters to select "any six" delegates from a list of 11 … which contains 6 delegates pledged to Clinton and 5 pledged for Sanders. Thus, if a Sandernista follows these instructions, they would use about 17 percent of their vote to boost a Clinton delegate.
4. Independent voters didn't realize they had to register with their preferred party last October.
The No. 1 complaint fielded by the Election Protection hotline Tuesday was about New York's unusually restrictive closed primary rules, ThinkProgress reports. While the deadline for new voters to register for the April primary was in March, the deadline to switch party affiliation was last October — months before voters had any clue that the New York primary would actually matter. 
This oddly early registration deadline is even more troublesome in New York, which is home to vibrant third parties like the Working Families Party, which works in concert with the Democrats. With Bernie Sanders and Donald Trump both pulling much of their support from independents, New York's tight rules could have a significant impact on tonight's returns.
5. Between last November and today, 60,000 Brooklyn Democrats disappeared from the voting rolls and no one knows why.
Some of the voters being turned away for lacking party registration insist that they've been lifelong Democrats, and so the system must have made an error. A good number of these individuals are probably frustrated independents, but there is reason to believe some genuine mistakes may have been made. According to WNYC, the number of active registered Democrats in Brooklyn dropped by 63,558 between November 2015 and April 2016. No one, not even Mayor de Blasio, understands what caused the change, which has no parallel in any other borough of the city.
6. Ben Carson is still on the Republican ballot.
The good doctor reportedly forgot to request to have his name removed from the ballot. Votes for Carson will not be counted.
7. Not everyone is getting stickers.