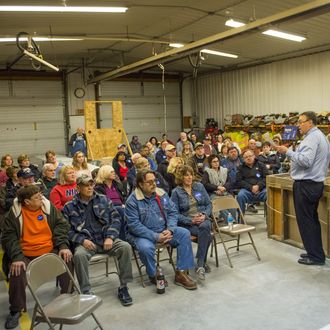 There need to be a lot more people in this room.
Photo: Michael B. Thomas/AFP/Getty Images
There are, among the 50 states (the territories are another matter), 20 nominating contests left in this presidential cycle between the two parties.  Nineteen of them are primaries, which means (with the exception of North Dakota Democrats) we can close the book on this year's caucuses. The numbers are not very pretty in terms of participation.
An analysis published last week by Larry Sabato's Crystal Ball of turnout in both parties for primaries and caucuses over the course of this year shows a predictable but still startling disconnect between levels of participation in the two basic types of events:
As a matter of participation, it matters considerably whether a state or territory uses a primary or a caucus. So far this year, in the 22 states where both parties have held primaries, the combined turnout of registered voters has been a reasonably healthy 36.1%. But in the eight states where both parties have used caucuses instead of primaries, just 11.3% of registered voters have cast a ballot.
Turnout in the all-caucus states ranged from a high of 17.6 percent in Utah (followed closely by Iowa at 17.1 percent) all the way down to 6.5 percent in Alaska. There were five additional states that held caucuses in one party and either conventions or yet-to-be-held primaries in the other, and their caucuses rang in at single-digit turnout percentages. 
Those in either party who like to complain about party elites controlling the nominating process instead of voters should be focusing on the primary-caucus participation differences before worrying about anything else. In particular, Bernie Sanders and his supporters, who have been making the case that closed primaries unacceptably disenfranchise independents, should be equally willing to oppose the use of caucuses, which exclude far more voters, including those who in a primary state might be offered an opportunity for early or absentee voting (though it should be noted that Iowa pioneered limited absentee and distance voting in this year's caucuses). That would involve, of course, acknowledging that many of Sanders's best states, where he's often been able to win very high percentages of delegates, have been in low-turnout caucus states (he's won them in Utah, Minnesota, Hawaii, Kansas, Maine, Alaska, Washington, Colorado, Wyoming, and Nebraska). And that's why Sanders's share of the popular vote is significantly lower than his share of pledged delegates.
Fairness is fairness, though, and reforms cannot follow any one campaign's grievances. Sabato argues that caucuses themselves should be reformed, and where that's not possible, abolished:
[C]aucus states should be required by the parties or state law to make extensive efforts to include soldiers, the ill and infirm, and those who must be working or traveling during the designated caucus time. Some early, absentee balloting is simply essential to any basic notion of fairness.

Even with reforms, the giant gap in voter participation between primaries and caucuses cannot be bridged. Why not have each caucus state hold a separate primary? Occasionally, state parties have done just this — such as Texas Democrats, whose "Texas Two-Step" was done away with before 2016, or Washington Republicans, who used both a caucus and a primary in some prior cycles. Some proportion of the delegates can be picked or apportioned by the caucus and the rest by the primary. This hybrid could combine the benefits of each nominating system. This would apply to Iowa, too. To satisfy "first-in-the-nation" New Hampshire, a primary state, Iowa has to choose a caucus — but the Hawkeye State could stage a separate primary later in the calendar.
One practical problem is that some state parties hold caucuses for financial reasons: Legislatures don't authorize (or pay for) state-run primaries, leaving parties holding the bag. If they chose, of course, the national parties could use their leverage over credentialing delegates to coerce states to hold primaries, and barring that, could require state parties to make caucuses more like primaries — abandoning, for example, the complex multistep delegate-selection processes or non-presidential discussion topics that make caucuses, especially among Democrats (who often follow the Iowa model), a lengthy and voter-unfriendly prospect. For that matter, it's worth noting that technically caucus participants are not "voters," but "caucusgoers." The distinction is a useful reminder that attending a caucus does not bring with it the protections and privileges of voting, and thus should not yield its rewards, either.